Blue Dive Watch Elements PH7 with 100M Resistance
The blue dive watch Wryst Elements PH7 Swiss limited edition watch with blue details and a black bracelet. The PH7 is a highly collectible sports watch with 100 Meters of water resistance and a luxurious and aggressive feel. Dedicated to a sportive crowd thirsty for new outdoor adventures, Wryst offers a unique blue watch dedicated to new outdoor experiences. These exclusive timepieces with the world's most scratch-resistant black DLC coating will withstand rough activities and hostile environments.
This timepiece includes a complimentary spare blue bracelet.
No tax
Delivered within 3-4 days
100% secure payments
Swiss Black and Blue Diving Watch Wryst PH7
Wryst Elements PH7 in black with blue details
The Swiss blue dive watch Wryst Elements PH7 is a limited edition of 75 pieces with 100 meters of water resistance - Perfect for snorkeling and divers. With durable materials such as black DLC coating and K1 shatter-resistant crystal, these timekeepers are a superb luxury fashion accessory that will make you feel fabulous and confident during your favorite outdoor, adventure, and extreme sports. The Elements PH7 is a unique and exclusive limited-edition Swiss blue sports timepiece that looks like no other.
Wear the Color you Truly Like
Wear this outdoors Elements timepiece celebrating the deep blue color of our beloved planet earth. Blue is the color of the sea and the sky. It is also the favorite color of 40% of men and women worldwide. The blue inspires trust, stability, and confidence. Your dream to wear a steel watch with a striking black DLC finish for a fraction of the price is now a reality.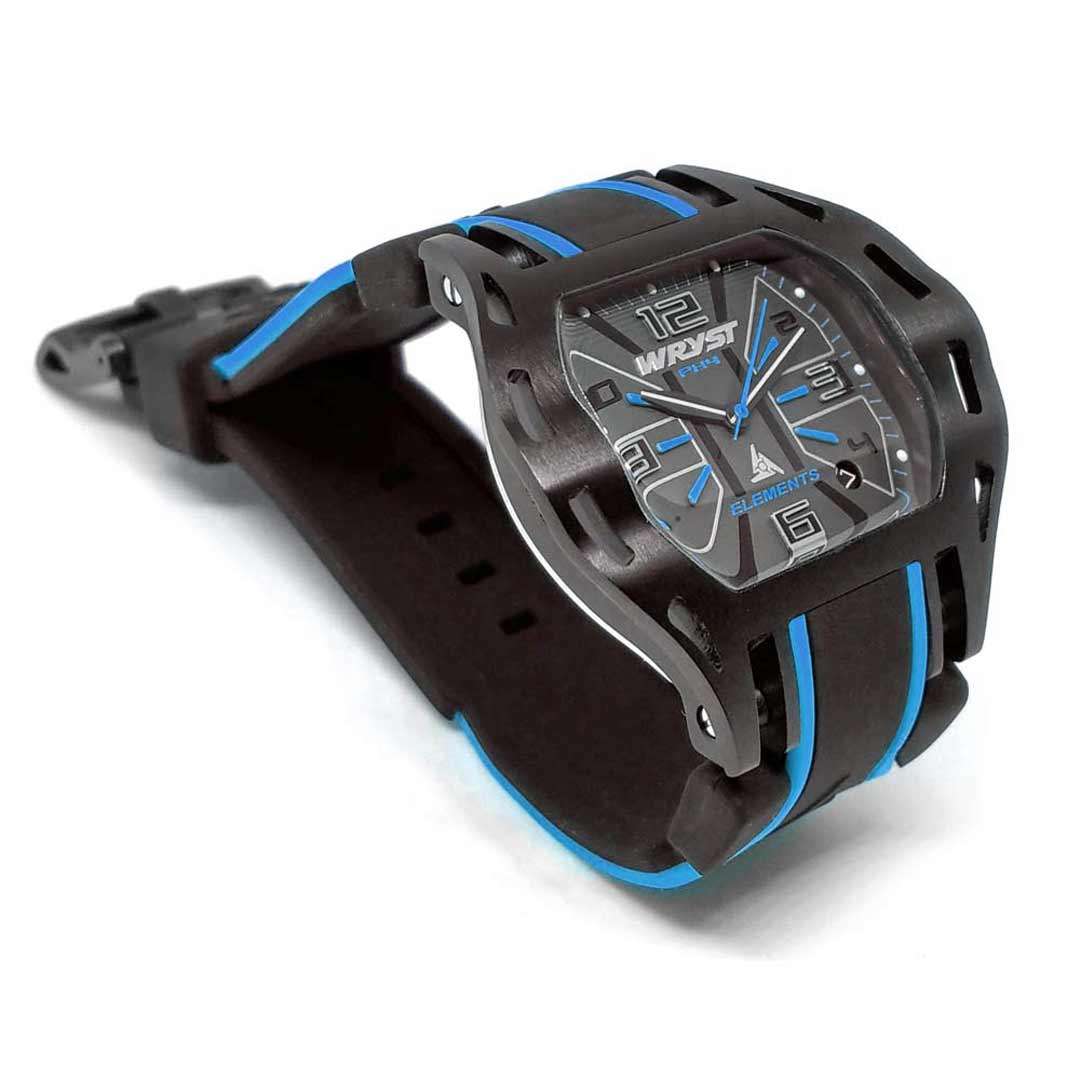 There are also several other colors available as follows:
You dreamt of it - We have made it a reality.
This unique coating showcasing your good taste and masculine lifestyle enhanced our timepieces' complex shape.

You can now enjoy wearing the Elements PH7 reference with blue dial details and a black bracelet with assorted thin lines. If you prefer the bolder 50mm feel, we have produced the stunning Force SX300, which is not short of the wow factor. Several combinations are available. Many assorted bracelets are available to adorn your best blue watch pick.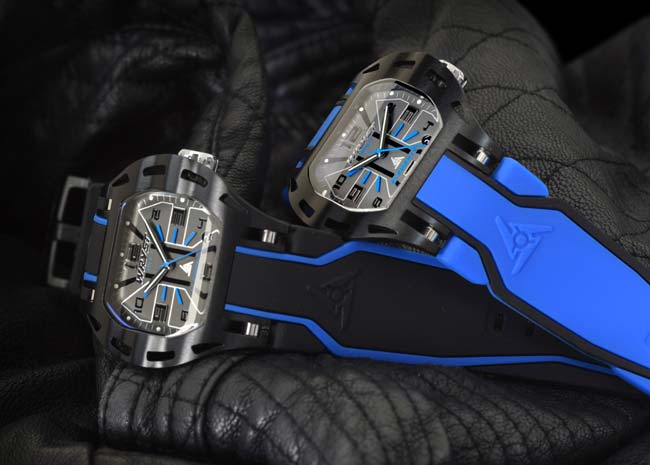 Boost Your Mojo
We have it covered if you are looking for a manly blue face Swiss luxury timepiece. The Elements PH7 has a slate grey galvanized dial providing a uniquely modern and futuristic layout. Manufactured with Swiss know-how and expertise, every 75 pieces benefit from state-of-the-art engineering, production, assembly, and thorough quality checks.

Enjoy your favorite sports countlessly with a fine timepiece, providing style, refinement, and the unicity you are entitled to. The above watches qualify for 100 meters of water resistance with a bolted case back and screw-down crown.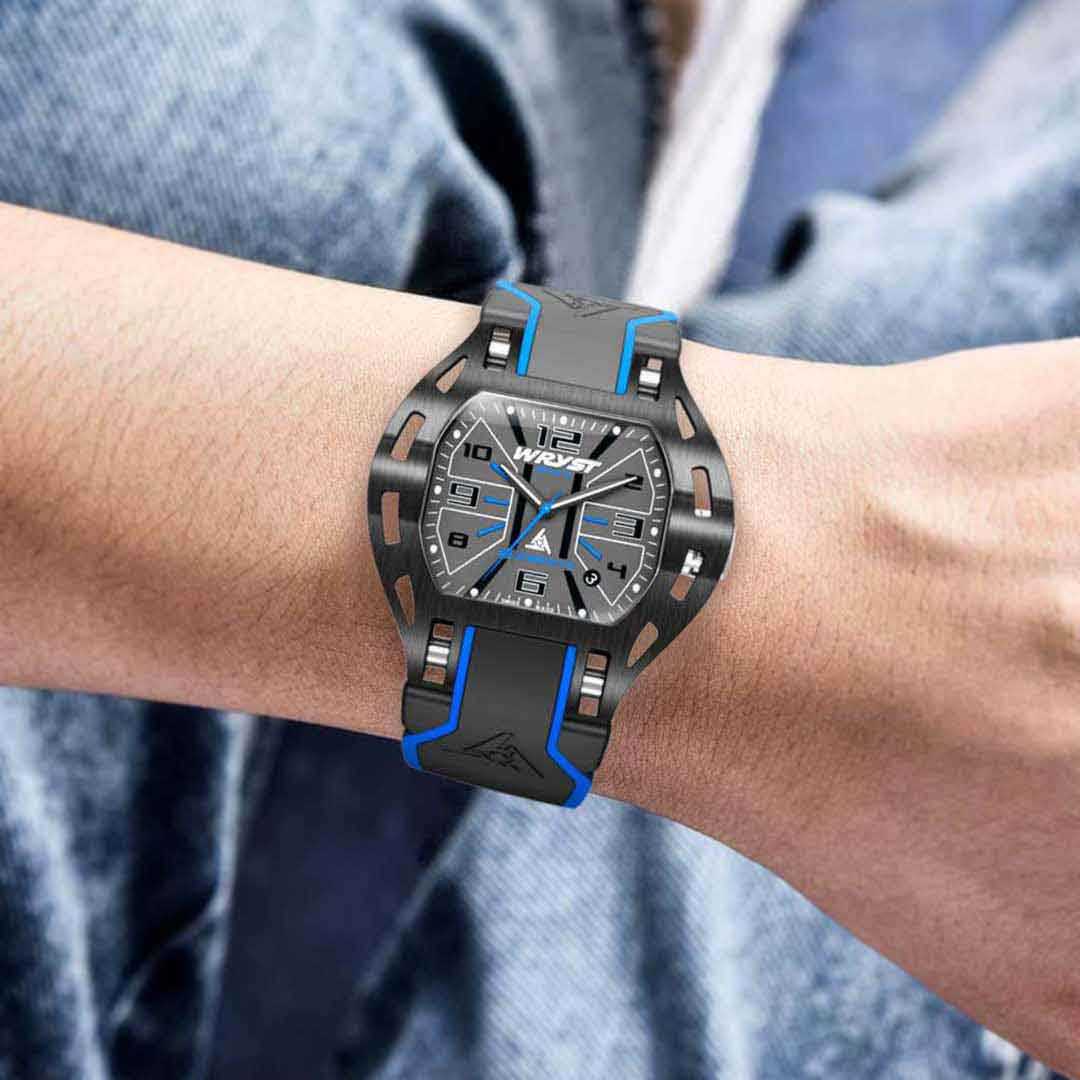 Two Bracelets Included
Your Wryst PH7 can be fitted with either the black bracelet with blue lines or the blue and black one. Receive both bracelets with your timepiece. The serial number is engraved on the case back, which provides more exclusivity than most other Swiss blue sports wristwatches on the market.
Exclusively available for online purchase, the unique Swiss watch brand Wryst provides individualists with an impeccable and durable stylish timepiece and personalized and empathic customer service. Wryst produces the watches men and women love!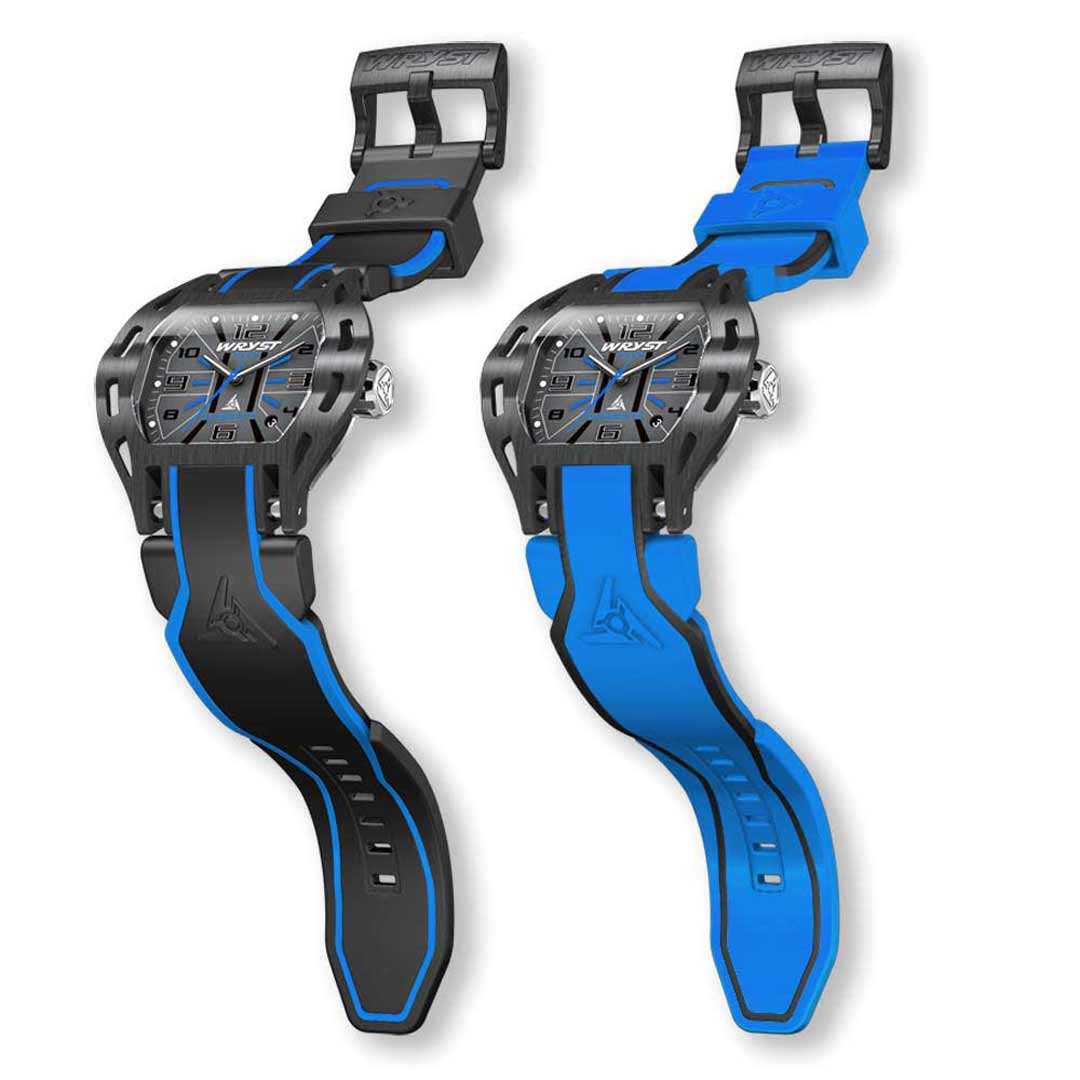 Here are five main benefits of choosing a smaller independent watchmaker:
1/ Smaller Quantities are Much More Challenging
If you feel let down every time you spend a bit more on an up-to-date timepiece, this will not happen with a Wryst. The fashion watches manufactured in Switzerland in small quantities are worth your time. The challenging production process is still the same but done much better. For example, if you produce only one unique timepiece, many hours of study, development, machine engineering, adjustment, and finishing time, take many hours of expertise and know-how. 75 or 99 units are not much different, and the high standards of materials, finish, and quality control is more extensive than when you produce in mass, say, thousands of units. Less means more, and fewer manufacturer faults can only be obtained through a more controlled process.
For example, it costs more to produce 300 pieces of 2 mm thick domed shatterproof crystal for the Wryst Elements series than 5'000 flat 1.5 mm thick round sapphire crystals for mass production. Furthermore, the scratch-resistant black DLC coating technology offered by Wryst is much more costly than our competitors' low-quality black PVD coating, selling their timepieces at a higher retail price point.
2/ Retail Price is Justified and Consistent
When you buy a quality Swiss timepiece, the last thing you want to do is contribute to the CEO's $150'000 per year wages? Or the several multi-millionaire investor's new yachts. You want to pay for the hard work and efforts to find the best quality at the best price. For example, Tissot even saves on stainless steel volume by offering steel watch bracelets with empty links. Our links at Wryst (Wryst Ultimate Black DLC Metal) are in solid grade 516L steel - You know what you pay for. Our sapphire glass is, on average, 2mm in thickness against only 1.2mm for most other Swiss watchmakers.
3/ Smaller Production Means More Exclusivity
Feel different and privileged with a futuristic fashion timepiece that will surprise your surroundings. Choose a small limited edition if you do not want to sit in a Boeing next to someone wearing the same watch as you. Producing 75 units only means you have one chance out of 100 million to find someone else wearing the same timepiece. On average, 200 passengers of an international flight wear three to ten times similar watches from only one or two different Swiss brands. If you want to dissociate and showcase your charisma, wear a wristwatch capable of displaying excellent taste, style, and innovation.
4/ Design is One of Our Main Focus
At Wryst, one of our primary efforts is to create newly elaborated watch designs with a real identity. A sports wristwatch must be pleasing to look at every time and for many years. The innovative and trailblazing creation of Wryst Elements has required many months of development. The overall aesthetical balance is timeless and immortal. Months after months, years after years, you will enjoy wearing your Wryst because that's our primary focus. Circular classic and vintage timekeepers are good, but they don't always hit the mark and don't often reflect your personality and ambitions. Mass-production brands usually spend a couple of hours choosing from dozens of designs for each new watch model.
5/ Independent Brands Want to Keep Their Customers
In the past, you have tried to purchase your all-important quality watch from fashion brands such as Bulgari, Hublot, TAG Heuer, Tiffany & Co, or Zenith and have been disappointed. The retail prices practiced by the world's leading luxury goods global leaders (LVMH, in this instance) have many disadvantages. For a start, a product retailed hundreds of dollars only costs 10% of the retail price to produce, or much less. This is because the margin and profits have to maintain extremely high to cover the staff expenditure (Needed in vast quantities and often paid the minimum wages), distributors, retailers, marketing, advertising, sponsorships, and of course, the CEO and investors.
A family-owned independent watch business such as Wryst does precisely the opposite. Our primary focus is product design, quality, testing, and total customer satisfaction.
Do not be dissolved in a crowd of hundreds of thousands of other customers; feel essential, looked after, and rewarded. Please make the most of our Black Friday sale 2021 and purchase a competitive quality Swiss timepiece with the best specifications at a sacrificed price.
Watch the video of the Wryst Elements PH7:
Wryst - Swiss Quality Deep Blue Dive Watch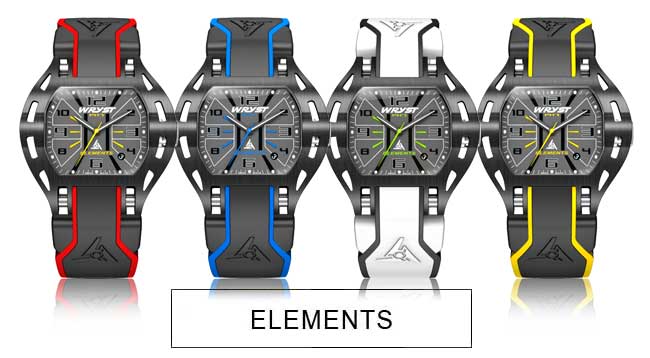 Data sheet
GENDER

Men

PRODUCTION

Limited Edition of 75 pieces

MATERIAL

Stainless Steel

COLOR

Black

COATING

Scratch-Resistant Black DLC

CRYSTAL

Mineral "K1" Shatterproof

MOVEMENT

Swiss Quartz with Date

SIZE

45 mm

BRACELET

Black and Blue

EXTRA STRAP

Blue and Black

WRIST SIZE

Wrist 150mm to 205mm

RESISTANCE

100 Meters (10ATM)

WARRANTY

12 Months
Great brand good communication
It was a pleasure to deal with Wryst and their friendly customer service. Watch arrived unexpectedly in a quality wooden box and with a spare bracelet. Fantastic construction with a case shape like no other. The product has high quality finish in every aspect. Beautiful thank you.
I need another one!
I bought this watch last year and would like to buy the same one for my son soon - Please can you tell me how many you have left in stock at present? Thank you. Gary Smith.
At the top!
So happy with my new watch thank you Wryst for excellent and fast customer service!
_
A great sports watch thank you for the free shipping and extra third black bracelet offered!
PH7 - A strikingly unusual watch
I was happy to receive my Elements PH7 having been fortunate to secure the last one. I really like the bi-colour strap which works well with the case. I was also impressed with the Wryst Sales Team's service when I experienced some ordering glitches. A big thank you to Joanne.
So good I am buying another one
Looks nothing like any watch I have seen before its very sharp yet elegant and very fresh and current I don't even know I have it on as it's so comfortable I have had lots of nice comments asking about it when seen by others and I love it so much I am away to purchase a 2nd wryst timepiece
Blue is best
Blue is totally the right color for this watch. I took the jump within 2 days and do not regret it. Strongly built and there is a spare strap with it which I did not expect. Fast shipment to Canada as well. Highly recommended timepiece. Mine is serial #37/75
Top design
Great watch! very well made and original design. Will wear with pride thank you Wryst team.
Sexy Watch!
Thank you my PH7 has arrived today and it was certainly the right move! Best buy this year for sure. Fitted with the blue strap every one wants to know about this watch. Ace customer service.
 Write a review