FORCE Swiss Chronograph Watch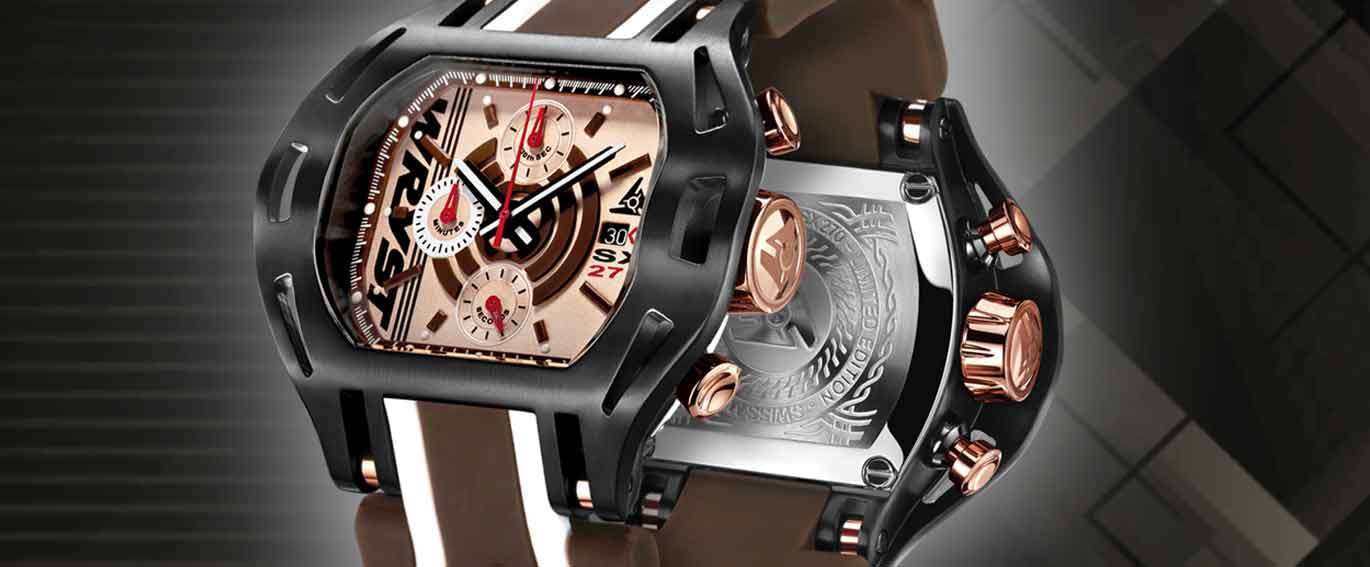 High-end Luxury Chrono Series Wryst Force
A Unique Sports Chronograph Style
The swiss chronograph watches Wryst FORCE are the latest collection. All four models are now available with a leather straps. The exclusive Swiss brand is now offering timepieces featuring a slightly larger 50 mm size against the 45mm width for most previous series. The genuine motorsport and extreme sports-inspired limited edition series are bolder, more masculine, and offer 100 meters water resistance. The height of these 50mm mens watches is now also a little bit thicker, measuring 1.55 cm height.
The technical and complex aired case design has three holes on each side against four on previous models. This feature protects the crown and the chronograph pushers. Every aspect of the timepiece running a Swiss quartz movement is pure engineering. The proportions are increased, and so is the more significant bracelet. The soft double injection silicone bracelet is slightly larger at 25mm (Previously 22mm). Best Swiss watches brand Wryst offers the only Swiss Made timekeepers in the world with a bi-color and two-layers bracelet.
This striking diverse and bold design is now available with a luxurious leather bracelet. Choose between the SX210 with a black leather band, the SX230 in a black bracelet with blue details, the SX270 with brown alligator luxury strap, or the blue anodized SX300 with black and blue hand-made band.
Each one of the Wryst Force watch series on offer is including a second bracelet attached with a secure screw system - A unique patent from manufacturer Wryst. Furthermore, the large 25 mm wide square buckle is the guarantee your timepiece will securely attach on your arm. No other Swiss brands are offering this feature unique to Wryst hallmark.
Why calling this chronograph series "FORCE"?
Definition - FORCE: "Strength or energy as an attribute of physical action or movement." The chronograph watch Wryst Force is a remembrance of the forces of nature. The nature around us is in constant movement, constant changes, and continuous evolution. Take, for example, the winds in the sky, waves on the sea, volcanoes, snow avalanches, earthquakes, and, most importantly, the force of gravity. Gravity is a pretty awesome fundamental force. The force of gravity is an attraction that pulls two objects towards each other. And this is making all kinds of extreme sports enjoyable for us humans as it attracts everyone, everything and anything towards the earth. Have you ever tried skydiving? What makes you go down a ski slope? What makes a ball bounce? Most of every sport we will ever practice is all about the forces of nature and gravity.
Some may relate the word Force to Military, Armed forces, Navy, and Swiss Army. Wryst has a more peaceful approach. As such, the watch brand prefers to avoid conflicts and anything related to conflicts. Wryst is celebrating nature and peace through this bold and robust large size timekeepers.
These four new references from the Wryst watch company are all running the durable gold plated five jewels quartz chronograph Swiss movement Ronda 3540D with a date window at the 3-hour position. The manufacturing and assembly processes achieved with perfection in mind are the basics of traditional know-how.
1/ Wryst FORCE SX210 in Black and Gun PVD
We are introducing the Force SX210 with a black DLC coating chronograph avant garde design. The hour markers, hands, crown, and chronograph pushers are in shiny gun PVD coating. This exclusive timepiece has a more casual feel and does not have a stainless steel bracelet. It includes an extra double-injection 25mm large bracelet in Moka color with two Camel thin lines. Enjoy wearing this disruptive piece while defying the laws of gravity through adventures and outdoor sports.
2/ A Stunning Wryst FORCE SX230 with Polished Casing and Blue Dial
The elegant Wryst Force SX230 with black, blue, and shiny polished details. With a beautiful blue dial, the SX230 casing has a luxurious polished Stainless Steel grade 516L finish. A Shiny, and sophisticated limited-edition timepiece. Enjoy wearing this Swiss chronograph for any daily activities of casual nights out and fine dining on wear on fine dining from New York City to Sydney Australia.
3/ Luxurious Wryst FORCE SX270 Black and Rose Gold
Indulge yourself with the Black, Rose Gold, and brown luxurious Wryst Force SX270 high-quality timepiece. The Rose Gold plated dial reveals the shiny red details and subdial hands. The well contrasted hour and minute hands are in black. The style of this SX270 is a real head-turner in any occasion. A light beige bracelet is an alternative option for a brighter look.
4/ A Modern Wryst FORCE SX300 with Blue Casing
Wryst dares the unthinkable with the blue anodized Wryst Force SX300. These unusual timekeepers are exclusive as no other modern brand has ever produced a quality blue timepiece with such class. Shiny polished hands and hour markers are all luminous in the dark.
5/ Sublime black chronograph SX210 with black DLC and black leather strap
Wryst is specifically offering chronograph timepieces with black steel casing and the best materials available in the industry. The black dial of this Wryst Force SX210 with sapphire crystal is now also provided with a black genuine leather strap. The original black and light grey silicone band are also coming with this model.
6/ A mesmerizing SX230 in stainless steel with black and blue leather bracelet
Discover the latest Force SX230 reference with polished stainless steel case, pushers, and square buckle. Wryst offers the best luxury Swiss quality timepieces for men and women, but in this instance, the size 50mm is calling for masculine wrists. The Swiss quality watches are attached to your arm with a stunning hand-made quality black leather bracelet with blue stitchings and blue edges.
7/ New - The black rose gold Chrono SX270 with a luxurious brown leather bracelet
The sports black chronograph with Swiss gold plated movement and rose gold dial Wryst SX270 is now available with a stunning new luxurious brown leather band. The SX270 is the only sunray rose gold dial timepiece ever produced by Wryst, and only 75 pieces are available worldwide. Secure yours with no delays.
8/ Blue mens SX300 fitted with black leather bracelet and blue stitchings
The daring blue Force watch series with precise chronograph functions and date display at 3-hour is now available. The reference SX300 with yellow gold plated movement, and five jewels offer grand charisma and a distinctive feel. Besides, this brutal looking Force timepiece benefit from our 18-month warranty. All Wryst Force best swiss watches are only available in limited quantity.
In order to use the timing features, for starting the chronograph use the top pusher. The bottom chrono pusher will give you access to elapsed time. You can then have the chrono started/stopped with the top pusher. Amazingly, these eclusive series do not offer 50 meters water resistance, but a whopping 100 meters. Thanks to the screwed case back and screw-crown your sports wristwear is watersports ready! These Force references also have a battery life of 54 months. This is much more than any other luxurious chrono on the market at this price range. You may also appreciate the domed sapphire crystal with anti-reflective coating.
Alternatively, if you are looking for a more sophisticated version of this Force timepiece with automatic chronograph movement and power reserve, please browse the Wryst Racer. This mechanical reference run a stunning self-winding movement with 26 jewels and a date window at the 3-hour position.
Finally, the new bold Swiss men's Wryst FORCE are chronograph wristwear only available for online purchase and produced in Limited Editions of 75 units. Contact us with your required serial number between #01 and #75 to find out if you can purchase it. The difference compare to our competitors is the affordability which do not require deep pockets. If you are looking for a more futuristic look and an alternative to casual style you may want to wear one of the stunning Wryst.
Video of the Wryst Force SX210: