Best Swiss chronographs for a budget under $1000
Sophisticated New Chronograph Under 1000
The best watches under 1000 are here! Independent watch brand Wryst proudly announced their new chronograph watch series. The collection of chronograph wrist watch is offered at a retail price under 1000 US dollars. Slightly larger than all previous Wryst Motors and Elements models, the new FORCE chronograph watch collection seeks to modernize the typical Swiss chronograph design. This achievement results in a steady and mature yet emotional design that takes the Wryst brand to new heights.
Make the most of your budget and choose a luxury timepiece without breaking the bank. All the references on this page are perfect if you are looking to find watches under 1,000 here! 
Demonstrate and Promote Your Unique Personality
Wear one of the four new Wryst FORCE chronographs with pride. The large tactile 50mm casing will awake your senses and perceptiveness. Only 75 serial numbers of each model are being produced. Rest assured, no one else will ever wear the same timepiece as you.
The design of the new FORCE series focuses on perpetual change and evolution. The concept stems from natural elements, such as air and water, which force our lives to create wind and waves. Exhilarating sports also inspire ideas and outdoor activities, where forces such as gravity help us accelerate, fall, and shift our momentum. One could argue that time is also a force that acts on us regularly to push our lives in a forward direction.
The FORCE chronograph collection from Wryst comes in four different versions:
Swiss Wryst Force watch SX210
Featuring a sleek black casing and black dial with gunmetal and camel accents, the black chrono watch SX210 is aesthetically a pleasing chronograph and comes with the FORCE collection's innovative design. This timepiece benefits from the world's most scratch-resistant black DLC coating. It's the ideal dive watch for daily sporting and outdoor adventures and will only be produced in small batches to make them highly collectible timepieces. The SX210 is exclusively available online - Cut out the unnecessary middleman and benefit of excellent customer service.
This Wryst SX210 is retailed at $950.00 USD
Chronograph Wryst Force SX230
The luxury shiny watch SX230 chronograph has a bold and aggressive design. The deep blue chronograph dial has white markings with a black minute track encased with a shiny metal that enhances the luxurious colors. There's a choice of either a black and blue or white and blue silicone bracelet. The blue is meant to symbolize trust, loyalty, wisdom, confidence, and intelligence. The serial number of each unique chronograph steel watch is engraved on the case back.
This Wryst Force SX230 is retailed at $923.00 USD
New sexy Rose Gold Wryst SX270 in Black
Utterly astounding! This beautiful black SX270 watch with rose gold dial chronograph sets itself apart from the rest of the collection by donning a sleek rose gold finish with a black case. The watch dial has red accents on the second hand, and the number 270 is also given red lettering. The bracelet is two-tone with chocolate and pure white but can be replaced with a Moka and chocolate bracelet.
This Wryst Force SX270 is retailed at $1,005.00 USD
Blue Wristwatch Wryst Force SX300
The limited-edition luxury blue chrono watch SX300 follows the SX230's footsteps by adopting a deep blue color scheme. The difference here is that the watch dial is grey and black with white hands, and the case now wears blue colors proudly. The silicone bracelet features a stylish yet simple black design with white lines.
This Wryst Force SX300 is retailed at $937.00 USD
A chronograph is a particular type of wristwatch. It is used as a stopwatch and also combining with a standard 3 hands display watch. Basic chronograph functions with luminous hands have an independent sweep second hand. It can be started, stopped, and returned to zero by successive pressure on two pushers. The Wryst Force chronograph uses additional complications and has multiple other subdial hands measuring 1/10th of seconds, minutes, and hours. Modern uses of chronograph features are used for piloting airplanes, time car racing events, and diving or submarine maneuvering.
All chronographs in the Wryst Force collection feature the following:
✓ A limited production run of 75 timepieces
✓ Grade 516L stainless steel case material
✓ Sapphire crystal glass
✓ 50 mm width watch size
✓ Swiss quartz chronograph movement
✓ Up to 100-meter water resistance
✓ 18-month warranty
Best Swiss Quartz for a budget under $1000
Find here a selection of Stunning Swiss quartz
The Wryst Elements are also the best watches under $1000. With a retail price of $775.00 USD, these outdoors timepieces offer unrecedented specifications at this price point: Shatterproof crystal, 100 meters water-resistance, Swiss quartz movement, renowned black diamond-like coating, two bracelet included, patented secure bracelet attachment, all produced in limited series of 75 units.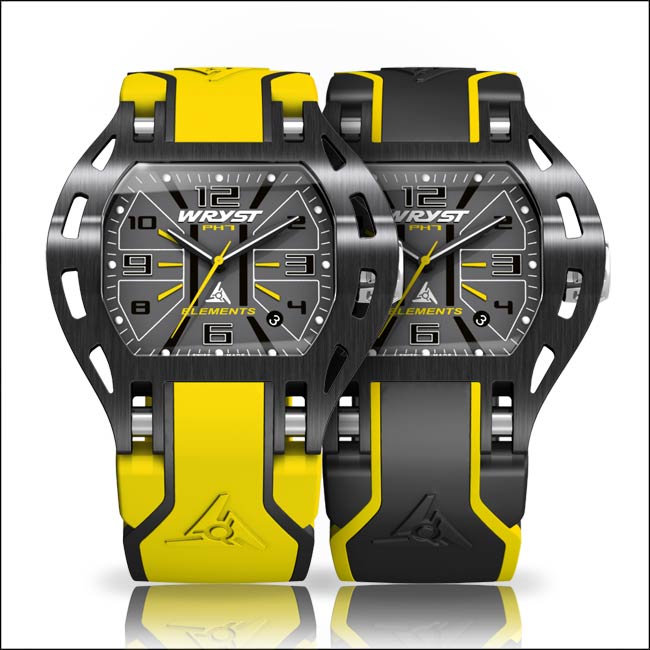 Collection Wryst Elements Quartz: $775.00 USD
About Wryst
Designer Jacques Fournier founded and launched the watch company WRYST in 2012. Since then, the brand Wryst has been providing exclusive chronograph wristwatches through outs online-only unique collections and has no plans to extend its products to retail markets. As opposed to any other manufacturer, the Swiss watchmaker only sells the best watches under 1000 through the internet. Wryst is a unique independent brand and is concentrating on a niche market. A smaller customer database and limited small quantities will help the brand grow stronger through the coming years.
Automatic movement references with power reserve are available within the Racer collection. All Racers models with mechanical movement are also offered in a small series of 75 pieces and 50 mm. These hand-wound references usually average at a higher price point. Unfortunately, small productions come at a price, and these are actually all retailed above the $1000 mark.