New trend for big face watches and mens oversized watches
Published : 05/31/2020 14:46:10
MEN'S OVERSIZED WATCHES EXPLAINED
Understanding the latest trend for big watches for men
Oversized watches and masculinity is crucial attribute of men's wristwear. An ideal men's timepiece must be loaded with some masculine characteristics. It should be classy and elegant if it is a dress watch, like the men's formal dress codes. The essential features to be considered for sports watches are their sports feel, resistance, and functionality. Men also love to wear flashy and exciting colored mens big face watches during parties and leisure activities.
Why Choose a Larger Size Timepiece?
Numerous masculine aspects inspire designers and lifestyle brands to create products associated with men. For example, the 50mm mens watches have more masculine appeal than any regular-sized wristwear. The oversized timekeeper is a fine example of a highly male product.

As the name suggests, an oversized timepiece refers to a watch with extra-large case dimensions. Large proportions appeared in the general market as a niche product category dedicated to men with large wrist sizes. Nowadays, there is a growing demand for big wrist tickers, especially for the young generation.
Same size, different look
Here are two different examples of 50mm diameter models. Both timepieces are precisely the same width, but there is a difference.
Two different case designs, both th same size
On the right: 50 mm watches Wryst Force & Wryst Racer
On the left is the circular Hamilton Khaki Field Mechanical reference, and on the right, the Wryst Racer Automatic equal in size but not with a round face. These are both considered big size watches, but they do not feel the same size. The SX3 has the crown under the lateral guards on the right, and on the left, the guard is slightly smaller. This particular aspect is due to the sturdy and intricate design of the Wryst.
The first generation of smaller watches had a case diameter of fewer than 30 millimeters. Today, you will come across fashion 50mm timers and some larger ones in the market. This transition of case sizes is an essential factor to consider when exploring watchmaking history. Also, the manufacturing of big watches for men is not a recent trend. You can trace back to the initial years of the evolution of the timekeepers.
First-generation wristwear
The first timepieces had their origins in the 19th century, but they became a popular tradition only after World War I. As wearing a pocket timer was not practical during combat operations, the troops began using trench watches during the First World War. These wrist-worn timepieces enjoyed a midway design between pocket watches and wristwatches, with features of both.

In the beginning, the wristwatches featured tiny cases compared to today's standards. These mechanical timepieces were less precise due to the poor quality of mechanisms. They were also more prone to material damages. The pursuit of manufacturing more accurate and rugged timepieces slowly paved the way for large watches.
In this second example, we have two of the Wryst models; both time-keepers size 45mm also look like they measure different sizes: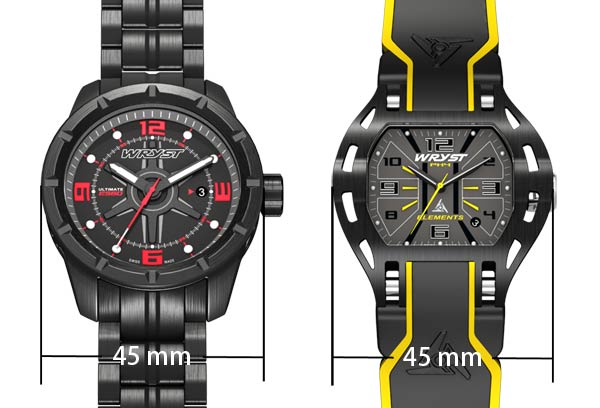 Two additional case designs, same 45mm size
On the left: Wryst Ultimate Black DLC
On the right: Wryst Elements for Sports
Again, the Sports Watch for Men on the right also looks smaller than the Black Watches Ultimate limited edition with a black DLC bracelet on the left. Both models measure precisely 45mm, and both bracelets are 22mm wide. Once more, there is a distinct difference, which can be explained by the case guards and overall design of the Wryst Elements, which is not round or circular. It allows the collection also to be perfectly suitable for girls and women alike!
HISTORICAL EVOLUTION OF LARGER WRISTWEAR
Military/Tool Timepieces
A reason behind the evolution of large watches is the introduction of purpose-built timepieces or tool watches. It was a big leap from the current status of wristwear discreet in size and delicate in nature.

Initially, the tool timers were manufactured exclusively for military or research purposes. The rigorous military-grade specifications insisted that watchmakers develop new hard-wearing tickers with high-precision mechanisms and improved physical parameters.
In more recent years, mass industrialization assisted companies in producing precise, shock-resistant mechanical movements. This evolution helped the brands to build a new category of large mens watches. The new specifications would include shatterproof crystals and rugged cases.

This category included a specially built Chrono for pilots and aircrew of the Air force, land forces, naval divers, and rescuers. During the first and second world wars, the primary source of income for several wristwear companies was from the military forces.

Supplied to the Armed Forces members, the Swiss army watches featured more oversized cases than the ones used by civilians. The large watches continued to evolve by introducing large diameter movements with more shock-protective features. For example, the military pilot watches developed for the German Armed forces during the 1930s featured 55mm cases.

You will find several other examples of extra-large watches exclusively made for the Military Forces worldwide. But these large models were always reserved only for the military forces. During those times, the sale to civilians was prohibited.
Commercialization of large and military-grade timepieces
Post the Second World War, several brands started manufacturing military-inspired tool watches for civilians. The surge in civil aviation and nautical activities fuelled the demand for the civilian equivalents of the military timepieces.

Manufacturers continued to develop purpose-built chronograph suitable for space missions, scientific research, underwater explorations, polar expeditions, and risky industrial activities. To deal with the challenging specifications of the above fields, the timekeepers must be grand, precise, rugged, and versatile. The gradual emergence of current sports events, athletics, and games is also attributed to the popularity of more assertive and bold dimensioned timers.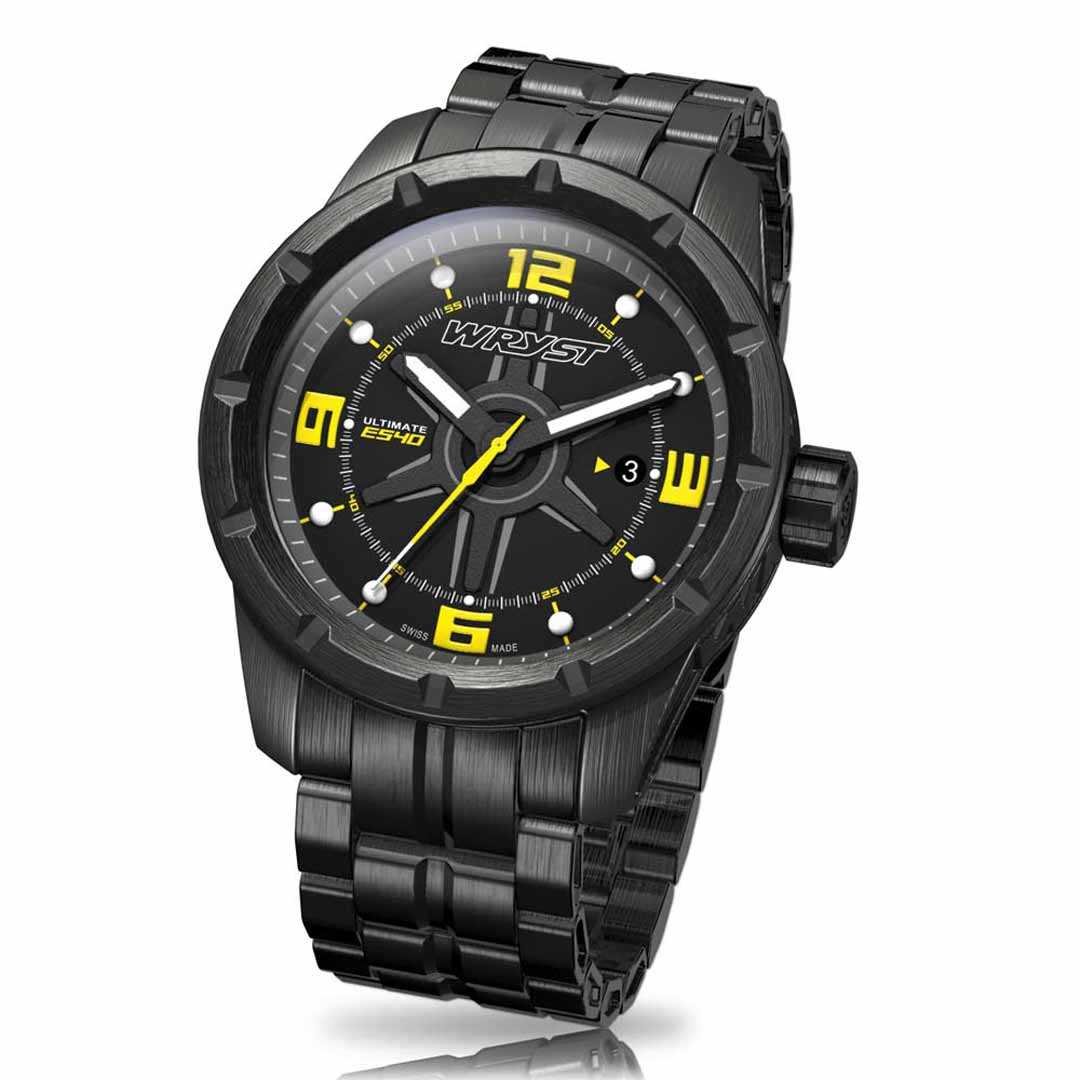 Black Dial Watches ES40 Size 45mm
The case dimensions are a critical factor for the examples mentioned above. For example, a typical stainless steel diving watch, black watches ES30 for men contains broader crystals, gaskets, and screw-in crown to ensure its 200 meters water resistance. The modern diving timers also feature the uni-directional bezel and helium valve components. So, a diving instrument needs a more significant case to accommodate these components.

Also, a pilot design should have a large dial for quick and easy reading of time. The big crown was also necessary for an easy time setting while worn with gloves—naturally, much broader cases are required to accommodate these specifications. During the golden ages of aviation, these big dials became popular among civil and military aviation professionals.

At the same time, the classic/dress timekeeper category also witnessed a shift towards mens oversized watches. The brands also started providing larger dials and cases to provide additional complications. The 1970s marked the emergence of luxury sports timepieces with bolder dimensions.
The shift in the marketing strategy
There was a sudden shift in the marketing strategy post the quartz crisis of the 1970s to revitalize Swiss watchmaking. The Swiss brands focused more on excellence to capture the hearts of wealthy customers. Many Swiss companies switched over to limited production to ensure excellent quality. As desired by the industry leaders, more people across the gold began wearing expensive references with the quartz movement as an ultimate status symbol. The mechanical watch became bolder and luxurious to show the wearer's distinct personality and social status.
Revolutions in the lifestyle and fashion
The emergence of new social cultures also promoted the recognition of an oversized watch market. For example, the hip-hop culture that appeared in the 1970s introduced alternative styles for expressing masculinity and flaunting wealth. Wearing oversized jewelry and a massive quartz timepiece is an integral hip-hop style. As more people began to admire and enjoy hip-hop music and culture, hip-hop fashion received more global acceptance. The rising popularity of fashion accessories increased the demand for mens large face watches.
EXPRESS YOURSELF
Modern Oversized Feel
The oversized watch is an established category in our modern 21st Century world. Considering the present trends, let us categorize any case diameters more than 42mm as an oversize timepiece.

Several factors influenced the evolution of oversized wristwear and its increasing popularity. For example, professional-grade timepieces and outdoor purposes require broader cases to ensure sturdiness and proper functions. Today, such bold timepieces are popular among airmen, divers, racing drivers, sports champions, professionals, style seekers, and those who enjoy adventurous activities.

Nowadays, major high-luxury brands produce large face mens watches to attract new trendsetters. Also, a small number of dedicated brands offer oversized luxury choices with an affordable price range.

Designing oversized wristwear is a challenging task. First of all, an extra-large watch should be comfortable to wear despite its generous proportions. It should also offer a secure and firm grip around the wrists. As a large face has more surface area, it is also essential to have sturdy exteriors. Therefore, it calls for superior quality materials and components to manufacture giant Swiss tickers.

The extra-large watch category maintains a significant role on the market connected with the evolution of modern wear. There has been enduring popularity of oversized choices in the market in recent times.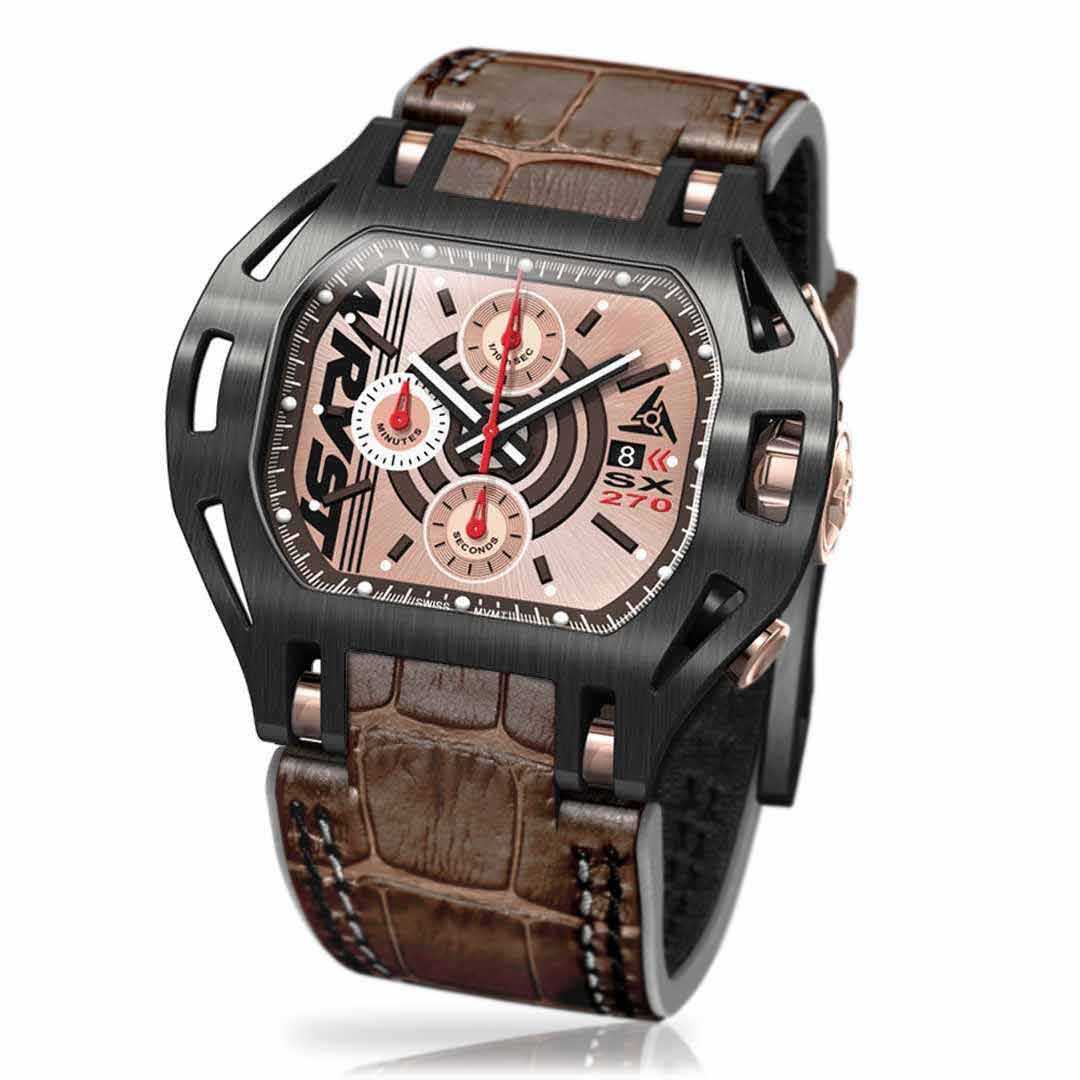 Men's Brown Leather Watch SX270 Size 50mm
Benefits of wearing oversized wristwear
The extra-large timekeepers feature some unique qualities that a regular timepiece can't provide you. Firstly, big-sized watches always stand out among the crowd with their significant presence around the wrists. They can grandly reflect your persona and style. A well-built oversized watch will always be a suitable companion for your active lifestyle.

A meticulously designed extra-large look is always enjoyable to wear. Its massive proportions allow you to feel its presence. The large crown ensures accessibility and grip to perform the settings effortlessly. Its broader dial allows a glance of time. The larger dial also provides sufficient space to accommodate chronograph counters, calendar functions, and other high-end complications. More considerable proportions help the user to distinguish various displays on the dial easily. The large dial also offers decorative works on its surface without hampering the visibility of indications.

Many people keep extra straps to experiment with new styles of their large face watches. However, changing the straps is tricky due to the small lugs and strap attachments. The oversized models have larger strap attachment systems and broader lugs. These features are helpful for the easy interchanging of straps and bracelets because a big size means more accessibility. Finally, you can find excellent shockproof features and protective measures in good-quality oversized watches.
In conclusion, a bolder look is often the best choice to affirm your identity and style. Wryst offers a vast range of several designs. Choose today to wear a versatile and timeless ticker within our five different collections. You will be able to see the case sizes in the description tab, which also gives you details about the movements:

Add a comment
5 comments