Bestseller watch Wryst Ultimate
A tough timepiece designed for outdoors and watersports
The bestseller watch for this Wryst Ultimate collection is the waterproof watch ES30 in black and green. Packed with the best watchmaking specifications, this timepiece is dedicated to adventurers, outdoor sports, and watersports. Watch brand Wryst thrives on providing the best watchmaking performance at an affordable price. The green color is the first choice for charismatic individualists constantly seeking evasion and freedom.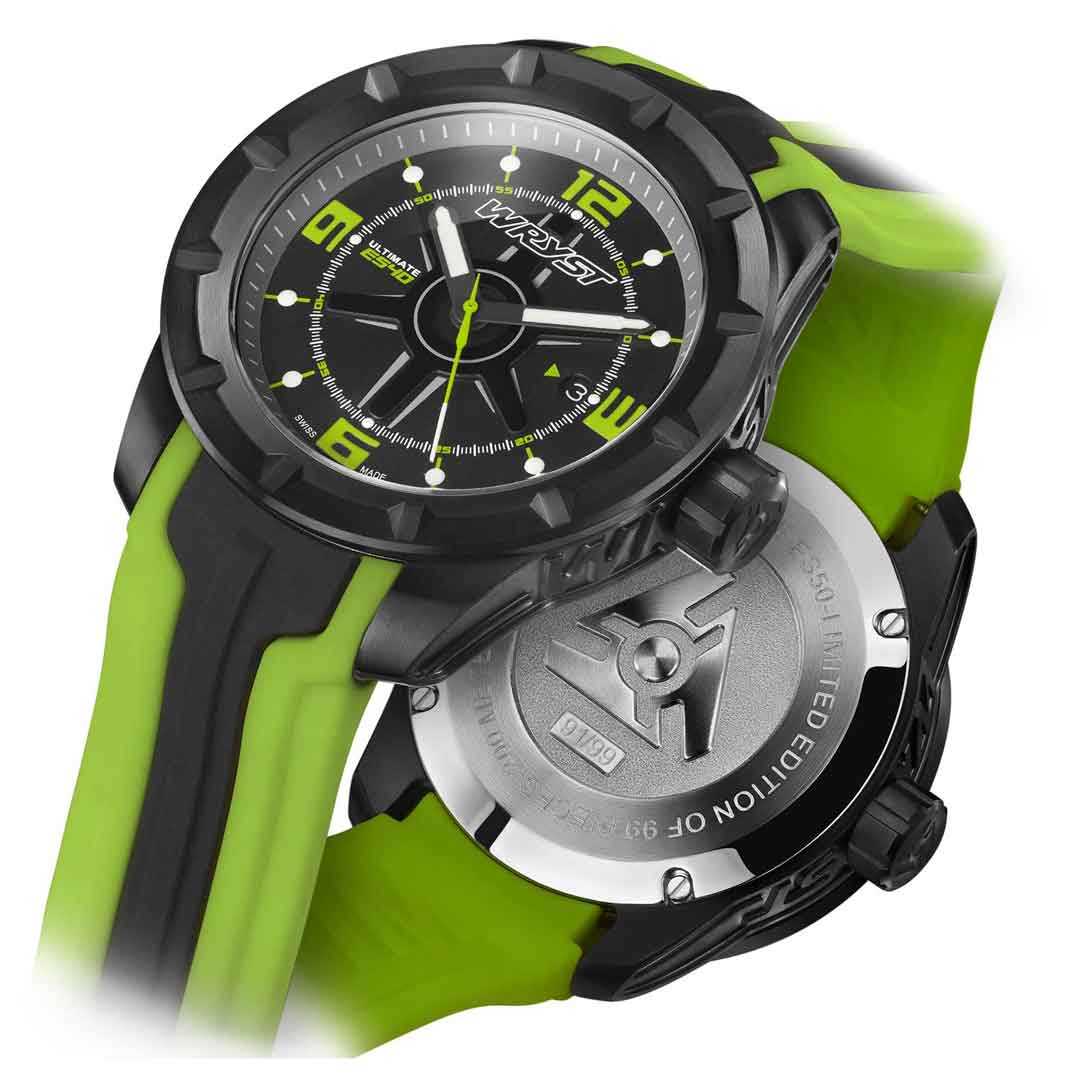 The particular assets of this ultra-resistant bestseller watch as follow:
Bright LUMINOUS hands and hour markers
A scratch-resistant BLACK DLC coating
Brutal case side design with deep engraving
Masculin size 45 mm
SAPPHIRE CRYSTAL with anti-reflective treatment
20 ATM - 200 METERS of water resistance
Screwed case back and crown
Two bracelets included (black metal DLC option also available)
Reliable SWISS quartz movement with date at 3h
LIMITED EDITION of 99 pieces
Let's review all of these specifications in details:
1- Bright luminous hands and hour markers
Well contrasted hands, including hour, minute, and seconds, to clearly see the time. The bright white luminova also ensures clear reading on low light on the hour markers. This is one reason the dial is in a silk black finish and a few green details.
2- Scratch-resistant black DLC coating
The world's most resistant black coating does not come cheap. This black DLC technology (Diamond-Like Carbon) is for the first time available at a more affordable price compared to much higher-end timepieces, which can be ten times more expensive. Note some luxury brands still use the poor quality black PVD coating, which is dated and belongs to the past. If you are looking for a scratch-free black bestseller watch, you should consider a Wryst timepiece with no doubt. The DLC technology makes sports car engine parts and the aerospatial industry for its incredible hardness.
3- Brutal case side design with deep engraving
One unusual particularity of the Wryst Ultimate collection is the watch case sides. Engraved at 0.60 mm deep, this is achieved by CNC machining and totally new in the watch industry. The Swiss watchmaker Wryst choose to offer this unique feature on the case with the brand's name prominently present on both sides of the watch head. This asset has kept fraudulent fake watchmakers away like garlic repulse vampires. This also adds value to the intricate and brutal overall feel of the timepiece.
4- Sapphire crystal with anti-reflective treatment
The only choice for an outdoor and sports watch is sapphire glass. This scratch-proof crystal will keep your watch looking new for many years to come. The dented face bezel also plays an important role in protecting the crystal. It sits higher than the glass. The objective is to ensure any possible frontal shocks will be absorbed by the watch case avoiding unnecessary stress to the sapphire glass. A timepiece featuring such strong materials dedicated to the outdoors can usually be found for much more money.
5- 20 ATM - 200 Meters of water resistance
The Wryst Ultimate watches are qualifying for 200 meters of water-resistance. This is the guarantee to be able to practice occasional watersports in excellent conditions. A static air pressure test of 20 atmospheres certifies the bestseller watch Wryst ES30 can be worn with peace of mind. We recommend servicing your timepiece every year, as with time, the seals and sealing systems can be subject to wear and tear and natural aging.
6- Screwed case back and crown
The case back and crown are both screwed tightly against the watch case body. If the crown does not screw-in like for the Wryst Ultimate, it is more vulnerable to unintentional shocks. The case backplate is engraved with the annotations "Swiss Made," "200 meters", and the unique watch serial number is present. It is also engraved in 3D with the Wryst triangular logo.
7- Two bracelets included, black DLC bracelet available
This reference includes a double injection green and black bracelet and a second black on a black band. Most of all, the timepieces produced by Wryst are offered systematically with two different bracelets. These are soft, flexible, and with dust-proof coating ensuring optimized comfort for the user. The designer 22 mm black square buckle is also protected with black Diamond-Like Carbon coating. You can also purchase separately the unique designer metal black DLC watch bracelet with a deploying buckle.
8- Reliable Swiss quartz movement with date at 3h
A Swiss quartz gold plated movement is providing world-renowned reliability and durability standards for your watch. The date is available in a circular window at the 3-hour position. The neat dial design is minimalist with Arabic numbers at 12, 3, 6, and 9 hours. This movement is shock-proof, ISO 764 magnetic-resistant, and has a battery lifetime of 45 months. There is no need for internet connection, firmware update, any upgrade at all, and when a new battery is fitted, all the watch needs to run with accuracy for another 45 months.
9- Limited Edition of 99 pieces
Every Wryst sports watch is produced in small series. The number varies with 75 units produced for the watch collections Chronograph FORCE, Automatic RACER, Sports Watch ELEMENTS, and 99 pieces for the Wryst black watches ULTIMATE. Stocks are becoming low for several models, so we would recommend you take the jump and make the right investment with the world's most affordable sports watch with black DLC coating, sapphire crystal, 200 meters resistance, and a renowned Swiss origin.
Exclusive resistant black watch without breaking the bank
Overall, the Wryst Ultimate ES30 bestseller watch is dedicated to enthusiastic and daring men or women who have a particular taste for extreme sports, adventures, watersports, and recreational outdoors in general. Buy a durable quality bestseller watch today without breaking the bank! The Wryst Ultimate watches are retailing from £395 GBP | $518 USD.
This particular reference Wryst Ultimate ES30 is also available with a green Camouflage bracelet or a designer metal black DLC bracelet with a deploying buckle.
DISCOVER THE WRYST BLACK WATCHES COLLECTION