Discover The New Stainless Watch Bracelet for Ultimate Collection
The Ultimate Watch Wryst Goes Metal
Wryst officially announce the forthcoming new metal stainless steel watch bracelet for the Ultimate Collection. Crafted in solid steel grade 516L, the strongest available in the watch industry, the new metal bracelet will be in stock soon.
Wryst Ultimate ES60 Black DLC Watch
Designed exclusively for the atypical Wryst Ultimate watch case, the metal bracelet links add a robust and solid feel to the limited edition Swiss timepieces. The Ultimate collection new bracelet will be available for all "ES" references (E.S. for Extreme Sports). Like featured on the deep-engraved case side of this exclusive and unique watch, the side of the metal bracelet links are etched 0.6mm deep with CNC machining. Fitting size will now be increased to maximum 230mm and minimum 176mm without the 6 adjustment/removable links. The overall weight of the Wryst Ultimate with metal bracelet is 206 grams (125 grams with silicone band).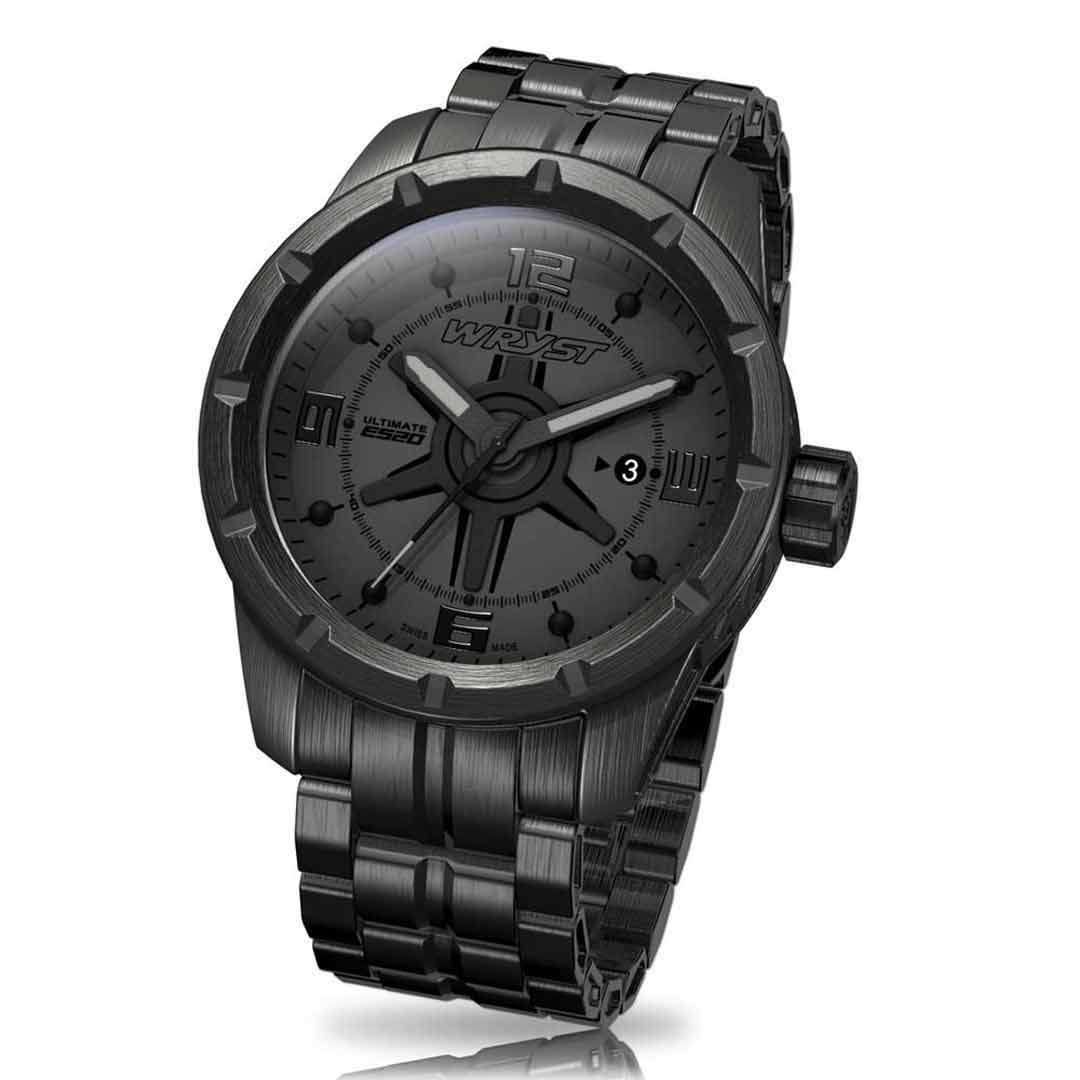 Wryst Ultimate ES20 Black DLC Watch
Three blades luxurious and signed deploying buckle
The attachment of this steel watch bracelet is secured by a solid brushed three blade buckle with Wryst logo signatures inside and out. Simply click on your bracelet and undo it easily by pressing the two lateral buckle sides. Deploying clasp has the obvious particularity to keep the watch firmly secured around the wrist even if the bracelet somehow becomes undone.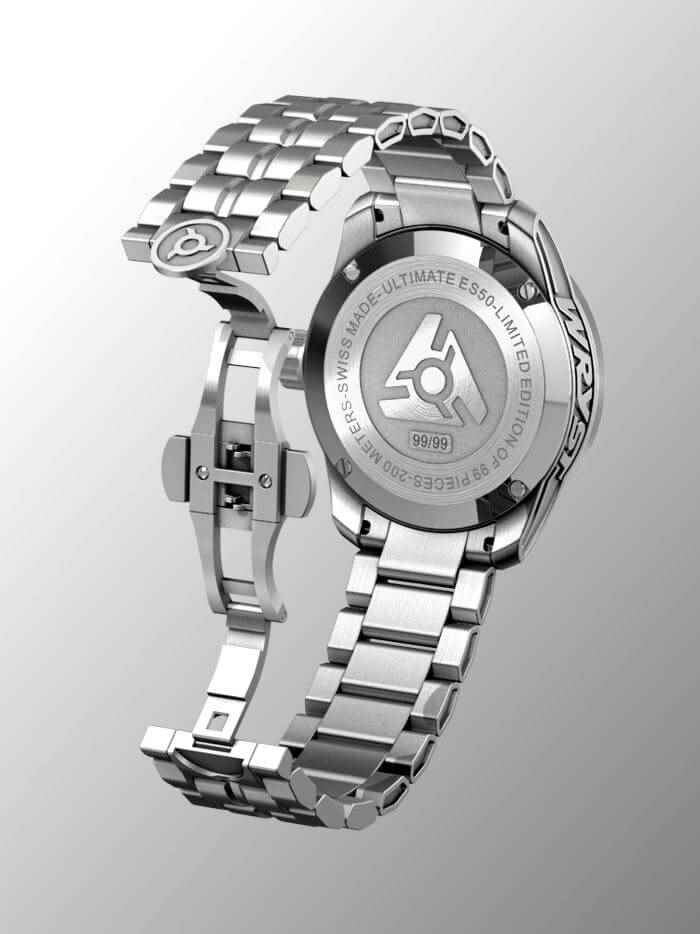 Wryst Ultimate ES50 Steel Watch
The special offer just for you
Since mid-November 2016, all customers who have bought a Wryst Ultimate watch from the official watch shop Wryst will systematically receive the new metal bracelet for their watch for free! (Offer void after new metal bracelet is officially available). For customers who have bought the Wryst Ultimate watch previously it will soon be possible to buy the new metal bracelet either with brushed steel finish (For ES50) or with black DLC coating (For ES20, ES30, ES40 and ES60). Should you wish to find out exclusive news about the latest release please sign-in to the Wryst exclusive monthly newsletter.
Specifications for Wryst Ultimate
The watch Wryst Ultimate is designed to endure the toughest outdoors and extreme sports daily use. With sapphire crystal, 200 meters water resistance and for most references also protected with a hard black Diamond-Like Carbon coating, you can up your game with confidence while keeping accurate time on your wrist.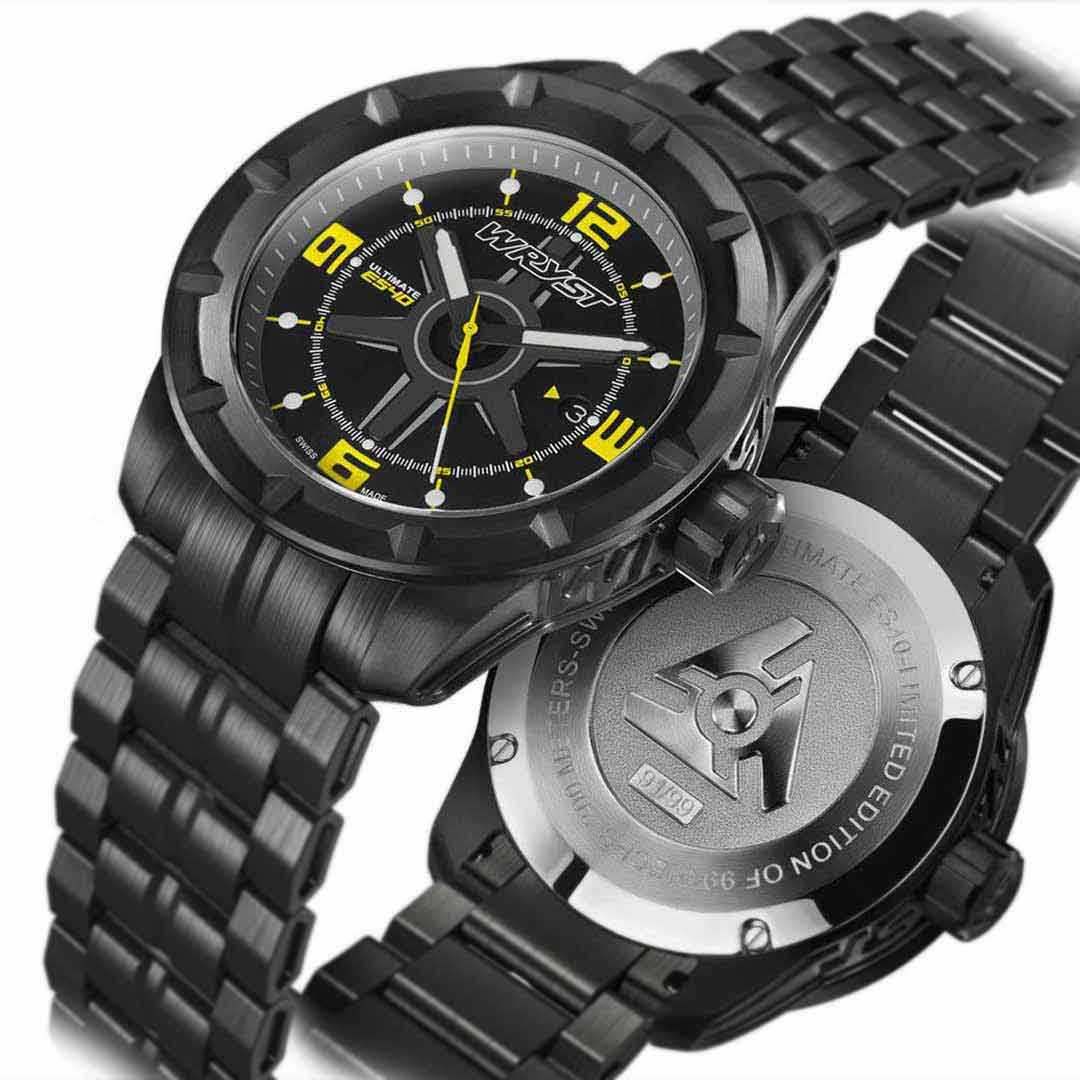 Wryst Ultimate Black Dial Watches
– 45mm case diameter
– Grade 516L Solid Steel with black DLC coating (Except ES50)
– 22mm silicone band and/or metal bracelet
– Overall weight is 206 grams with metal bracelet, and 125 grams with silicone band
– Limited Editions of 99 pieces with engraved serial numbers
– Swiss three-hand quartz movement, white-on-black date
– Sapphire crystal with non-reflective coating
– Signed screw-down crown
– Water resistant to 200 meters
– One year warranty
More information here: WRYST ULTIMATE BLACK WATCHES