The New Ultimate Black DLC Swiss Watches
A Redefinition of the classic sport watch
The new quartz watch collection from the atypical Swiss brand inspired by Extreme Sports had to be black watches ULTIMATE. Firstly because the Ultimate sports watch does not exist, and secondly, because Wryst intended a new design with the ambition to redefine the "classic sports watch." Most timepieces have a round face, so the challenge was to create an enhanced version of the black Swiss watches everyone is used to, but a bolder, more aggressive, and attractive version.
Best Swiss Quartz Watch collection ULTIMATE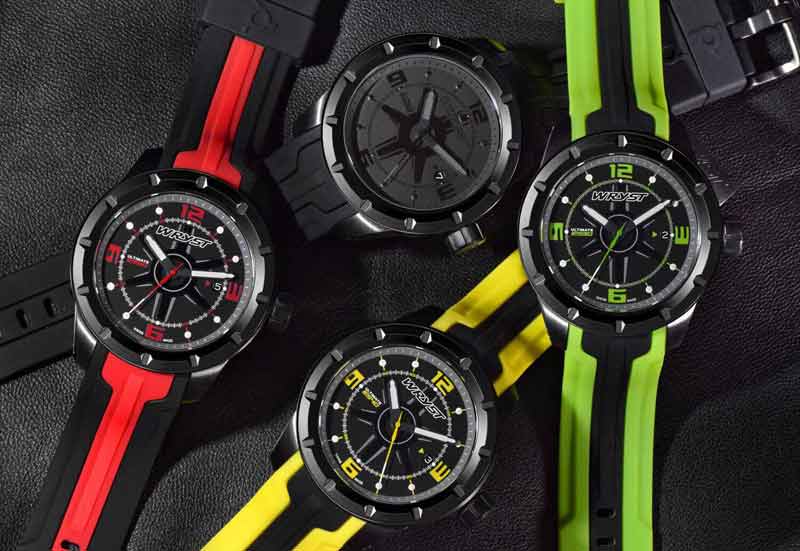 Wryst - The Watch Brand of the Future
During the last decades, many new watch brands have emerged, but not many can be proud to thrive over the years. Wryst has the ambition to demonstrate a new watch brand can be successful with heartfelt, unique creations, impeccable empathic customer service, and a large dose of inventiveness. Born from the vision of atypical Swiss watch designer Jacques Fournier, the MOTTO of the DNA he has imagined is innovative and simple: "Creating intelligent watch designs." A watch design has to be daring, new, and different. This is what Jacques has learned through the years of creating stunning timepieces for the 21st century and several luxury Swiss watch brands internationally.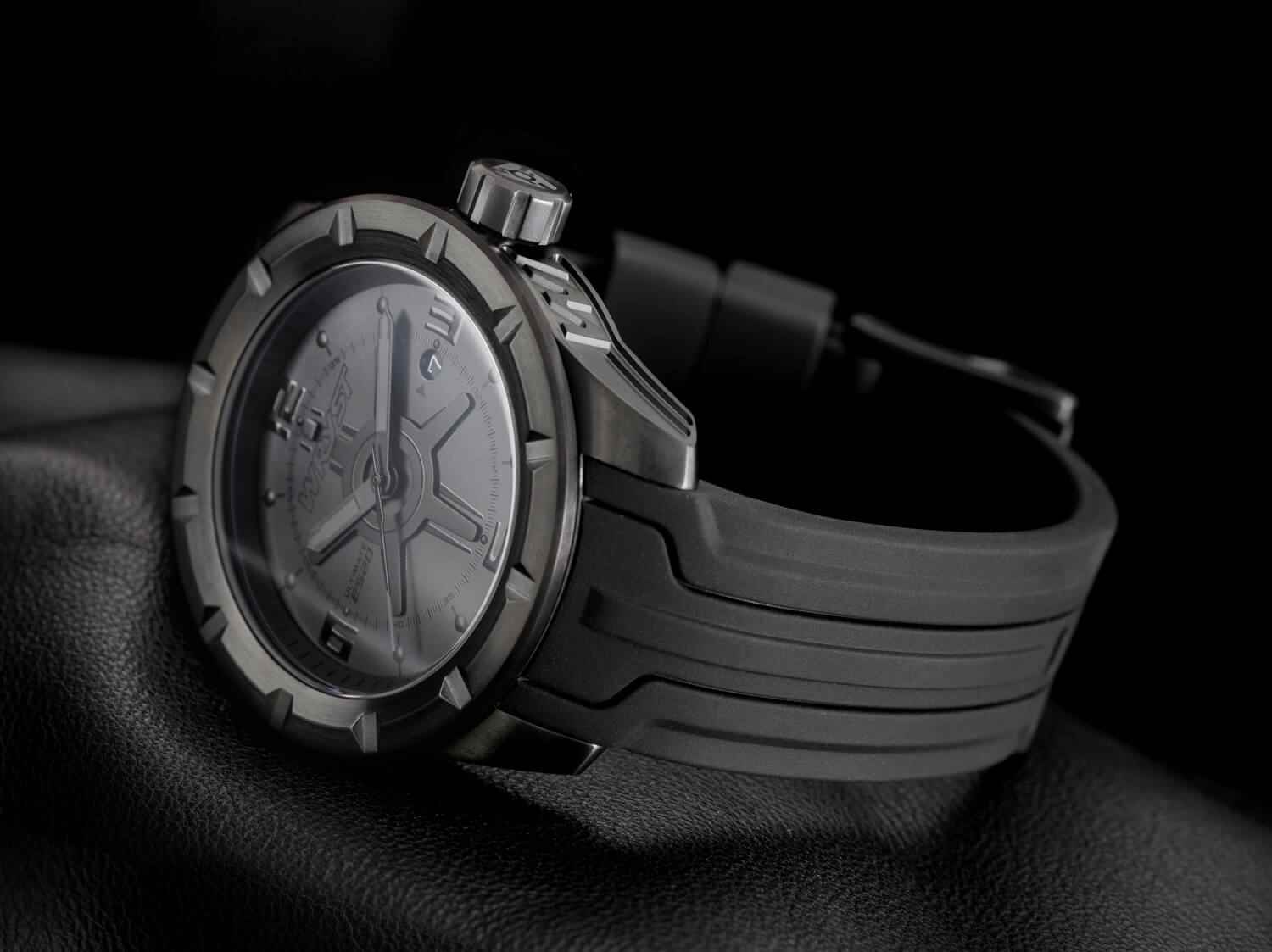 All-black Swiss Watch Wryst Ultimate ES20
What is New for this Ultimate Quartz Watch collection?
A successful sports watch must have something unique and be complemented by faultless craftsmanship and finish. So the 45mm ULTIMATE watch case designed by Wryst has a bold feel, and all its refinement consist of the CNC tooled 0.6 mm resonant signature on both sides. The faceted bezel's shape is a vital protective asset and sits higher than the sapphire crystal and slightly wider than the watch body. The harmony of all features, including the dial, hands, and strap, is well balanced and gives a futuristic and high-tech sport feel.

CNC engraved watchcase side
Affordable Luxury Swiss Sport Watches
Today the young adrenaline freak crowd wants value for money, "more for less." To respond positively to the hard-neck requirements, we have optimized time reading visibility with a well-contrasted dial and, most importantly, the overall timepiece strengths. Statically tested at 20ATM and with a screw-down crown, one should expect not to worry about going in the water wearing a watch in the 21st century. Not to mention the black DLC coating, which positions the brand comfortably towards higher-end Swiss watch brands. The retail price for the new Ultimate sports watch collection is between £415 and £495.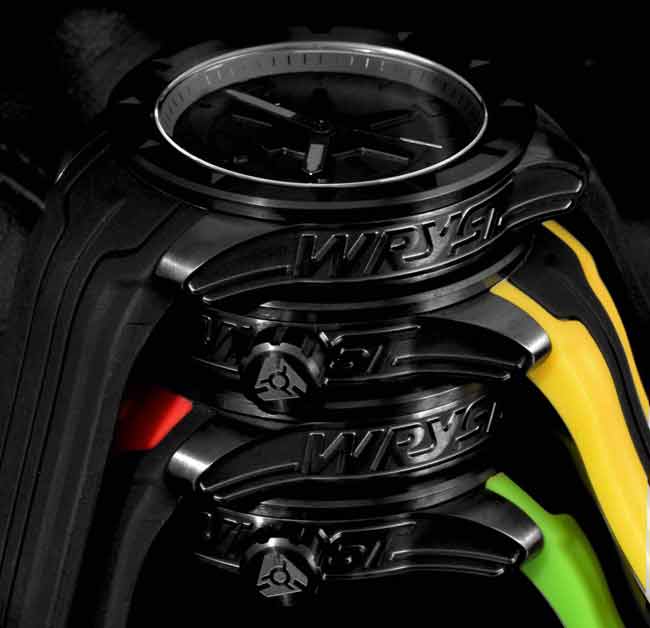 An Exclusive Limited Edition Séries
Only available in Limited Editions of 99 pieces with serial number engraved, the fun & colorful extreme sports Ultimate watches are a real statement of simplicity with class and refinement. Most new references are back to black, with the initial green, yellow, red, and orange colors used for the first 2012 Wryst Airborne now sold-out. The Swiss watch brand has also released a straight brushed case model with a striking combination of dark grey and bright orange colors for a Wryst Ultimate ES50 with a distinctive style.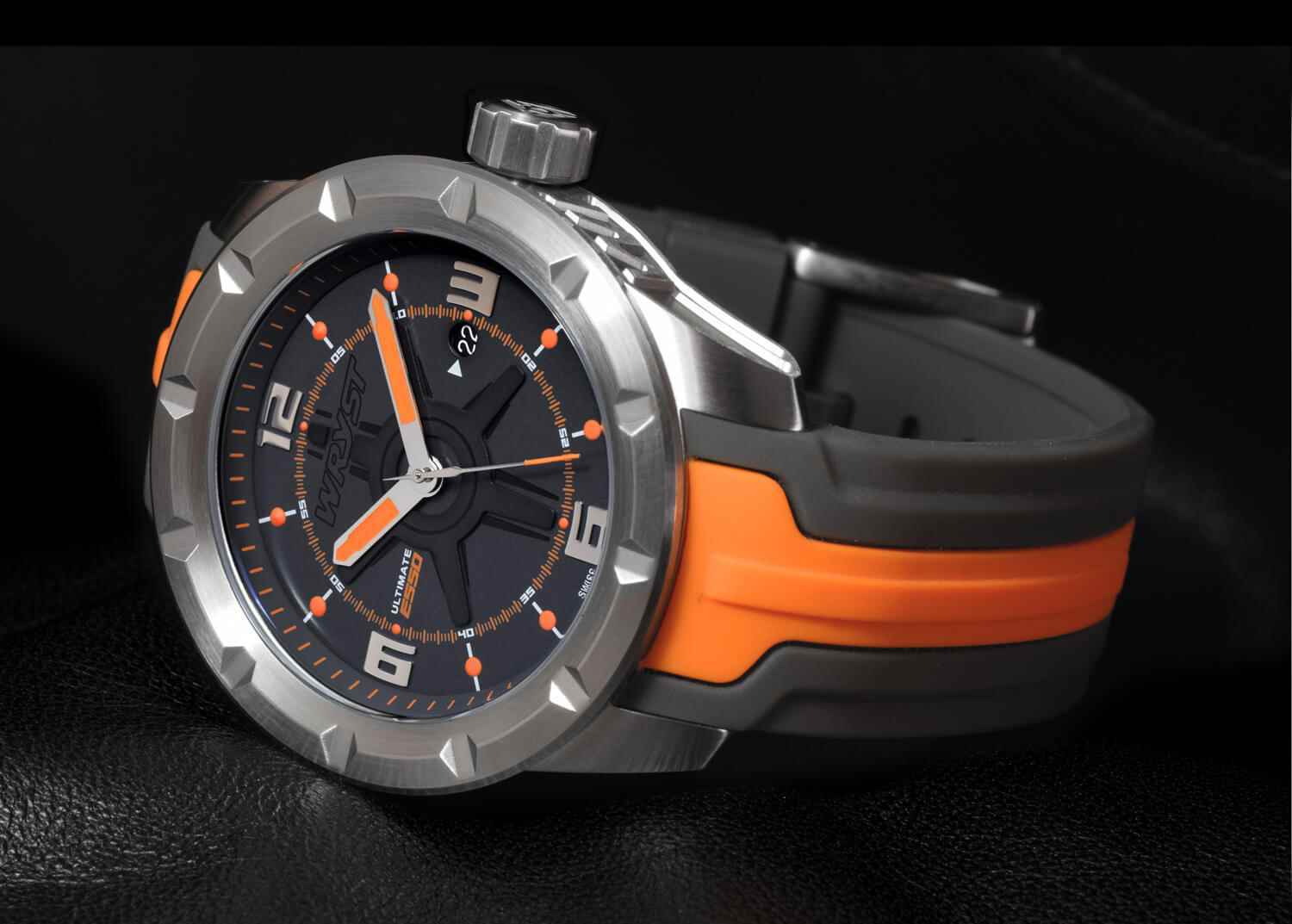 WRYST TIMEPIECES - Buy one today; you will never feel the same again...