The Black Ultimate Watches Size 45mm
Bold, Robust, and Masculin Watches
The black watches Wryst Ultimate produced in small limited editions are ultra-colorful. These will be enhancing your lifestyle! Initially designed to withstand outdoors and adventure sports, the Ultimate watches benefit from the world's most scratch-resistant black coating. Consequently, the technology "Diamond-Like Carbon" (DLC) is undeniably 100 times more resistant than regular black "Physical Vapor Deposition" (PVD). All stainless steel grade 516L, they benefit from enhanced toughness.

Put Aside All Updates and Connection Requirement
No software, firmware, microprocessor, GPS, or internet connection required! Wear your timepiece for your journeys in the wildness, anytime and anywhere. The exclusive 45mm diameter watches are accurate and reliable—antimagnetic, shockproof, and 200 meters water-resistant. The Ultimate also benefits a scratchproof sapphire crystal lower than the bezel for optimized protection. The limit between you and your watch is only the sky.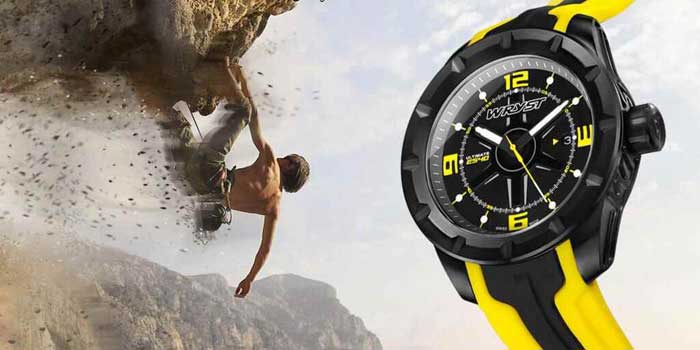 Confidently Designed for all Outdoor Sports
Whether you are an adventure freak, a surfer, skydiver, or rock climber, the black metal watches are engineered for you. If you had enough low-budget black watches that sometimes do not last a few months, we would make the decision easy. Also retailed at a very affordable price, the Wryst timepieces offer the best value for money ever.
Most importantly, the Wryst Ultimates are built for extreme sports. We mean extreme! Some of our customers are professional paragliders, mountaineers, snowboarders, and downhill bikes, to name a few "shaking" activities.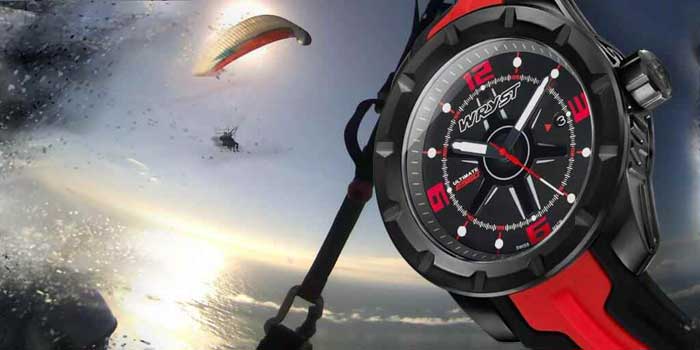 More exclusive Than Most
Wryst is a microbrand. As a result, the sports watches are produced in small series and exclusively in Switzerland. The 0.6mm debossed case side is unique and done by CNC machining. Case backs are engraved with their unique serial number from #01 to #99. Returning the watch also reveals a deep 3D engraving of the Wryst logo with a thick grain finish, which has never been seen before. The Ultimate wristwatches are also extremely comfortable.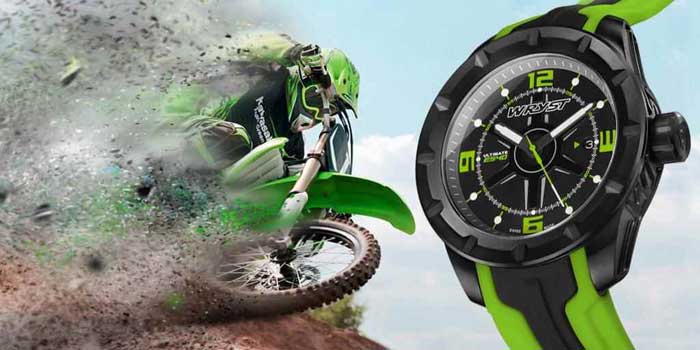 Watches for Watersports Wryst ES30
Bracelets Available in Metal or Silicone
You can purchase each one of the Wryst Ultimate timepieces either with silicone bracelets or with an integral stainless steel bracelet. If you require any bracelet combination for your watch, we will be delighted to know your tastes. All reference comes systematically with a choice of two bracelets.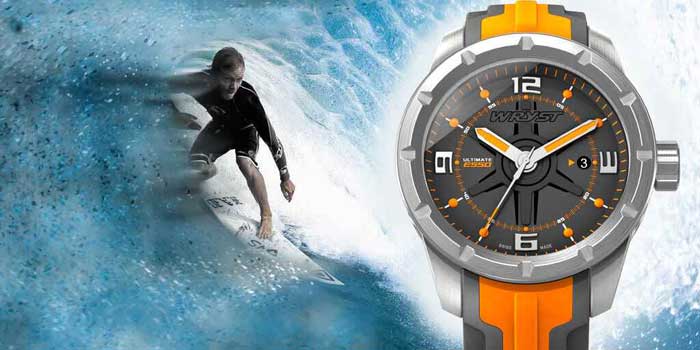 Men's orange watch Ultimate Wryst ES50
A Panoply of Several Colors are Available: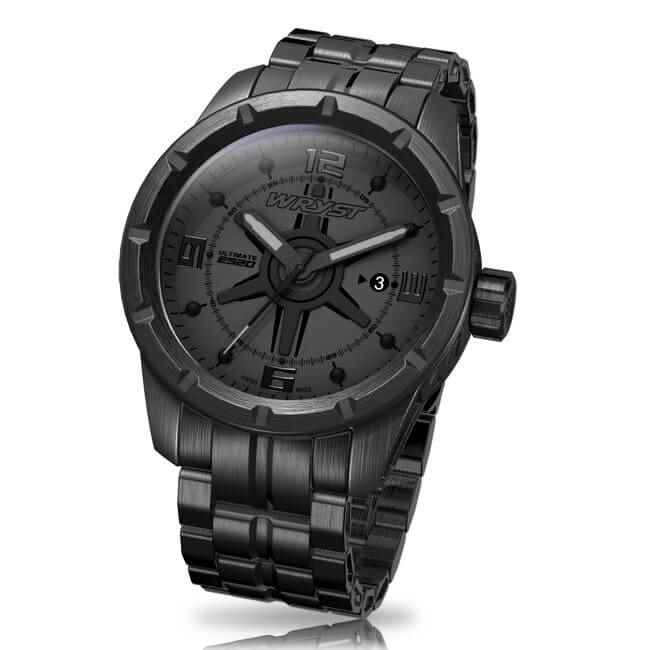 2/ Black Watches for Men Wryst ES30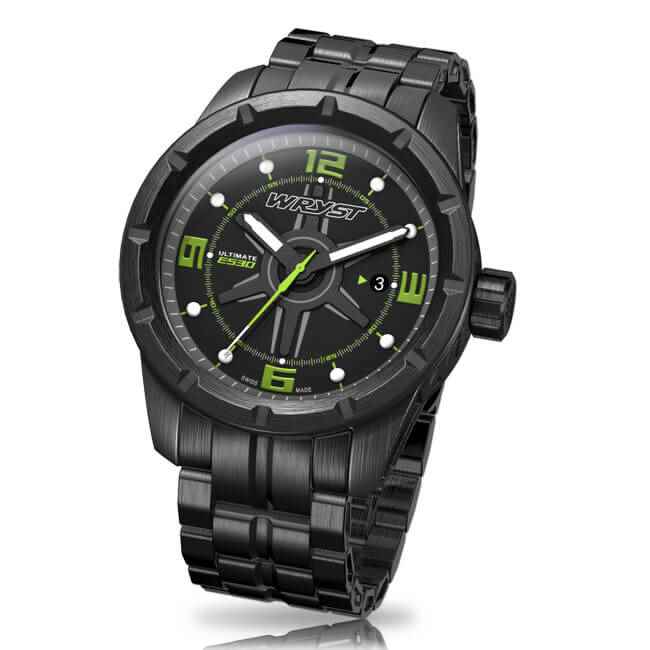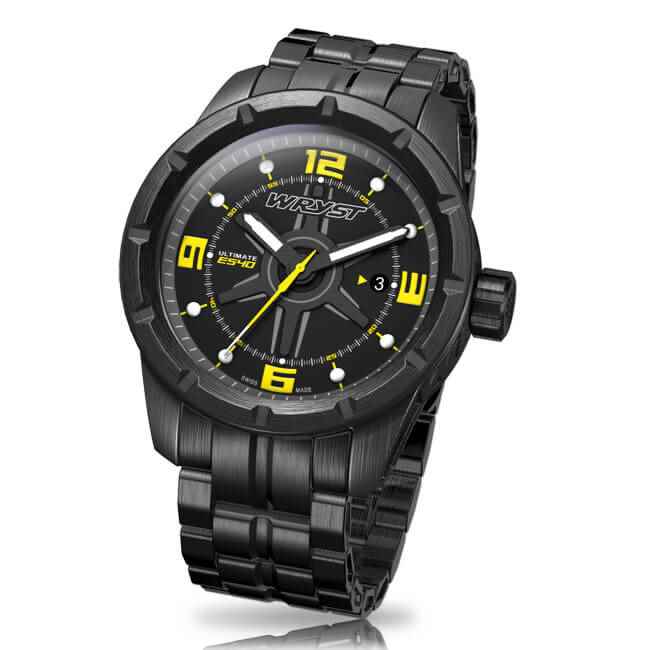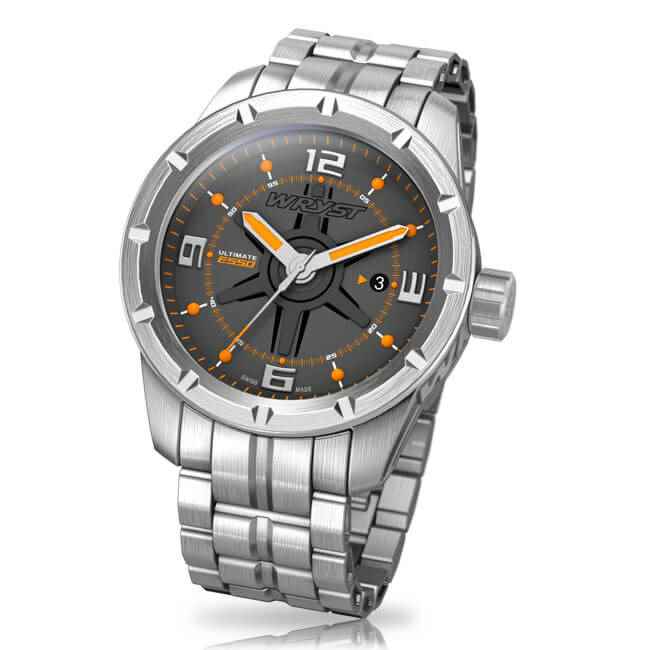 5/ Black Sapphire Crystal Watch ES60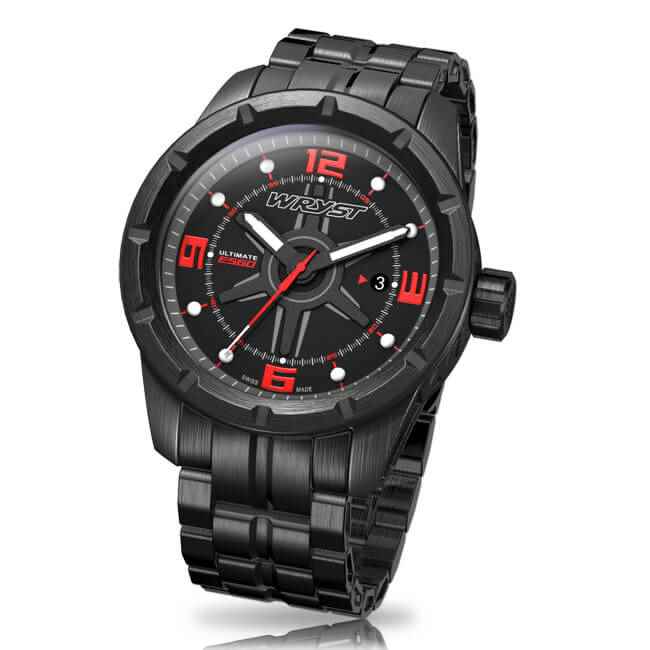 Recap of the Ultimate Sports Watches Specifications:
- Reliable 3 hands/date Movement
- 200 Meters water resistance with screw-down crown
- Resistance to magnetic fields 18.8 Oe
- Battery life 45 months (Renata 371)
- Resistance against shock NIHS 91-10
- Black DLC scratch-resistant Coating (Except ES50)
- Thick sapphire crystal to protect the dial for many years to come
- Highly reliable three hands watch movement with a date at 3H
- Four screws case back attachment for optimized strength
- Two integrated high-quality bi-color silicone watch strap for each reference
In conclusion, this collection is produced in small quantities. Therefore we would strongly advise you to make the most of your money and choose one of the Wryst Ultimate watches. There are several reasons for this, mainly they will not be available forever, and 60% of them are now already sold. You can forget about purchasing several gadget sports watches every year and meet with the world of reliable timepieces proven to be more durable.