Top 10 Best Swiss Watch Wryst 2016 for Sports
Published : 10/17/2016 12:40:35
Categories : Wryst Latest News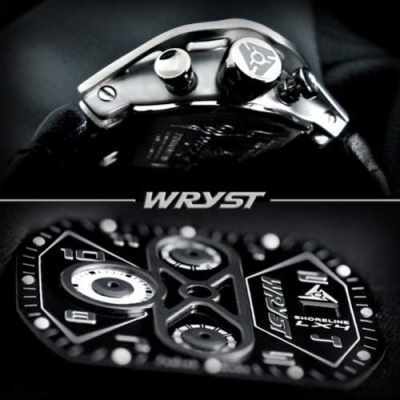 Top 10 Best Swiss Watch Wryst 2016
Choose wisely your limited edition Swiss sport watch WRYST
Your choice of Swiss sport watch WRYST is essential, and it is not a decision to take lightly. With many colors and many combinations of coating and bands, our customers spend a lot of time browsing through the versatile collections of watches sometimes more than once a day to find their perfect match. Discover the top 10 best Swiss watch Wryst 2016, hoping it will help you make this all-important decision.
1. Wryst Isle of Man TT Special Edition Watch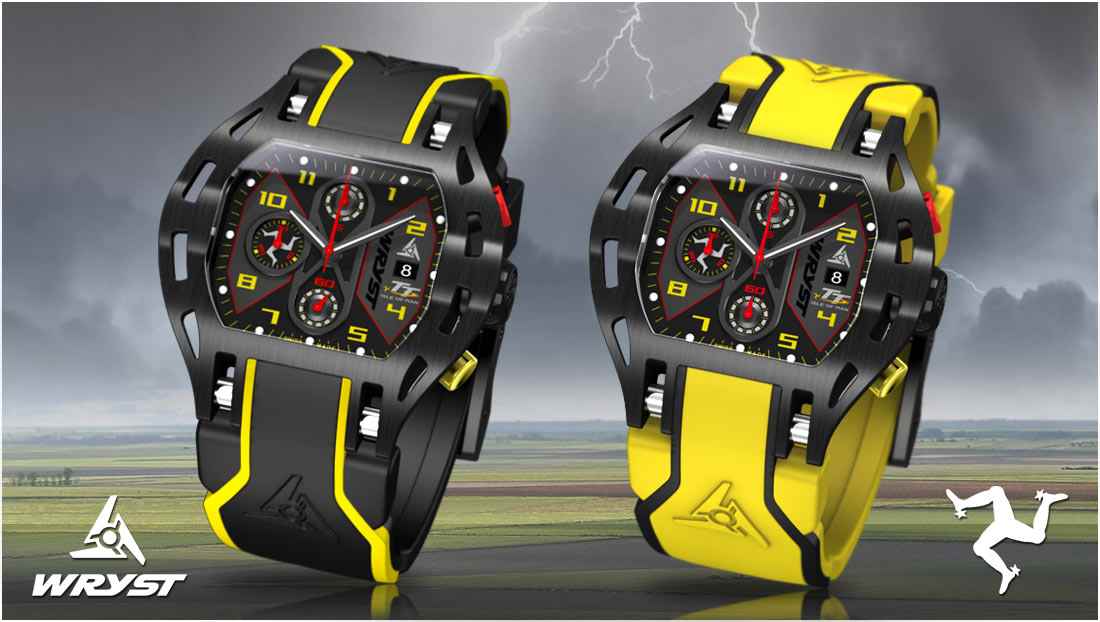 BEST SELLER WRYST 2015 - 2016
The TT watch is paying tribute to the legendary world's fastest and most dangerous road race, the Swiss chronograph Wryst Isle of Man TT Special Edition watch, of which only 132 serial numbers produced are now sold-out. Every category race winner of the Isle of Man TT 2016 has received a complimentary Wryst TT watch on arrival.
2. Wryst Motors MS3 Watch with Carbon Fiber Dial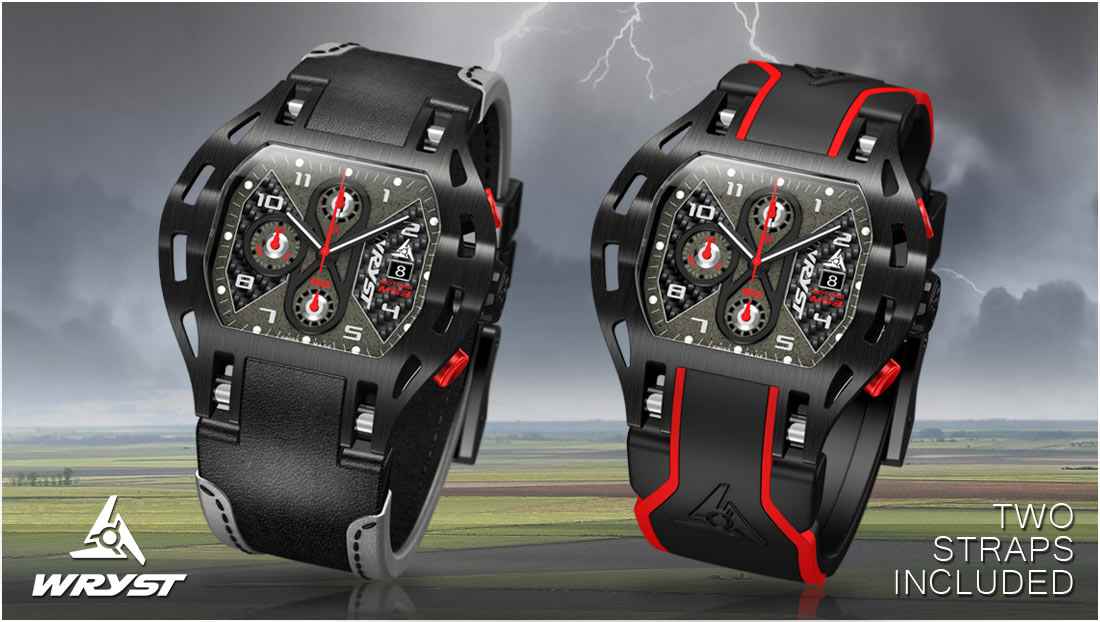 Price: £755 GBP | $991 USD | €893 Euro (10/16)
Launched for pre-orders as early as November 2015, the Swiss watch Wryst Motors MS3 available and in stock since April 2016 is our second-best top seller this year. Wryst uses for the first time on this reference a superb carbon fiber material on the dial for enhanced Motorsport feel. Since only 99 pieces of these watches will ever be available, we would highly recommend buying one fast where possible!
3. Wryst Shoreline LX4 Luxury Swiss Watch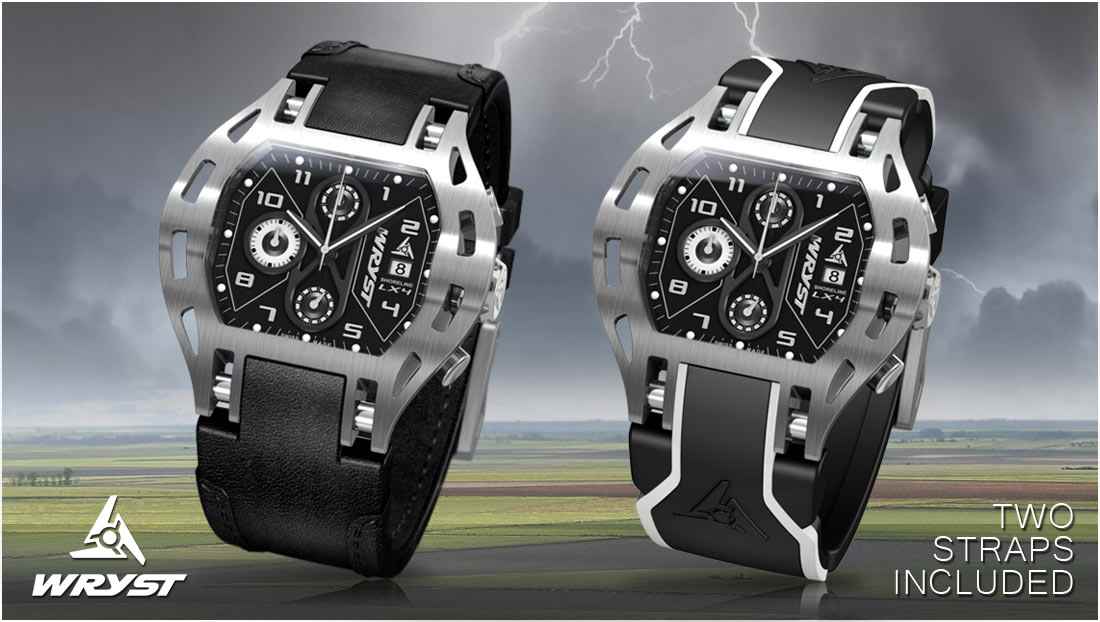 Price: £635 GBP | $833 USD | €751 Euro (10/16)
The luxury Swiss Sport Watch, "Wryst Shoreline LX4" with black dial and high-tech two-tone strap, is dedicated to water sports, outdoor sports, and extreme sports. The "K1" crystal is also super tough; Ultra-resistant material more scratch-proof than mineral crystal. It is also more shatterproof than sapphire.
4. Wryst Elements PH7 Watch for Extreme Sports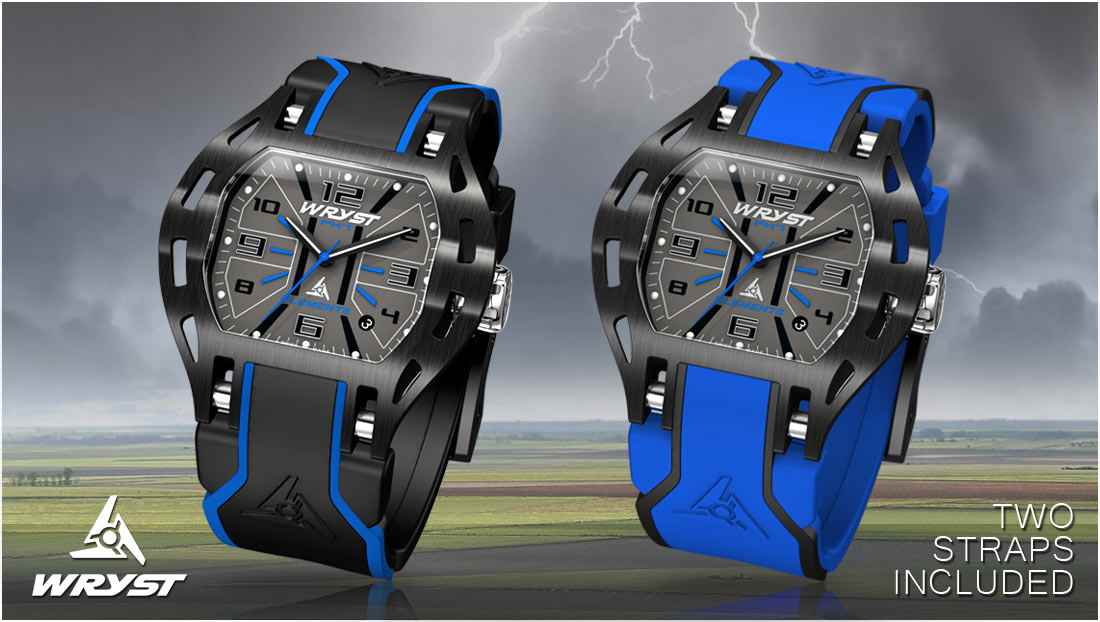 Price: £515 GBP | $676 USD | €609 Euro (10/16)
Blue Swiss watch Wryst Elements PH7 in limited edition of 75 pieces for outdoor sports in blue and black with aggressive, stylish look. Dedicated to a sportive crowd thirsty of adventure and outdoor sports, Wryst is offering a unique Swiss men's sport watch designed to withstand rough activities in hostile environments. Two straps included.
5. Wryst Ultimate ES50 Orange Swiss Sport Watch
Price: £395 GBP | $518 USD | €467 Euro (10/16)
The Orange Swiss Sport Watch WRYST ULTIMATE ES50 for men in limited edition is bold, fun, modern, and a great watch for Extreme Sports. With a large 45mm case size and a lot of styles, it has a spectacular overall design to stand out and look cool. Strongly built and with sapphire crystal, it makes the ideal sport watch for excessive use and hostile environment. Stand out with style with an exceptional Swiss Made sports watch today.
6. Wryst Elements PH3 Green and Black Watch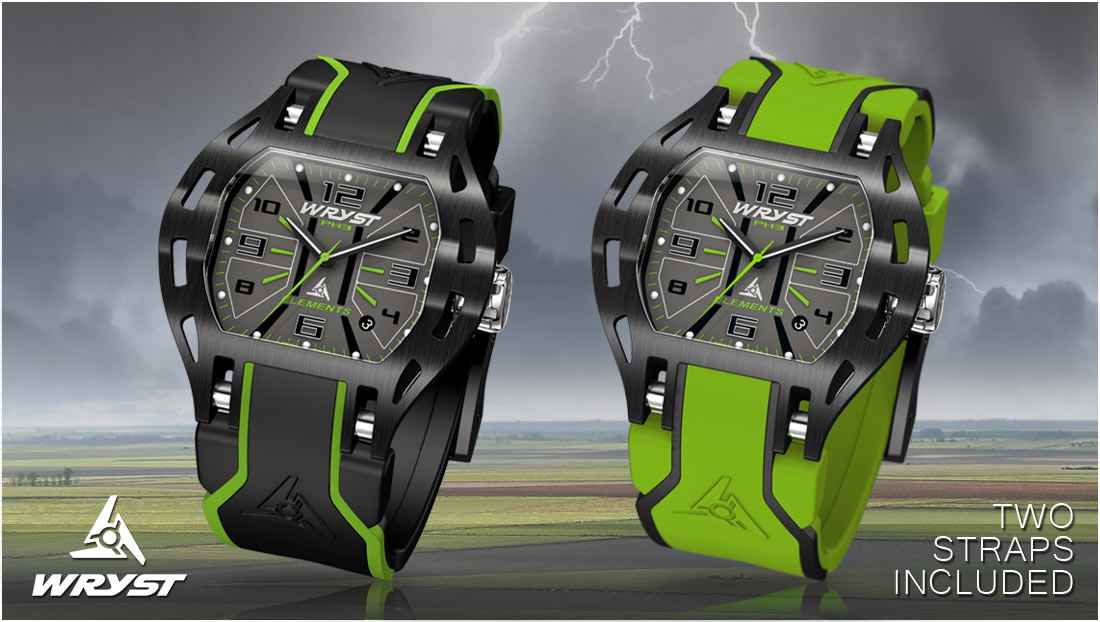 Price: £515 GBP | $676 USD | €609 Euro (10/16)
Green and Black sport watch Wryst Elements PH3 Swiss Made with aggressive and disruptive sport design. This exclusive limited-edition sport watch for men PH3 benefit of the hardest materials the watch industry has to offer. The scratch-resistant black Diamond-Like Carbon coating used in the Formula 1 sports car engines and aerospace is the guarantee of a durable and reliable Swiss sport watch. Two straps included!
7. All Black Swiss Watch Wryst Ultimate ES20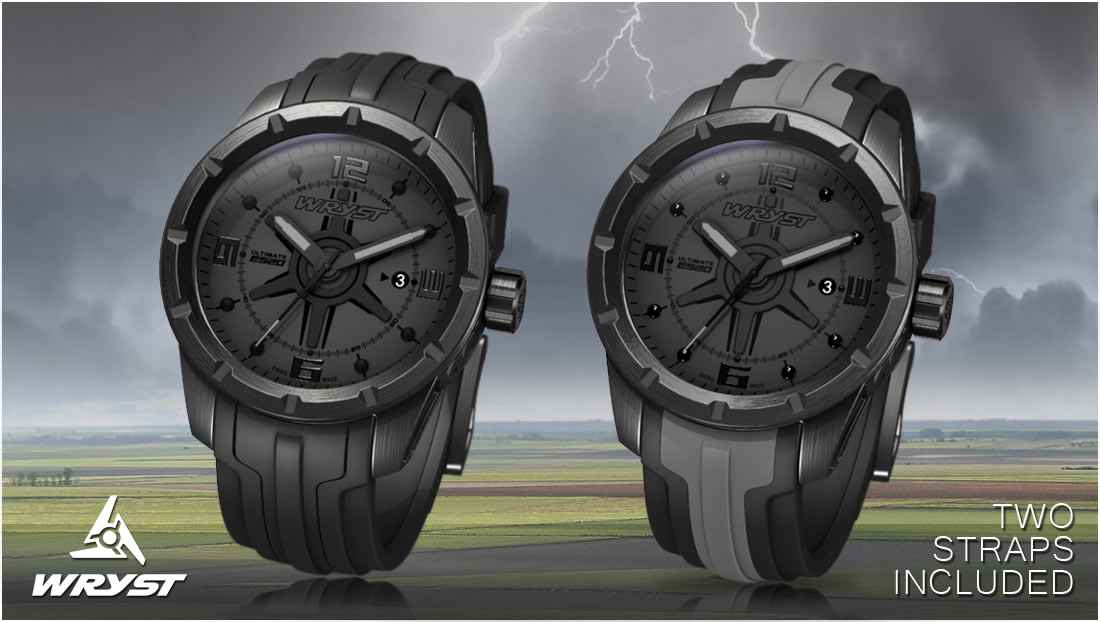 Price: £448 GBP | $588 USD | €530 Euro (10/16)
The Black watch Wryst Ultimate ES20 Swiss Made for sport is entirely black and represents a cool look that is both understated and sleek. Produced in Limited Edition of 99 pieces, only it makes the ideal watch for rough usage and hostile environment. A watch is often measuring a man's success and sense of style. Blacked-out, this exclusive watch with black dial has black DLC coating on the case, bezel, crown, case back and buckle. Two straps included.
8. Luxury Rose Gold Swiss Watch Wryst Shoreline LX5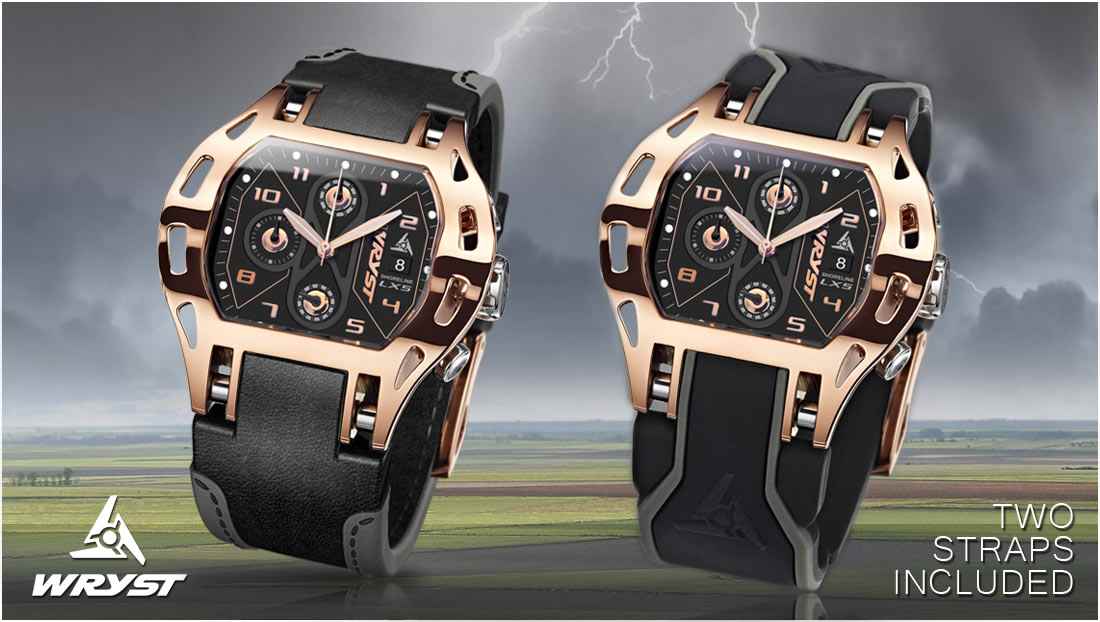 Price: £735 GBP | $965 USD | €870 Euro (10/16)
The Rose Gold watch Wryst Shoreline LX5 Swiss Made produced exclusively in limited Edition is an atypical demonstration of class and refinement. The sexy combination of black dial and rose gold case is perfect for charismatic individuals wheeling to stand out and express themselves in style. Ideal for both your favorite water sport or for an exclusive VIP night out, you will exceed with a jewelry timepiece.
9. Wryst Automatic 2824 Watch with SEE-THROUGH case back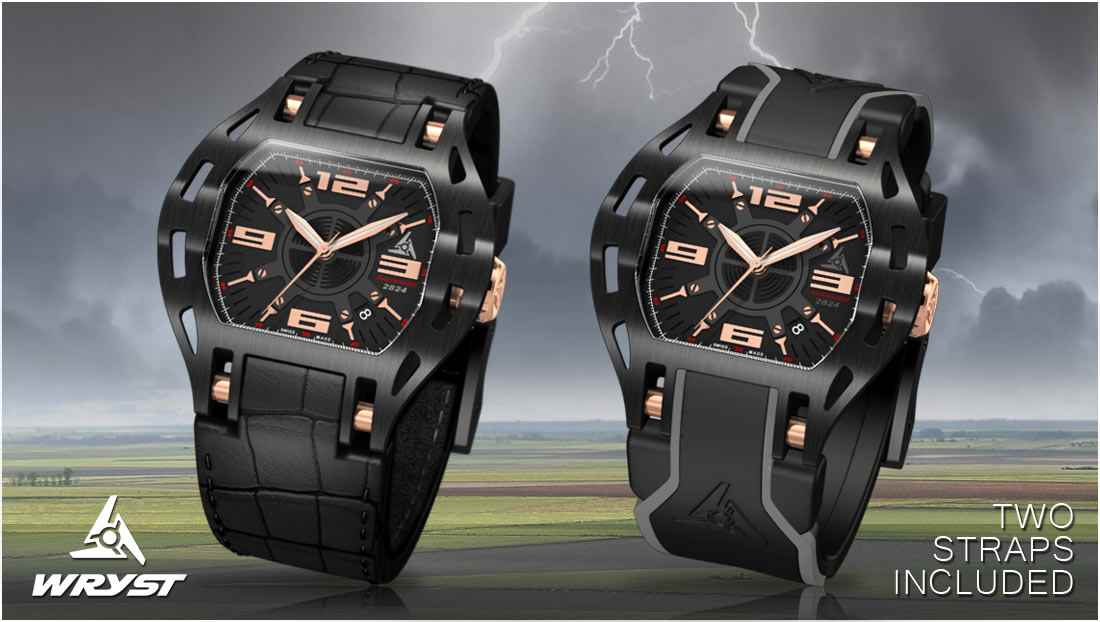 Price: £1588 GBP | $2'084 USD | €1879 Euro (10/16)
Wryst introduce the black automatic Swiss sport watch Wryst 2824 with elegance & refinement. Now available with both a luxury black semi-matt alligator leather strap and also a two-tone silicone strap. The Wryst '2824' pays tribute to watchmaking excellence and Swiss tradition with the legendary workhorse movement ETA 2824-2. The beautiful combination of Black and Rose Gold details are stylish and highly refined. The case engraved WRYST on the left side, case back, and square buckle are all coated with the revolutionary black 'Diamond-Like Carbon' coating all-round.
10. Wryst Ultimate ES60 with Black DLC Coating Watch
Price: £425 GBP | $558 USD | €503 Euro (10/16)
The ULTIMATE ES60 black Swiss watch Wryst is ultra-sporty, dynamic, and an amazing testimony of unique watchmaking style. Produced exclusively in Limited Edition series of 99 pieces, the watch case sides are engraved 0.6mm deep with CNC machining, which is a significant challenge in itself. Stainless steel engraved case, screw-down crown, and buckle benefit from scratch-resistant Black DLC (Diamond-Like Carbon) technology, which increases the hardness of the watch considerably.
Have you bought a Swiss sport watch from the 2016 collections and feel it should feature in this Top 10 Best Swiss Watch Wryst 2016? Please comment below and give us your reasons.
Share this content
Add a comment
2 comments