Pay for Your Luxury Wryst Watch on Finance
Buy your watch now and pay for it later
You can now buy a luxury Wryst watch on finance or credit and pay later with 0% interest.
If you don't want to wait and prefer to buy your limited edition watch today, we have a ready-made option just for you.
Just add the watch you want to buy to your cart, and in your cart, choose the checkout button "PAY LATER." You can then go ahead and benefit from a free four-installment payment with 0% interest and receive your watch promptly.
Several countries, such as France, the United Kingdom, the United States, Spain, and Italy, can use this option, but we have another solution if you are not located in one of these countries.
Buy on credit in a few simple steps
Suppose you can not see this "pay later" option in your cart. In that case, you can also choose the "Pay with Paypal" checkout button, scroll down once you are logged in, and at the bottom of the popup, follow this illustration for either the four-installment option, and you can also apply for credit to go ahead and make your purchase as follow: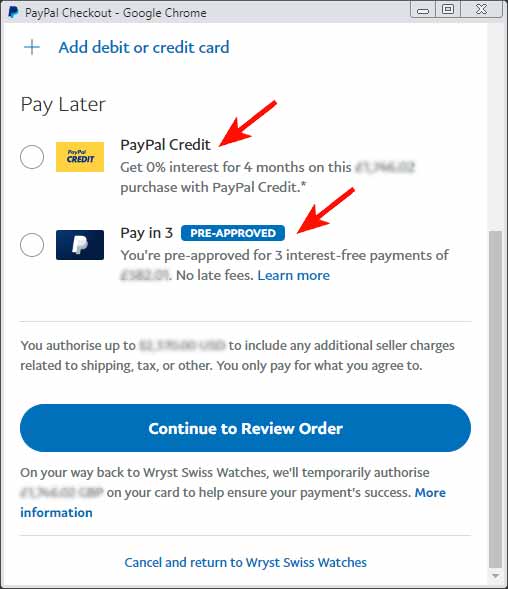 We hope this tutorial will help you buy your luxury Wryst wristwatch on finance. Please get in touch with us if you need assistance; we will be happy to help.