Best Fitness Watch Wryst ES40
The Black Fitness Watch Wryst ES40 with carbon fiber bracelet. This unique scratch-resistant black DLC reference is ideal for swimming, exercising, and extreme sports. The sincere Ultimate ES40 demands people looking for a sturdy and reliable investment without breaking the bank. Also highly collectible, all Swiss Wryst Ultimate timepieces are only available in limited series of 99 pieces. The heavy-duty genuine leather Carbon Fiber bracelet is the perfect look for this unique exercising athletic watch.
Specifications
Data sheet
GENDER

Men

PRODUCTION

Limited Edition of 99 pieces

REFERENCE

Wryst ES60 Ultimate

CASE

Stainless Steel Grade 516L

COATING

Scratch-Resistant Black DLC

CRYSTAL

Sapphire Crystal

MOVEMENT

Swiss Quartz with Date

SIZE

45 mm Width

CROWN

Screwed Crown

FEATURE

Deep Engraving on Case Side

BRACELET

Black Carbon Fiber Leather

WRIST SIZE

Wrist 170mm to 210mm

RESISTANCE

200 Meters (20ATM)

WARRANTY

18 Months
Description
Wryst ES40 for Fitness, Swimming, and Watersports
A Durable and Reliable Swiss Timepieces
The perfect Swiss fitness watch with black DLC coating for a stylish look dedicated to hostile environments. The sportive Wryst ES40 is the perfect watersports watch for men to practice swimming, exercising, fitness, and active sports. The casing qualifies for 200 Meters of water-resistance and is protected with a hard black DLC coating, literally scratchproof. The lowered sapphire crystal is designed to stay away from unintentional shocks.
The 22mm carbon fiber genuine leather band with yellow stitches gives a unique feel to the sports black Swiss timepiece. Bright luminous hands and hour markers are providing with a quick and clear reading of the time. At the 3-hour position, the watch features a black date disc with a white day indication. All Ultimate models measure 45mm in diameter. Even if this size is slightly larger than the average for women, men will appreciate the comfort and feel of this limited edition Wryst ES40. The black dial has a second track and other inscriptions in yellow.
Are You Looking for a Tough Black Traditional Timepiece?
If you need to up your game with a matte black with brushed finish, this highly collectible and durable Swiss timepiece is for you. Available at a sensible price compared to all other black DLC coated options, one of these 99 pieces ever produced could well be yours. Hurry and purchase this fantastic Wryst model for men; only a select few will ever have the chance to wear this ideal swimming watch.
The list of specifications is endless: Black DLC scratch-resistant coating, Sapphire crystal, limited edition, screw-down crown, 200 Meters water-resistance, reliable Swiss manufacturing, two different bracelets included, and much more!
This luxury timepiece is your best bet for a long-lasting experience without the fuss of a smartwatch inconvenience. No recharging, no updating, no network are required. Disconnect from all the virtual buzz around you and concentrate on your outdoor or indoor exercise and fitness session. Thanks to a long battery lifetime, you can enjoy keeping in time for up to 45 months.
List of what this exclusive metal limited edition Swiss traditional watch is not!:
- Heart rate monitor
- Sleep tracker
- Built-in GPS
- Fitness tracker
- Swim tracking
- Activity tracker
- Fitbit gadget
- Apple watch

So if you are after a classy wristwear that is not a smartwatch, you have just found a gem of reliability. This ES40 requires no battery charge and no network. So feel free to practice your outdoor activities without constantly checking your eyes on a monitor. After all, you know what you are doing.

The only thing you need for outdoor exercise or indoor fitness is yourself, a bottle of water, and a reliable, durable, and stylish companion on your wrist.
Best Buy Fitness Watch for Men that Will Not Let You Down
With incredible strength attributes and 200 meters of water-resistance, feel confident your investment is safe. Ideal for watersports, the screw-down crown and screwed case back are totally optimized. This black best men's athletic watch can also be fitted with a hard scratch-resistant black DLC metal bracelet available separately. Altogether, a selection of four different sportive bracelets is suitable for this fearless luxury gym wristwear.
What does fitness mean exactly?
When someone feels energised, has healthy skin, is active, doesn't feel any tireness, and has a positive attitude towards life, he can call himself a fit person. This is what fitness is, it's about being healthy in both the body and also in the head. Morihei Ueshiba said, "The purpose of training is to tighten up the slack, toughen the body, and polish the spirit." That said, physical fitness also means to be mentally fit as well as physically.
You don't need a watch to help you becomming fit
Fitness is a condition that makes us feel, look, and do our very best to stay healthy. It means to rely on your own body to perform well when you need it most, whether while exercising through household tasks, enjoying a daily outdoor walk on an inviting day, running for twenty or 30 minutes, or practive star jumps and pushups. Only you can properly decide the best exercise at the any point in time to achieve your fitness goals.
Choose a More Stylish Active Look for Fitness
The 2020 best buy smartwatches are often lacking style with a switched-off black dial and somehow complex functionalities. The designs are bland, and they look like wearing a black bracelet on your arm.
Wryst has created an innovative new round face design with unique features so you can feel good about wearing your all-important investment whether you choose to have physical activities before or after work, no need to swap your timepiece for a different one before going to work or your night out.
Clear reading at all times
The black circular bezel with clear hour indications sits higher than the sapphire crystal. This will protect your swimming watch face and ensure durability. Your 200 meters water resistance is also a must for everyday life as you may decide to practice surfing or jetski during the weekend. All these added strengthening attributes are only found on quality Swiss timepieces. The stylish engraved case side also is a bonus with an impressive 0.6mm deeply etched case side that will intrigue and impress your friends and colleagues.
A True Dediaction for Outdoors
Wryst always had a passion for durable and exclusive active sports watches. Since 2012 we strive to offer unicity, versatility, and dedication to a different lifestyle. Furthermore, purchasing your timepiece online guarantees the best after-sale service, and also, this will cut the middle man's expenses such as distributors and retailers. Should you change your mind after receiving your watersports and active companion, then so be it. We will refund your new, unworn timepiece. Usually, 32% of our new customers buy their second Wryst within one year. Customers particularly appreciate the Ultimate ES40 from the United States, Canada, Australia, and Europe.
References with silicone bracelets from the "Ultimate" collection:
Wryst Ultimate ES20 with all-black bracelet
Wryst Ultimate ES30 with green and black bracelet
Wryst Ultimate ES40 with yellow and black bracelet
Wryst Ultimate ES50 with grey and orange bracelet
Wryst Ultimate ES60 with black and red bracelet
Other references of the Wryst Ultimate collection here: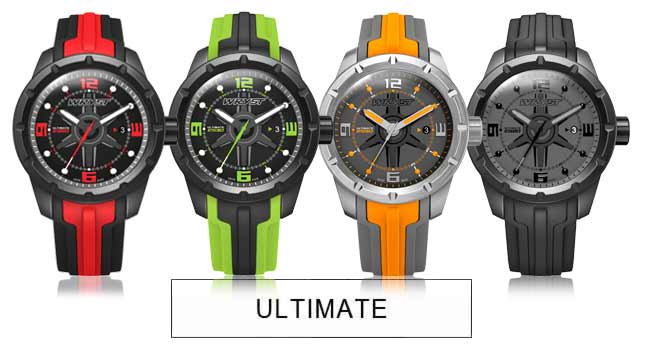 Reviews
Love it!
I was looking watch that had a sporty look and saw this one and made a purchase which I am very pleased with. Love wearing it and it feels really comfortable. So pleased with my purchase.
Brilliant!
Was looking for a more affordable black watch with DLC coating and this one ticks all the boxes. I wear it proudly everyday day. I love the case sides engraving which I never seen before. I need the black/red one now with metal DLC bracelet too.
Clear reading
Happy with this watch as it has very clear reading with liminous hands, and with 200 meters WR and sapphire crystal I am confident with my invesment. Great looking sports watch thx
 Write a review