PROFESSIONAL WATCHES FOR MEN
The professional water-resistant Ultimate black Watch collection produced in a limited edition of 99 pieces is designed for water sports, extreme sports, and snorkeling. The specifications are Swiss quality movement, 200 meters water resistant, sapphire crystal, scratch-resistant black DLC coating, screw-in crown, screw case back, and two straps included for each reference.
A SPORTS TIMEPIECE LIKE NEVER BEFORE
The Wryst Ultimate professional watches are designed to create a professional timepiece capable of withstanding the most hostile environment and outdo all other opponents of the same category. At the very beginning, a Swiss watch is the guarantee of perfect craftsmanship with certain finish quality. For many years, the idea of Swiss Watches brought a sense of elegance and class to the timepieces on our wrists.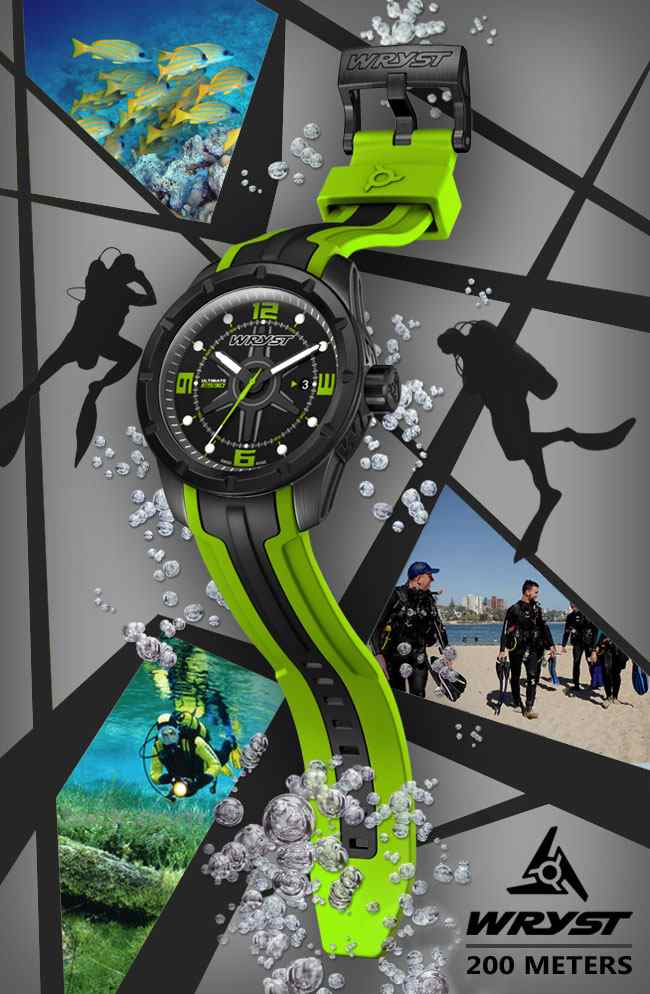 OPTIMIZED SPECIFICATIONS FOR A DURABLE WATCH
1-200 meters Water resistance
The Wryst Ultimate professional collection is tested at 20ATM, which qualifies for 200 meters of water-resistance. The entire watch is designed to withstand a given depth in immersion. In that case, shocks of temperature can still transform the humidity inside your watch into water vapor even if no water found ways inside the case. This phenomenon is known as condensation. Condensation inside a watch can have dramatic consequences, so we would strongly advise you to read our advice on water resistance meaning for a Watch to avoid having water droplets under the crystal.
2-Black Scratch Resistant Diamond-Like Coating (DLC)
Diamond-like carbon (DLC) is a class of amorphous carbon material that displays some of the diamond's typical properties. DLC coating is applied to the Ultimate sport watches Wryst on the crown, casing, square buckle, and the case back for all black watch reference Ultimate ES20. This coating benefits some of the diamond properties, such as hardness and unprecedented wear and tear resistance.
The actual process of making and bonding DLC are proprietary techniques that are either trade secrets or patented, depending on who is applying the DLC or making it. Toughening the metal when applied universally, a DLC coating is placed in a special chamber where the DLC coating is blasted to the metal's surface.
3-Anti-Reflective Scratch Resistant Sapphire Crystal
All Ultimate models benefit from a 1,6mm thick sapphire crystal with an anti-reflective coating. Sapphire crystal is the cover of choice for premium watches. It is the most expensive type of crystal and is three times harder than mineral crystal. It is made of an extremely durable synthetic material that makes it shatterproof and scratch-resistant. Hardness and durability is the main reason for Wryst's interest in sapphire glass. On the hardness scale, the only material tougher than sapphire is diamond.
4-Shock Proof Screw-in Crown
Screw down crown (or screw-in) is the best way to go for any true water-resistant, extreme sports watch. The crown screws down tight on the o-ring, the o-ring is in the crown, and when screwed down, it seals against the crown tube that the stem runs through. This feature allows to increase the air-tightness and water-resistance and also preserve the crown from unintentional shocks.
5-Limited Edition Swiss Professional Watches of 99 Pieces
Wryst is only producing 99 watches of each Ultimate reference to add more uniqueness to the watch series. This is the guarantee your timepiece is exclusive, and there is only one in existence. You can contact us at any time to request a specific serial number, and we will be happy to look at the stock lists.
6-Choice of Two Bi-Color Silicone Straps Included
Wryst includes two different bi-color quality silicone straps with each Ultimate reference. Comfortable, solidly built, and with dustproof coating, the high-density colorful straps are systematically included with each timepiece. Choose to change your strap to suit your moods or change the watch's look on your wrist. The technology used to make two different color silicone straps requires high precision and extensive craftsmanship skills.
UNUSUAL DEEP ENGRAVED CASE SIDES SWISS WATCH DESIGN

Another unique feature of the men's black Wryst Ultimate ES20 watch design is the CNC engraved case sides at 0.6mm deep. This case side signature with the Swiss brand Wryst is exclusive to the Ultimate collection. The debossed area has a sandblasted finish, and the case side has a vertically brushed finish before the hard scratch-resistant black DLC coating is applied. This gives the timepiece an unusual look that is new to the watch industry and offers a rougher feel.
BROWSE THE ULTIMATE BLACK WATCH COLLECTION HERE
Which is your favorite Ultimate professional watch color and why?