Outdoor Watches Wryst PH5
The Swiss outdoor watches Wryst Elements PH5 with a stunning aggressive design, are exclusively available in a limited edition of 75 pieces only. With a striking sportive combination of orange details and black color casing, the luxury PH5 watch is seriously different and has a versatile look. Make a long-lasting impression on your extreme sports fellow teammates with a handy sports watch that will not let you down. Unlike most black outdoor watches, the Elements PH5 is a unique compromise of timeless style and durability. It comes with two bracelets!
Specifications
Data sheet
GENDER

Men

PRODUCTION

Limited Edition of 75 pieces

REFERENCE

Wryst PH5 Elements

CASE

Stainless Steel Grade 516L

COATING

Scratch-Resistant Black DLC

CRYSTAL

Mineral "K1" Shatterproof

MOVEMENT

Swiss Quartz with Date

SIZE

45 mm Width

CROWN

Screwed Crown

BRACELET

Orange and Black

EXTRA STRAP

Black

WRIST SIZE

Wrist 150mm to 205mm

RESISTANCE

100 Meters (10ATM)

WARRANTY

12 Months
Description
The Striking Wryst PH5 in a limited edition
Black & Orange Wryst Elements PH5 Timepiece
Unique designer outdoor watches. The reliable Wryst PH5 black and orange watch for your everyday activities. Wryst atypical Swiss brand thrives on offering exclusive limited edition outdoor watches dedicated to water sports, outdoor sports, and adventure sports. The perfect compromise of modern style and strong, durable materials is a must for creating a well-built luxury sports timer. Wryst Swiss timepieces provide excellent value for money.
The PH5 case and buckle are both coated with the incredible hard Diamond-Like Carbon material. A new material, K1, for the crystal will protect the dial and be more shatter-proof than sapphire and more scratch-proof than mineral crystal. The collection also benefits from a signed screw-in crown, 100 meters water resistance, and a signed stylish black DLC buckle.
One Sports Wristwatch, Two Bracelets Offered
Also, with this exclusive Wryst PH5 timepiece receive another second bracelet entirely black. Choose your style and adapt to the occasion. Will you go black or orange today?
This reference will not be available for a long time, with only 75 units produced! Each case back is engraved with a unique serial number, so there are never two identical timepieces in existence. This PH5, with an extended battery life of 45 months, is your best choice and an excellent watch for outdoor activity. The collection Elements is dedicated to providing sturdy timepieces with reliable Swiss quartz movement. If you are looking for an outdoor adventures timekeeper, you can choose between other unusual references in our boutique. There are also several choices of outdoor watches with blue, red, green, and yellow colors.
A timeless, unique design for him and her
Women and men can now own a unique modern black and orange timepiece ready to go and explore. Thrill-seekers and adventure geeks can feel satisfied with a piece of mind. Since 2012 the brand has created sincere, stylish, and bold designs with a timeless and enjoyable feel. The dial is also easy to read with bright luminova on the hands and hour markers for low-light environments.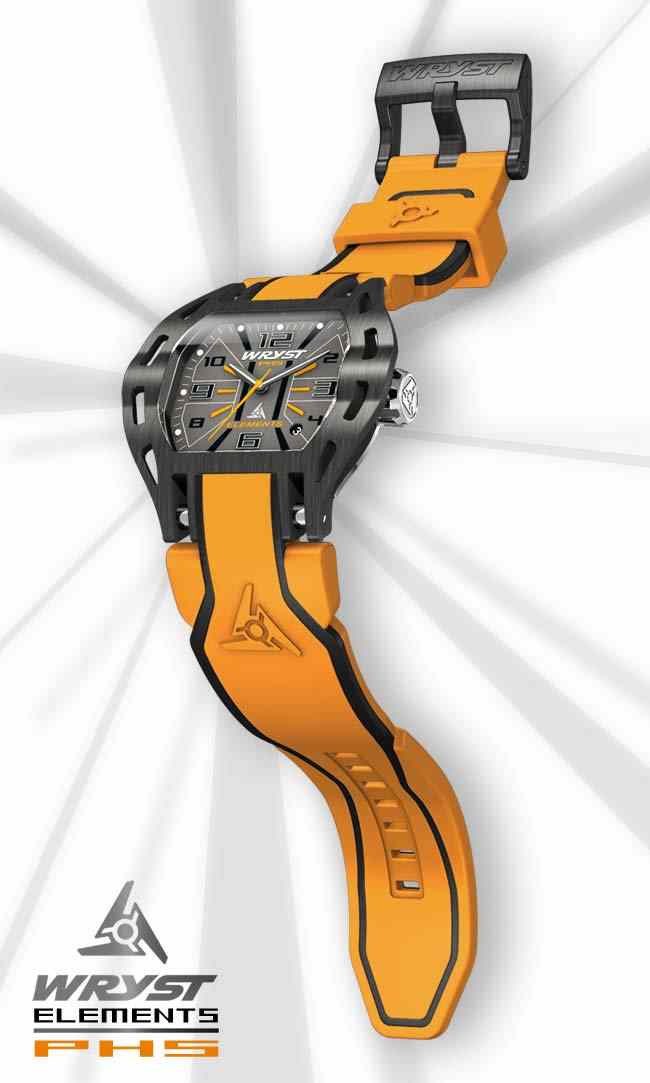 Durability like never before
This PH5 has an extended battery lifetime of 45 months. There is no need for power saving or solar-powered watches feature to enjoy your great outdoors experiences with no holdbacks and disadvantages. You only need a one-time zone, one of the countries you are in right now. Wearing a shock-resistant Wryst is unlike anything you have experienced before. There are no functions available such as heart rate, digital compass, triple sensor, GPS mode, or topo mapping. The reason is that you would require to be connected, and this is an inconvenience you will never face with the reliable Swiss tough timepiece Elements. It will also run correctly every day where you are out of reach of the network.
Designed for Watersports
Enjoy your adventures and watersports anytime and as much as you want. The screw-down crown and screwed case back of this Elements reference also guarantee your peace of mind and will never let you down. Disconnect completely from the outside world and enjoy every second of your exalting sports. Whether you like water skiing, jet skiing, kite surfing, surfing, or any other thrill-seeking activities, the black and orange stunning timepiece PH5 is asking for it just as much as you. Feel fearless and confident as much as your outdoor watch. Now you are on the waves, who cares about being online or chatting on social media?
Today, many electronic smartwatches offer different functions that are not always suitable for everyone. For example, a Japanese or Chinese gadget connected watch provides an altimeter, barometer, various screens, and you can also use them as a telephone. Unfortunately, the screen is always black unless you decide you need to use it. Usually, they require to be recharged every day and reach the closest network even to show the correct time. Most also need software updating and sometimes upgrading, meaning you need to buy another watch be stay up-to-date with the latest technology.
Your strong personality on display
Wryst has a different approach and provides the wearer with style, distinction, and charisma. No more worries about being out of reach of the network, no more battery recharging, none of these inconveniences. The PH5 with stainless steel case will let you enjoy quartz quality accuracy with a battery life of 45 months. The Swiss movement is also shock-resistant and anti-magnetic. Where most other plastic cheap gadgets will let you down, the Elements series will be your companion for many years to come and follow you everywhere you go without ever complaining. There will be no need to update, upgrade, or change your wristwear for a more recent one to follow up with the latest new technologies and modern computerized features.
In conclusion, the robust and sturdy timepieces offered by Wryst are dedicated to providing a modern fashion style and accuracy. Swiss manufacturing is committed to providing the best investment for your money and for many years to come. We also offer a truly dedicated and personalized customer service for after-sale. Make the most of your budget today for your men's outdoor watch, and we will look after you!
Video of the Wryst Elements PH5:
Enjoy What you do Best, Hassle-Free
Wryst is a height-years-old brand providing athletes and professionals since 2012 with a strong, precise, and reliable wristwear experience. The unmissable style and designs on offer are unique in the industry. Complemented by an excellent and dedicated emphatic customer service, you have all required an outdoor watch designed to last.
If you have dreamt of finding the ideal companion for all of your stunts and adrenaline-seeking activities, the K1 shatterproof glass and black scratch-resistant protection are perfect. These two excellent assets are not enough, though. You can also enjoy a long battery life of 45 months as well as an accurate Swiss movement ready to go. Moreover, you can vary the style of your Wryst Elements than to the two bracelets included.
This PH5 comes fitted with the orange with black sidelines silicone bracelet. But you can also decide to fit on your wristwear the completely black second band also included for you. The movement 12-months warranty is also there for your peace of mind. There are also many other brands available right now so; please feel free to contact us if you are looking for a different option.
Each Wryst Element systematically includes two interchangeable bracelets. Choose from a vast choice of five different versions of this colorful black wristwatch series in Black/Green, Black/Yellow, Black/Orange, Black/Red, and Black/Blue colors:
Wryst Elements PH3 watch with black and green bracelet

Wryst Elements PH4 watch with black and yellow bracelet

Wryst Elements PH7 watch with black bracelet

Wryst Elements PH7 watch with black and blue bracelet
Wryst Elements PH8 watch with white and black bracelet (Sold-out)
Swiss Best Outdoor Watches with Unforeseen Style.
OTHER OUTDOOR WATCHES REFERENCES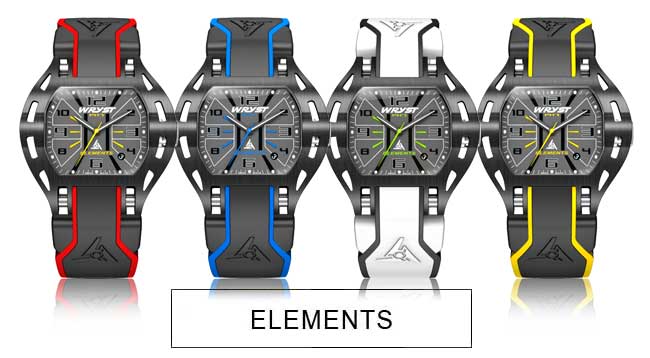 Reviews
Perfect match with my KTM
I just received my superb Wryst element ph5 today and I must say this is the best looking sport watch I have ever seen. Plus I am so happy it will fit well wearing with my KTM which is also in black and orange. Professional and friendly customer service who helped me choose the serial number from the ones available - Absolute treat and I will stay a customer as long as I possibly can. Already thinking of anothe model. Karl
Looks great on the wrist
I have bought many watches in the past but this one is simply very special. I adore the way it looks on my arm. The case curved shape is fitting very nice and the silicone band super comfortable. Highly recommended for a different look.
Strong and looks great
An ideal watch for outdoors. No fuss and it just does what I want and looks absolutely amazing. I recently changed the bracelet with the black one included and I feel the look is really different all together. Really happy with the purchase thanks again.
Fantastic creation
My PH5 is a remarkable object. I enjoy wearing it everyday and can swap the second bracelet whenever I want for a completely different look. Loving it thank you Wryst for offering me the second band.
Brill!
My new PH5 is getting a lot of attention and I love wearing it. With basic functions and stylish look, the least you can say is that this design is very well made and timeless. After years wearing watches with a "different" look I finally found the one I can enjoy days after days and still feel good about it. Thanks
Soon!
In Switzerland there are no timepiece makers, rather they are Artists who create Watch Masterpieces. I loved the Wryst and will definitely buy one soon.<br />
Robert L
This is my first Wryst Watch. The design is absolutely fabulous. Great colour. The delivery: only 3 days to Canada!!!
My new PH5
This is my second Wryst purchase as I totally love the design. Keep the good work - Please make the bracelet easier to change for next collections :) Thanks
Very fast!
Arrived next day with Royal Mail - Fantastic friendly customer service and the watch is totally unbelievable:::! Thanks
 Write a review