UNPRECEDENTED LUXURY SPORTS WATCHES
With a radical and disruptive style, WRYST offers exclusive Swiss Made sports watches enhancing Extreme & Motor Sports chronographs to higher standards of strength and reliability.
A watch designed for outdoor daily use and adrenalyne seekers should be ultra resistant and complemented by perfect craftsmanship and overall quality. This is why our motto is to combines unprecedented strong materials and faultless assembly. Since 2012, Wryst has achieved excellence in providing affordable 'Avant Garde' Swiss Made timekeepers.
The Motors & Shoreline collections are for the less unusual and comes with amazing specifications. The brand introduce for the first time a DLC coating (Diamond-Like Carbon), as tough as diamond and used for aerospace & F1 engine parts, and a crystal K1 stronger than sapphire. The groundbreaking case design and unique dial, through to vibrant colors combinations and tough materials suggest a redefinition of sports charisma. In order to add more to the uniqueness and exclusivity, our sports watches are all produced in limited editions.
Black DLC Scratch-Resistant Sports Watches - Wryst MOTORS Collection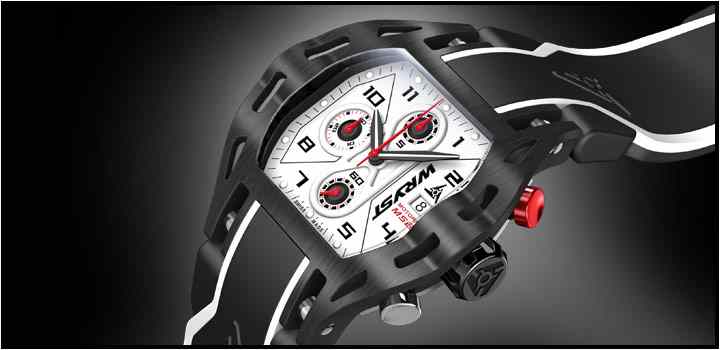 The Wryst Motors 'MS' watches are dedicated to Motorsports, Supercars, Formula 1 & all Racing Sports. In limited edition of 99 pieces, these exclusive luxury watches will most likely make you feel very special and up for a challenge... With a high-tech bi-color black/red strap and black DLC (Diamond-Like Carbon) coating on the case, the crown and the bold square buckle, this is the ideal chronograph for your favorite high-risk and adrenaline races.
Pink Gold & Yellow Gold Luxury Sports Watches - Wryst SHORELINE Collection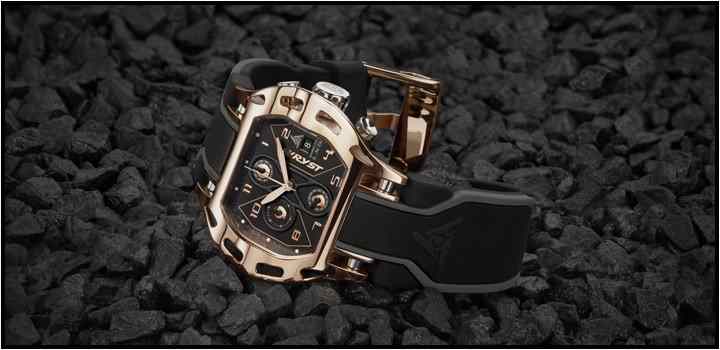 The Shoreline 'LX' collection proves to be dedicated to individualists with energy, style and charisma. Built and manufactured in the Swiss traditions, Wryst Timepieces excel watchmaking and redefine elegance and refinement with gold, rose gold and brushed stainless steel casing. Enjoy wearing your lifestyle for your favorite water sports, winter sports, outdoor sportive activities and VIP nights out. Only 99 pieces of each reference LX4, LX5 & LX6 will ever be produced.
Black DLC Scratch-Resistant Sports Watches - Wryst AIRBORNE Collection - Sold-Out...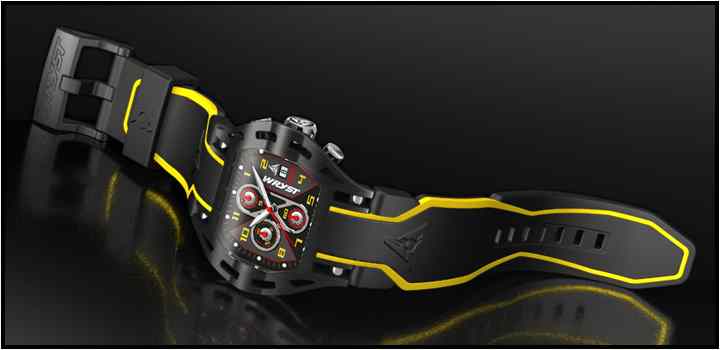 Nearly all sold-out! The Airborne 'FW' collection is inspired by Extreme Sports. With unique color combinaision these watches produced in limited Editions of 75 pieces have made the success of the brand Wryst in 2012/2013. Early months into 2014, only the very last pieces are available...
LEADING EDGE SPORT WRISTWATCH
STATE OF THE ART SPECIFICATIONS
• Diamond-Like Carbon coating for the black case references is the ultimate protection against shocks and scratches. The value of such coating accrue the abilities to provide some of the properties of diamond. The primary desirable qualities are hardness, wear resistance, and slickness.

• The Airborne uses the most optimized glass material available today. Growing in popularity, K1 mineral crystal is more shatter proof than sapphire crystal, and more scratch resistant than regular mineral crystal.

• Swiss Made 5 jewels gold plated Ronda Startech 3540D is the first-ever quartz chronograph movement with counters at the six, nine and twelve o'clock positions. Clear reading chronograph functions with 1/10 seconds up to 30 minutes, center stop second (1/1 sec), ADD and SPLIT functions, 30 minute counter, 10 hour counter, date and small seconds.

• The Wryst Airborne is fully adapted to water sports. 100 meters water-resistance will allow sports activities such as surfing, windsurfing, waterskiing, jetski, jetlev and many more.

• Soft & ultra comfortable wide silicone rubber strap with vibrant and deep colors. Dust-proof surface treatment and reinforced ends with a strong plastic insert. Attachment to the case using a resistant stainless steel two parts screw.

• The engraved buckle is made from high quality Stainless Steel with a Polished finish. Also held by screws to the strap making it more secure than conventional spring bars.