ULTIMATE MENS BLACK WATCH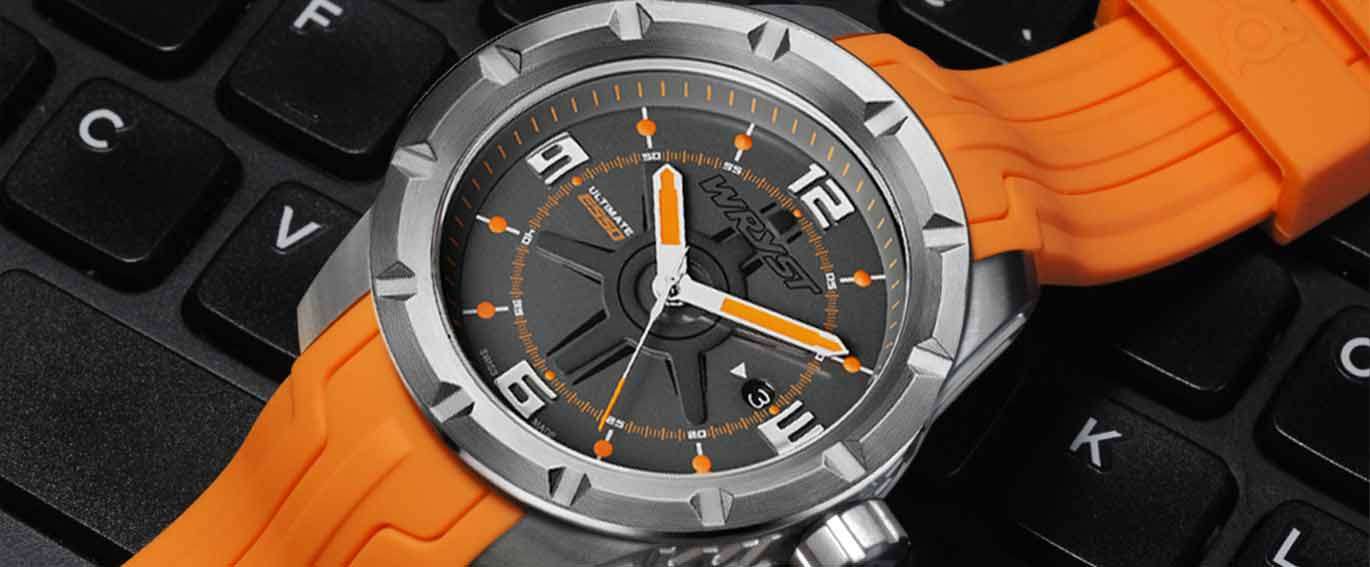 WRYST ALL BLACK MENS WATCH
The black designer sports watches for extreme sports and outdoor sports are here at WRYST. Engineered, built, and assembled in the Swiss traditions, these sports watches with black DLC coating offer the best value for money. Choose to purchase today an exclusive black watch for men with the best specifications ever, all in one place.
Wryst is the only Swiss brand to offer competitive scratch proof and shock resistant wristwear for outdoors and adventure. Have you had enough of purchasing a new black timepiece every year? Was your last one scratched after seven days? None of this will happen to your Wryst Ultimate sturdy wristwatch. This collection is dedicated to the bold guys avid of sharp sensations and adrenaline-seeking action sports.
Nevertheless, this mens outdoor watch is also suitable for casual wear and night out. Most references are complemented with a free extra all black silicone bracelet for versatility. More black than ever, your colorful watch will transform into a more dressy feel for any occasion where matching your favorite flashy color is no longer required. Wryst also has a blacked-out timepiece with black-on-black everything. Note this reference is now only available in minimal quantities, and this will be the next model to become sold-out and discontinued. Take the jump while you can and buy yourself a quality Swiss timepiece with black stainless steel casing, sapphire crystal, 100 meters water-resistance, screw-down crown, and much more.
EXTREME BLACK WATCHES FOR MEN
The 45 mm diameter watches have an exclusive black DLC coating, which makes them scratch-resistant. The Diamond-Like Carbon technology offers hardness much higher than stainless steel. The recent addition of carbon fiber genuine leather bracelets adds some versatility to this unique collection. The references Ultimate ES40 and ES60 with a black leather bracelet with Carbon Fiber are ideal for more car racing and motorsport feel. Another limited edition version Wryst Ultimate ES30 with black casing and green details is wearing a Military Camouflage khaki-green bracelet.
The black stainless steel case also has a unique feature. Each side is engraved by CNC machining to an insane depth of 0.6mm. This chiseled prominent aspect provides a new and never seen before all black wristwatch case body. Each Wryst Ultimate have a raised bezel — an interesting and intelligent way of protecting the sapphire crystal. The glass sits on a lower level compared to the face of the watch. This way, if the watch has direct contact with a rough surface head down, the sapphire will not be affected.
DURABLE AND TOUGH MATERIALS FOR SPORTS
The grade 516L stainless steel watch benefit from a stunning black dial (Except ES50) and a shock-resistant black stainless steel case. Wryst thrives to offer a more affordable option for durable sports timepieces with sapphire crystal and date window. The Swiss brand also provides a nice watch to you with emphatic and friendly customer service. We are always happy to help and adapt to your requirements. If you see a timepiece and want another bracelet you saw on this particular reference, we are pleased to provide it. Contact us without delays and take the jump and wear the trailblazing designer black watch engineered to last years after years. If you are looking to make the most out of your money, the Ultimate is the first choice for a secure and long-lasting investment.
Perfect for athletes, professionals, or sportives, this watch has it covered. Are you a windsurfer, rock climber, sailor, rider, or skydiver? This sports watch has all the features required in a hostile environment. Like you, the Wryst Ultimate series are designed to conquer. Endure rough situation, and capture time, years after years. Bold, manly, colorful, extreme and exclusive, the Swiss Made limited edition Ultimate with its scratch-resistant black coating makes no compromises and deliver on quality and reliability while remaining retailed at an affordable price. The perfect companion for diving or other aquatic activities. This series has a larger 45mm sturdy case size and a lot of style. The overall design stands out and look attractive. Strongly built and with sapphire crystal, it makes the ideal sport watch for intense use and hostile environment.
Wryst Limited Edition specifications
Reliable Swiss Quartz Movement
Date Window at 3-hour
Luminous hands and hour dots
Large 45 mm Case, 22 mm Band
Toughest Black DLC Coating Ever
200 Meters Water Resistance
Two Straps Included
Limited Editions of 99 Pieces
Secured Screw-Down Crown
Watch the video of these exclusive black watches:
This high-resolution video is showcasing on-the-fly views of the stunning Wryst Ultimate ES60 with red and black dial, red and black bracelet, and black DLC casing and square buckle. The case back of each timepiece is engraved with a unique serial number. Do you want the serial #01/99? The number #25/99, which will be perfect for your 25th birthday? Why not contacting us to find out the availability for this particular piece?
Wryst Ultimate ES60 in black and red
TIRELESS WATCHES DESIGNED TO LAST
In recent years many brands are offering electronic wristwatches or more of the good old black plastic digital watches. As much as we like them, these timepieces have inherent dependencies. The battery life for example. No need to recharge your Wryst. The Renata Swiss Made battery will last as much as 3 to 4 years - Not just one day or two. Plus, the modern smartwatch requires to be "connected." Since extreme sports and outdoors people like to mingle with wildlife, all you need is to know what time it is. Most importantly, none of these new electronic gadgets will resist your intense activities like the energetic vibrations of a maintain bike, or the accidental scruff while climbing a vertical cliff. This is where Wryst timepieces are your best companion.
Our objective at Wryst is straightforward! Offer the most resistant wristwatch possible, at the best price reasonable. This aim is including to have a lot of fun and adrenaline rushes while enjoying your favorite outdoor sports such as:
Bungee Jumping, base Jumping, Wingsuit Flying, Proximity Flying, Sky Surfing, Skydiving, Indoor Skydiving, Hot Air Ballooning, Paramotoring, Paragliding, Hang Gliding, Microlight, Jet-Powered Flight, Skiing, Snowboarding, Ski Jumping, Snowmobiling, Speed Flying, Windsurfing, Kitesurfing, Skimboarding, Jet Skiing, Big Wave Bodyboarding, Surfing, Big Wave Surfing, Waterskiing, Wakeboarding, Kneeboarding, Stand Up Paddle Boarding, Whitewater Rafting, Whitewater Kayaking, Scuba Diving, Cave Diving, Freediving, Adventure Racing, Endurance Racing, Trail Running, Triathlon Racing, Obstacle Racing, Mountaineering, Rock Climbing, Ice Climbing, Mixed Climbing, Abseiling, Free Climbing, Bouldering, Slacklining, Mountain Biking, Cycling, Unicycling, Bicycle Polo, Motocross, Motorcycle Racing, BMX, Skateboarding, Longboarding, Mountainboarding, Rallying, Inline Skating, Street Luging...
FAULTLESS AFTER-SALE SERVICE
We guarantee 100% satisfaction. Buy an exclusive Wryst Ultimate all black watch today. We guarantee a full refund of your timepiece within 14 days if you are not totally happy with your new watch. Most of our customers feel the urge to buy another Wryst black Swiss watch when they receive their first one. Since 2012 Wryst timepiece is setting the bar very high when it comes to prompt and friendly customer service. Unlike the other mass production brands, we will make sure to take good care of you just like we would with one of our friends. We often share stories and real facts about our customers daily life. We usually provide the fastest and friendliest one-to-one contact you will ever come across in the entire watch industry. Plus, we thrive always to go the extra mile to please any particular request. Demanding individualists are more than welcome to contact us. We may well be more demanding than you about the quality of our products to meet your high expectations and offer a truly memorable experience.
HOW DIFFERENT ARE THESE BLACK WRISTWATCHES?
First and foremost, the small series Wryst with luminescent hands are a strong statement of a unique lifestyle. The accents of green, red, yellow, and orange color details on the dials and silicone bands will suit you. These are the ideal for matching your sports car, your surfboard, or your mountain bike color, picking yours to feel complete and assorted. Time and date clear reading is also essential for sportives wheeling to extend the day after the sunset.
In conclusion, the Wryst watch Ultimate is designed by you and for you. You can find more mens stainless steel watches visuals in high resolution by googling Wryst in your favorite browser.