Wryst best watches sold in 2022
The Best Selling Watches Wryst this Year
Here is the best watches to buy from Wryst in 2022. Are you looking to add a new timepiece to your watch collection? Despite the ongoing madness of this year, there has never been a better time to buy a limited edition Wryst watch. With our guide of the best selling watch you can discover the references becoming available in limited stocks. Some models are also now already sold-out and discontinued. These are the staggering 20 Wryst worth your attention. Perfect from on the go casual wear to sportive activities and watersports, each model is unique in its own way. Colorful, bold, and with an industrial look, each unique watch is tooled in a solid block of grade 516L stainless steel case by a computerized CNC machine.

This year is also a turning point. Our brand is becoming more exclusive than ever as the leading Swiss watch movement manufacturers are now only providing a select few big names in the industry. From 2022 it will be much more difficult for new emerging watch brands to use the all-important Swiss Made label, signature of world-renowned excellence.

If you have decided to start a watch collection, this guide of the best watches and most sold Wryst this year will help you. But from next year the world's biggest watch fair in Basel will be replaced by the new yearly "Houruniverse" fair taking place in Geneva. Nevertheless, you remain spoilt for choice when it comes to choosing a new watch in our online boutique. Hopefully, looking at the best-selling watches from our best watch selection will make your decision a little easier.

From automatic and quartz movements, pick your favorite style and color while you still can. Three references will become unavailable within the next few months.
1. Invest in a reliable and established name
The vast choice of brands has only grown bigger years after years. Only very few emerging names have established themselves as luxury retailers offering high-end quality for a more affordable watch retail price. Since the beginning in 2012, Wryst has to know how to expand slowly but steadily and provide the best materials and quality finish. All collections offer a vast selection of bold and durable timepieces you will be able to admire and enjoy countlessly on an everyday basis.
2. Choose the right model for the right occasion
If you intend to wear your watch for sports or go to the office, we recommend weighing your options accordingly. For example, the Wryst Elements and Ultimate may be more suitable for outdoor activities and casual daily sports. Colorful, ultra-resistant, and fun to look at; these companions will also be perfect for any water-related exercises. We would advise looking at the bold 50mm size Wryst Force collection for your evenings and special occasion. With shiny polished case finish, available in gold and rose gold, or fitted with a beautiful leather bracelet, the Force will be the right choice for nights out. If you are passionate about exacting precision and sophisticated mechanical movement, choose the Wryst Racer collection. Not limited to motorsport and racing, the automatic references on offer with a see-through case back can potentially be the right choice for you. Dedicated to suite demanding individualists, all SX models are also only produced in small series.
3. The best in your all-important collection
If you take a closer look at the watches available in the watch industry today, you will notice that most of them have one thing in common: A casual round face. Except for the Ultimate collection - The cheapest high-specifications quartz ever produced by Wryst - all our sports wristwear have a stunning case shape that will not be unnoticed. Actually, the Wryst will stand-out in your collection. This will be perfect when you want to wear a "different" timepiece or feel slightly more noticed. Initially, the intricate design is intended to make n impression and feel different than any other wristwear experience.
4. Buy from a trusted online boutique
All Wryst references are exclusively available for online watch buyers. Our customer and after-sales service are one of the fastest and most emphatic in the industry. We will go the extra mile to secure your shipment with a world-renowned courier service and ensure that you are 100% satisfied with your new watch. Alternatively, you have the opportunity to get a refund with no questions asked. Note that most new Wryst clients usually buy another watch within the 12/18 months following the initial purchase.
1/20
Blue Wryst Force SX300
An the winner is: This striking blue Wryst Force SX300 is undeniably the best selling Wryst watch for the man in 2022. The disruptive, modern, and fresh colors white and blue are the ideal combination to feel noticed. The refined technical chronograph busy dial has an impressive appealing feel. This SX300 is also available in three different versions. With the black leather bracelet. This watch is a true eye-catcher and a real pleasure to look at every time.
Time is yours, and you can make what you want with it. This instrument will also be a helpful tool for timing any events with a chronograph accurate Swiss quartz with 1/10th of a second precision.
Price: £685.00
2/20
Black and Green Wryst Elements PH3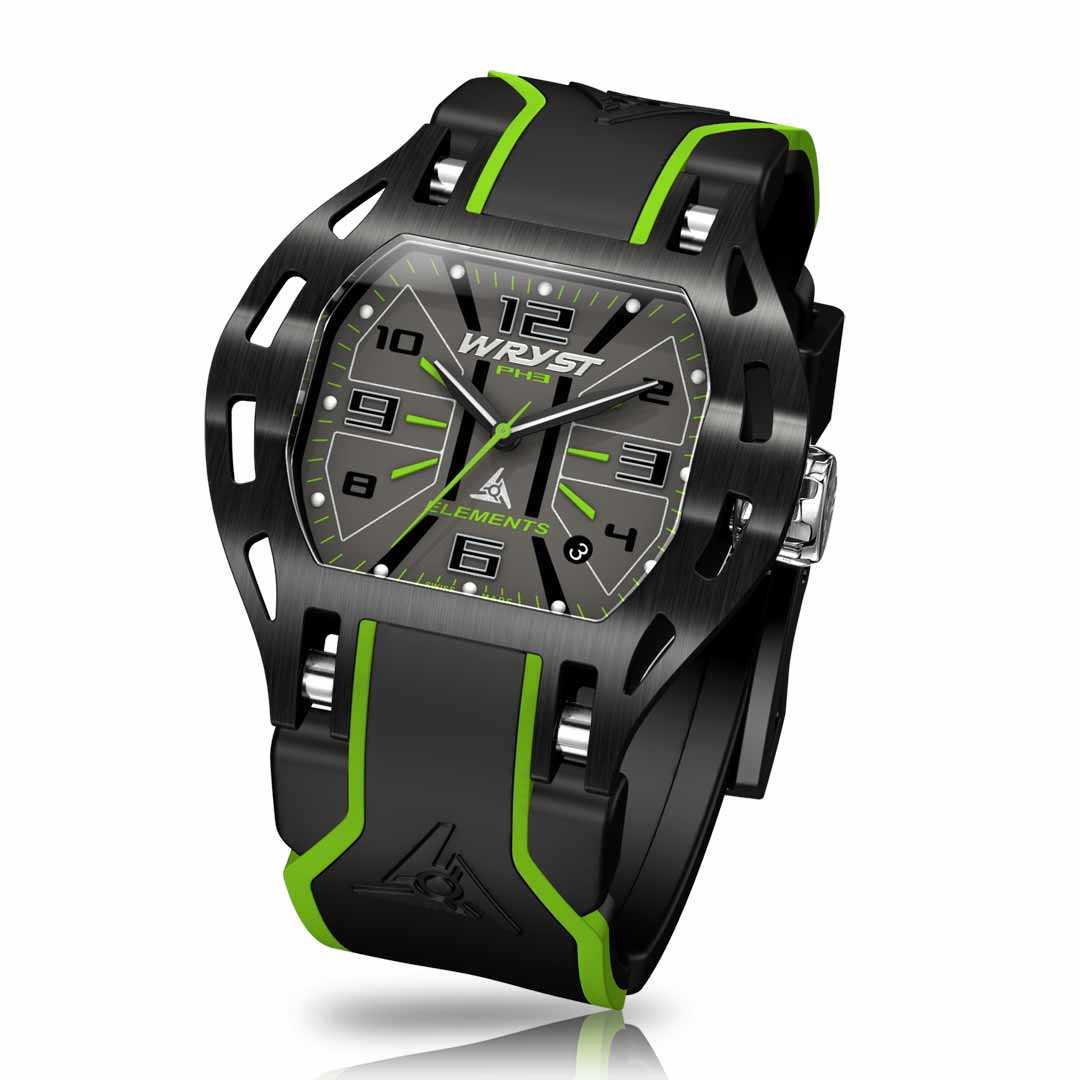 In the second position, discover the black Wryst Elements PH3 with green details. This particular model has been the best selling piece from the Elements collection since it was released. A mesmerizing look combined with precise quartz, black DLC protection on the casing, and K1 shatter-proof mineral crystal. Ideal for any adventure sports, the PH3 benefit from 100 meters of water-resistance. A screw-down crown and screwed case back testify of well-engineered assembly. A unique bracelet attachment is a guarantee your watch will not detach unintentionally from your arm. Like all other references, there are two different bracelets included. You can also choose the alternative version fitted with the second bracelet included in green and black.
Price: £515.00
3/20
Brushed Stainless Steel Wryst SX1 Automatic
The best seller of our Automatic choice is the Wryst SX1 with mechanical Swiss caliber size 50mm. Fitted with a sturdy and elegant black alligator genuine leather bracelet, this version is a more casual choice from the Sellita SW200 automatic series. Only 75 units will be produced, and stocks are going fast. This high-end combination of precision and luxurious look is a must if you are looking for a casual timepiece reflecting your taste for sports, individualism, and charisma. A side-to-side perpetual sweeping hand will revolve around the dial giving you a sense of continuous flow during your daily life. The SX1 can also be bought with a more casual silicone bracelet in black and grey.
Price: £1'295.00
4/20
All-Black Wryst Ultimate ES20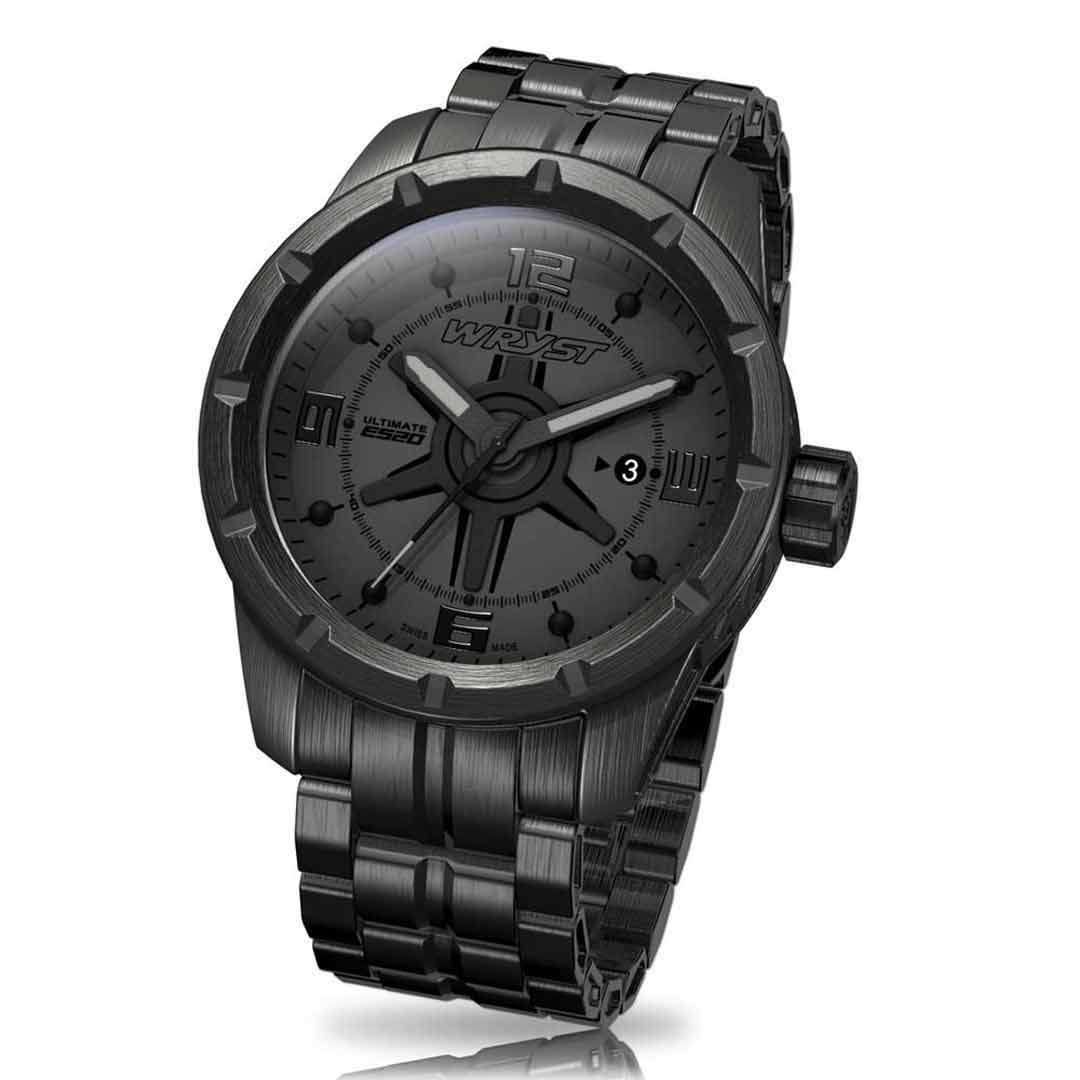 A real first choice when you are looking to wear a blacked-out timepiece with scratch-resistant coating. The best of watchmaking for the first time in history at a more affordable retail price. The Wryst Ultimate ES20 case sides are engraved at 0.6mm deep, and the coating is integral on the entire piece. Black case, crown, back, steel bracelet, bezel, dial, hands, and deployment clasp. With an incredibly scratch-proof DLC coating, this unique Wryst watch also offers a staggering 200 meters water-resistance and a recessed sapphire crystal. The Swiss quality and precise quartz provide the reliability you will need during sports activities and watersports. This is simply the Ultimate black wristwear experience. The ES20 is now only available in minimal quantity as most of the 99 units produced are now sold.
Also available with a black silicone bracelet or a quality black carbon fiber leather band with black stitchings. Take the jump as this incredible piece will become unavailable in several weeks—the perfect black watch for men to wear this summer.
Price: £495.00
5/20
The Suave Black and Rose Gold SX270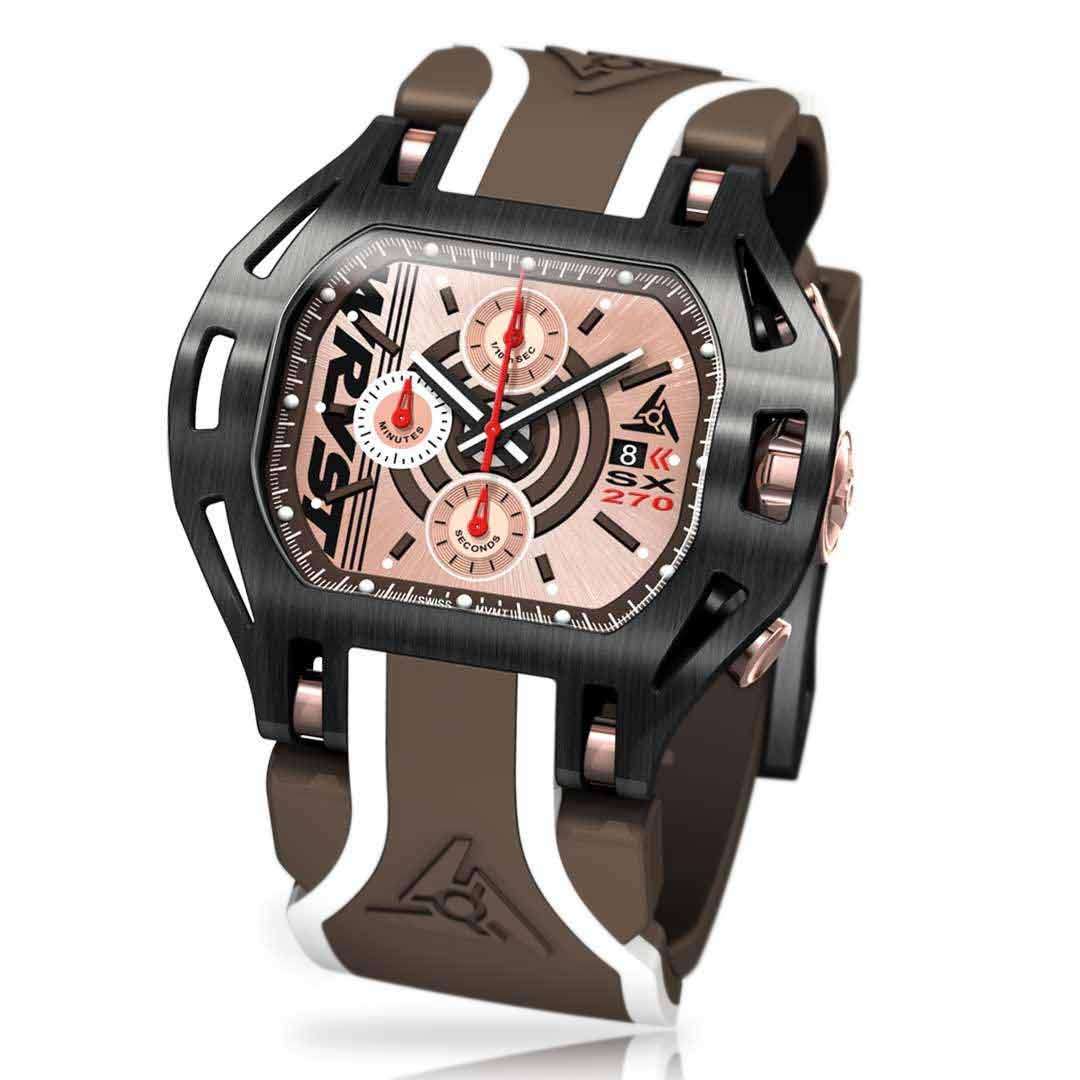 One of the signature pieces from the Force watch series. This manly Wryst SX270 in brown, black, and rose gold combination is our fifth top 20 watch from men this year. For the striving year 2022, people have chosen this unique rustic but modern style to dress their wrist. Sailer, yachters, and ocean adventurers may well prefer this successful fusion of black and rose gold colors. The chronograph dial also showcases second hands and subdial hands in shiny red color. To give this model an even more disruptive style, an extra double injection silicone bracelet is available in Moka and brown. Another more dressed look is another possibility with the brown alligator genuine leather bracelet for a more vintage watches feels.
Price: £735.00
6/20
Automatic Black and Red Wryst SX4
The ultimate racing Wryst SX4 automatic experience. With a groundbreaking motorsport-inspired feel, the black timepiece from the Racer series takes the sixth top 20 bestseller position. Everything about this creation is a remembrance of the racing industry, from the V6 tribute on the dial to the fiery combination of black and red. The SX4 is a more luxurious first choice for Nascar, Formula One, and any other world-renowned discipline such as American Dragracing and Monster Trucks. Discover the origin of this design with precise details about the different engineering motor parts which inspired this piece. Also available with a stunning carbon fiber leather bracelet with red stitches.
Price: £ 1'315.00 GBP
7/20
Stainless Watch Wryst Ultimate ES50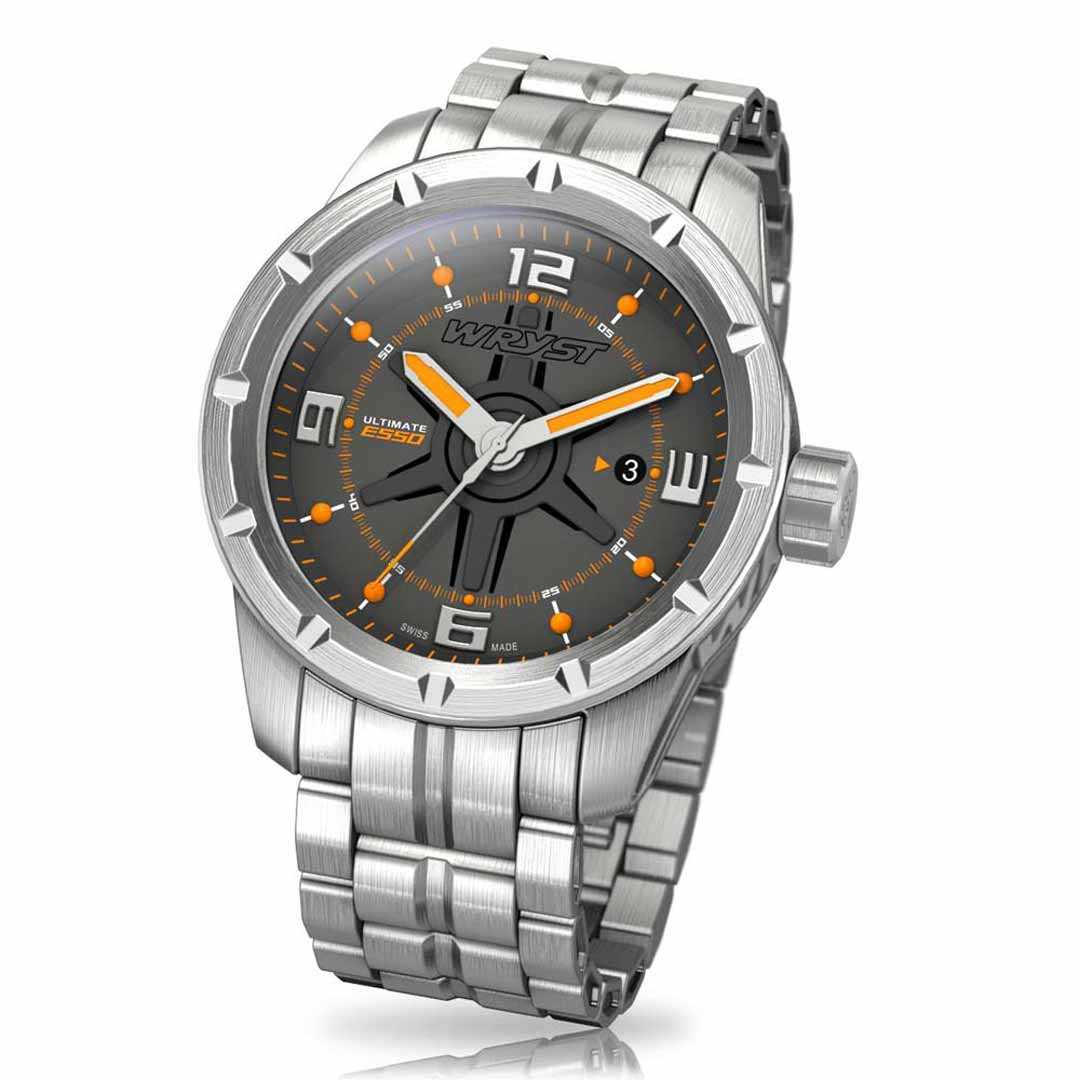 Our stainless steel 45mm diameter watch Wryst Ultimate ES50 takes the seventh position. Since only 99 pieces have ever been produced and considering this is the only plain steel reference, the short stocks make perfect sense. High-specs such as 200 meters water-resistance and sapphire crystal add more appeal to the dark slate grey dial with orange details. The Swiss Made signature at 6-hour position testifies to the authenticity of world-renowned Swiss watchmaking standards. A three-blades deploying clasp and screw-down crown are probably two main watch features you are looking to find at a much higher price point. Nevertheless, the last ES50 can be yours at an incredibly low price.
Also in stock with an all-orange silicone bracelet or the double injection grey and orange option.
Price: £435
8/20
Wryst Black/Yellow Elements PH4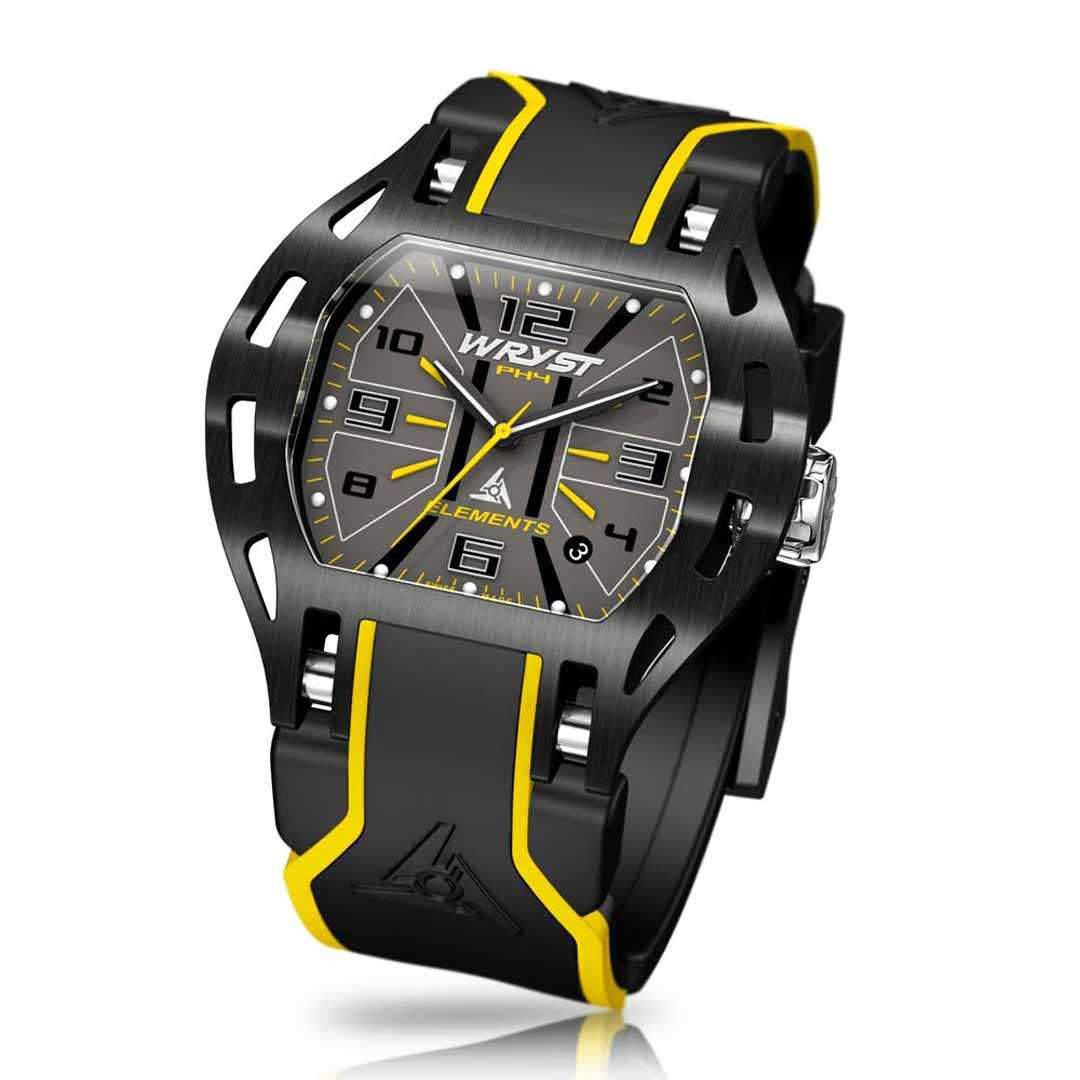 The Wryst PH4 in yellow and black benefits from the most scratch-resistant coating in the world. This Diamond-Like Carbon technology, known for its incredible hardness, is used to make motorsport engine parts. But the best of this watch is inside it. The reliable Swiss movement Ronda 515 guarantees a durable and accurate wristwear experience that will never let you down during your outdoors and adventures. Delivered with two bracelets, you can also purchase this timepiece directly fitted with the second yellow bracelet option.
Price: £515.00
9/20
Swiss Army Wryst ES30 Camouflage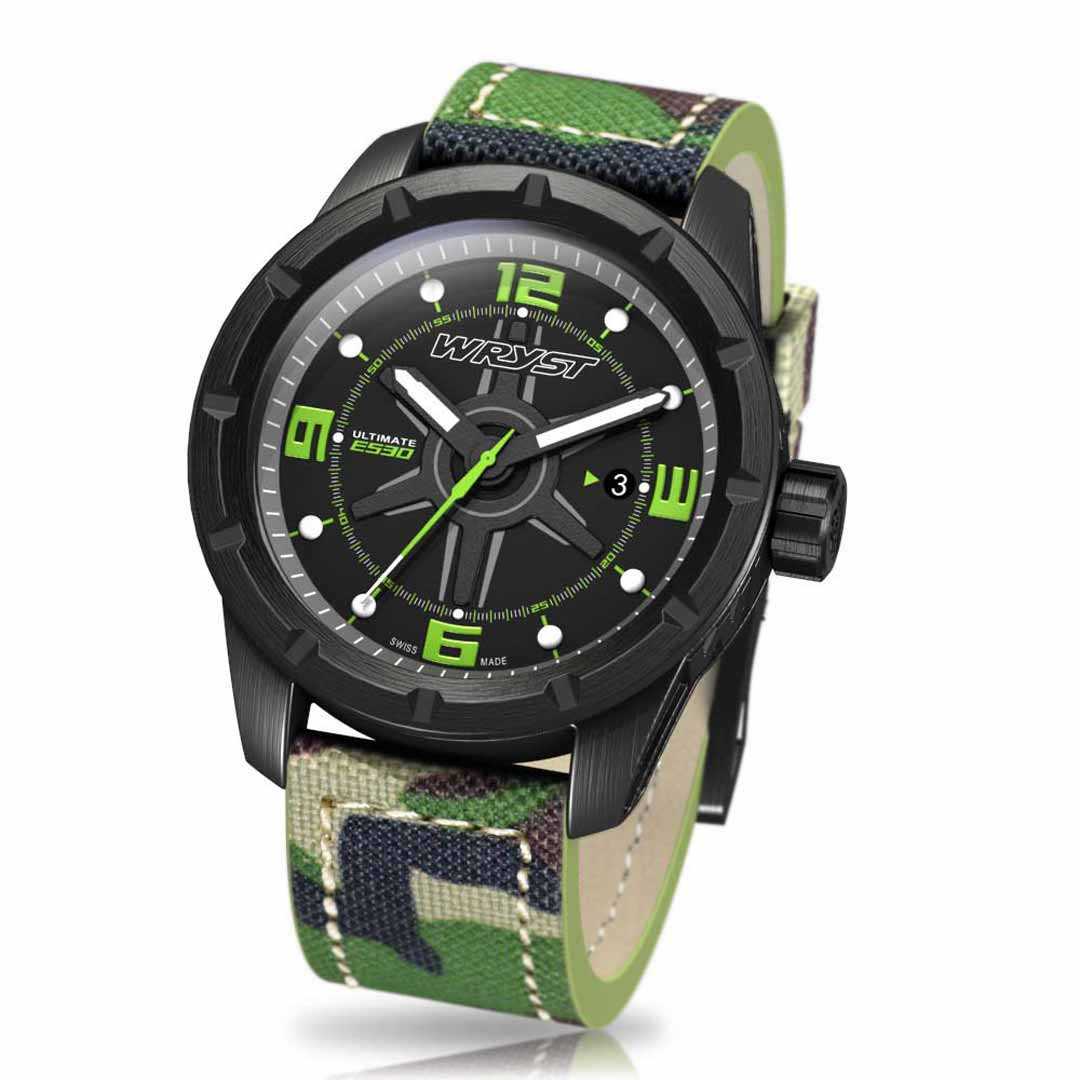 Also in stock and recently released with a camouflage Army-style leather bracelet, the Ultimate ES30 is now in low stocks! The perfect combination of black DLC and robust specifications will come in handy for shooting sports, fishing, and many other activities. Initially dedicated to infantry, the Swiss Army Ultimate watch ES30 has a thick sapphire crystal, durable and robust black casing, and this unique handmade quality genuine leather strap with a Camo pattern. The model can be bought with either the two-color black and green band or the all-black stainless steel DLC metal bracelet. You will be surprised to find so many quality attributes without the need for deep pockets.
Price: £390.00
10/20
Wryst PH7 in Black with Blue details
The Wryst Elements PH7 stands proudly within our vast selection of black quartz. Blue is the sea and the sky's color and is the favorite color of 40% of men and women. The mysterious black dial and black bracelet both showcase blue details. You can also choose to wear the PH7 with the spare blue band if there are not enough colors. Please make the most of the stocks while they still last. This reference is also only in low inventories, and most of the 75 units produced with soon be gone. You can buy this Swiss quartz timepiece fitted with a blue bracelet.
Price: £515.00
11/20
The Blacked-out Wryst Force SX210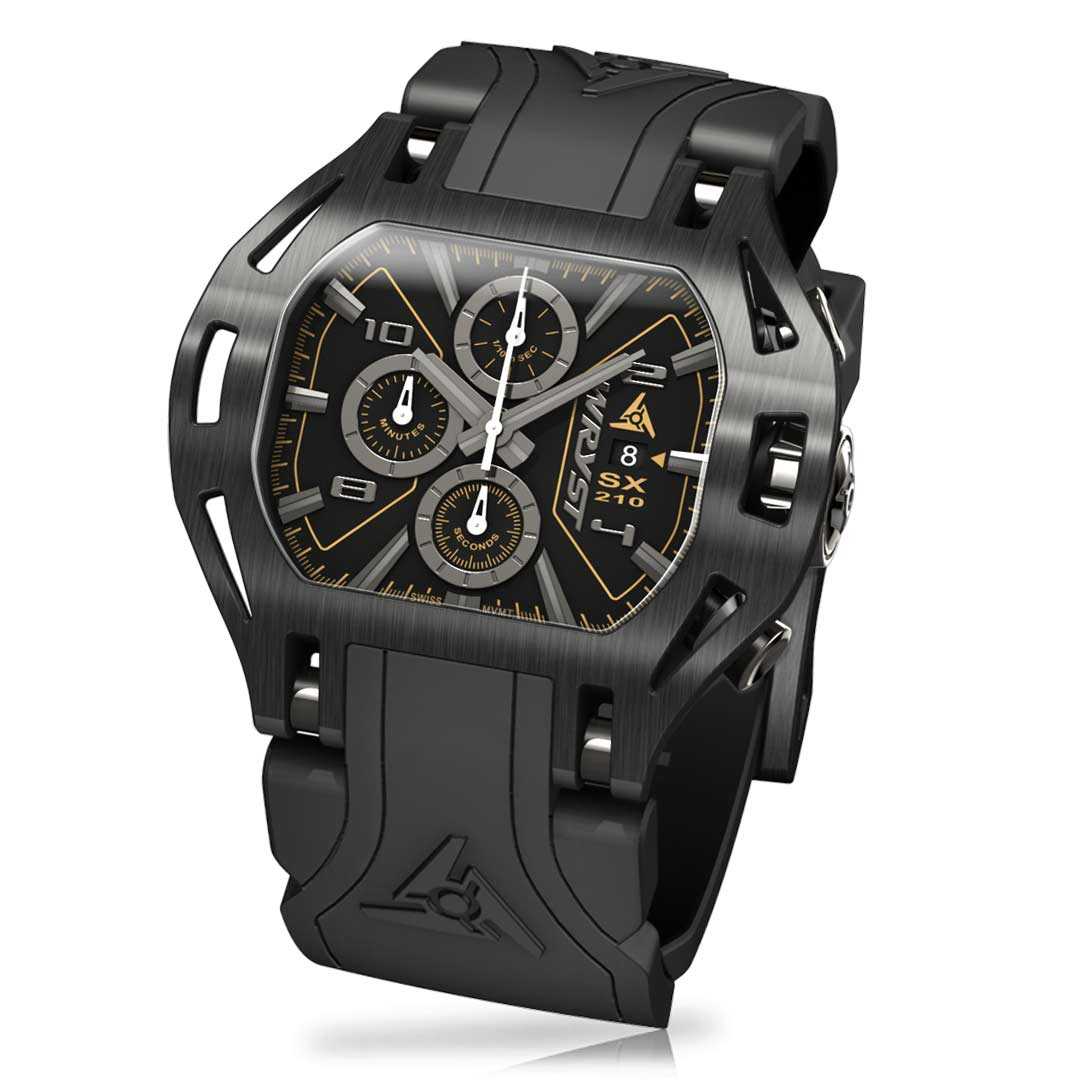 Another black model takes the eleventh position with this chronograph Wryst Force SX210 watch. Crown, pushers, dial hands, and indexes are decorated with polished gun PVD. Dark and vibrant, the Swiss accuracy timer will help you find out the shortest ride to work or the nearest beach. The new pitch-black style is accentuated thanks to the black-on-black comfortable silicone bracelet. Like all other Force cases, the SX210 measure 50mm from left to right. Both edges feature a curved shape, which gives a modern and fashionable look like no other. Decorating bracelet attachment rings are also in gun PVD and contrast well with the hard black DLC protection. You can also choose this chronograph with either the grey and black band or the genuine black leather bracelet.
Price: £695.00
12/20
A sexy and shiny Wryst SX230 with blue dial
The bold and luxurious silver and blue dress watch Wryst Force SX230 is in twelfth position for this top 20 best watch Wryst to buy in 2022. The sunray galvanized deep blue dial is signed on the left with the brand name in black. Chronograph subdials and details have well-contrasted black and white colors. This is the reference with the more apparent shiny nickeled hands to make the time easier to read. This SX230 is provided with a black and blue genuine leather bracelet for a more formal look. The SX230 watch is still retailed under the $1000 mark.
Price: £675.00
13/20
Yellow Gold Wryst Racer SX3 Reference
Why not embracing one of our best mechanical versions with this striking luxury Wryst SX3 in yellow gold and with a brown alligator bracelet. Like all other Racer series, this model is only produced in a small exclusive edition of 75 units. If you wish to be part of the small number of people lucky enough to wear this exquisite automatic, you may well consider taking the jump sooner than later. The busy dial decorations feature date function at the 3-hour position, so you know where you stand in the calendar. The case back is engraved with "Swiss Made," "Sapphire Crystal," "Automatic," and the workhorse movement Sellita can be seen through a circular crystal. It can be bought with a more casual silicone bracelet in black and sand color. For all the best watches produced by Swiss watchmaker Wryst, a new interchangeable bracelet is also available.
Price: £1'365.00
14/20
Black Ultimate ES40 with Carbon Fiber Bracelet
One for the hard necks. This black carbon fiber bracelet is a perfect match for the Wryst Ultimate ES40 in black and yellow. You will notice the well-contrasted yellow Arabic numbers and luminous hands on the dial. More than ever, the Ultimate collection is the best affordable choice for quality diving watches from Switzerland with a more affordable wallet. Men will particularly enjoy wearing this ultra-comfortable black reference with quartz precision and 200 meters of water-resistance. The ES40 can also be purchased with two silicone bands or an integral black DLC metal bracelet.
Watch price: £395.00
15/20
Black Wryst Elements PH6 for Adventure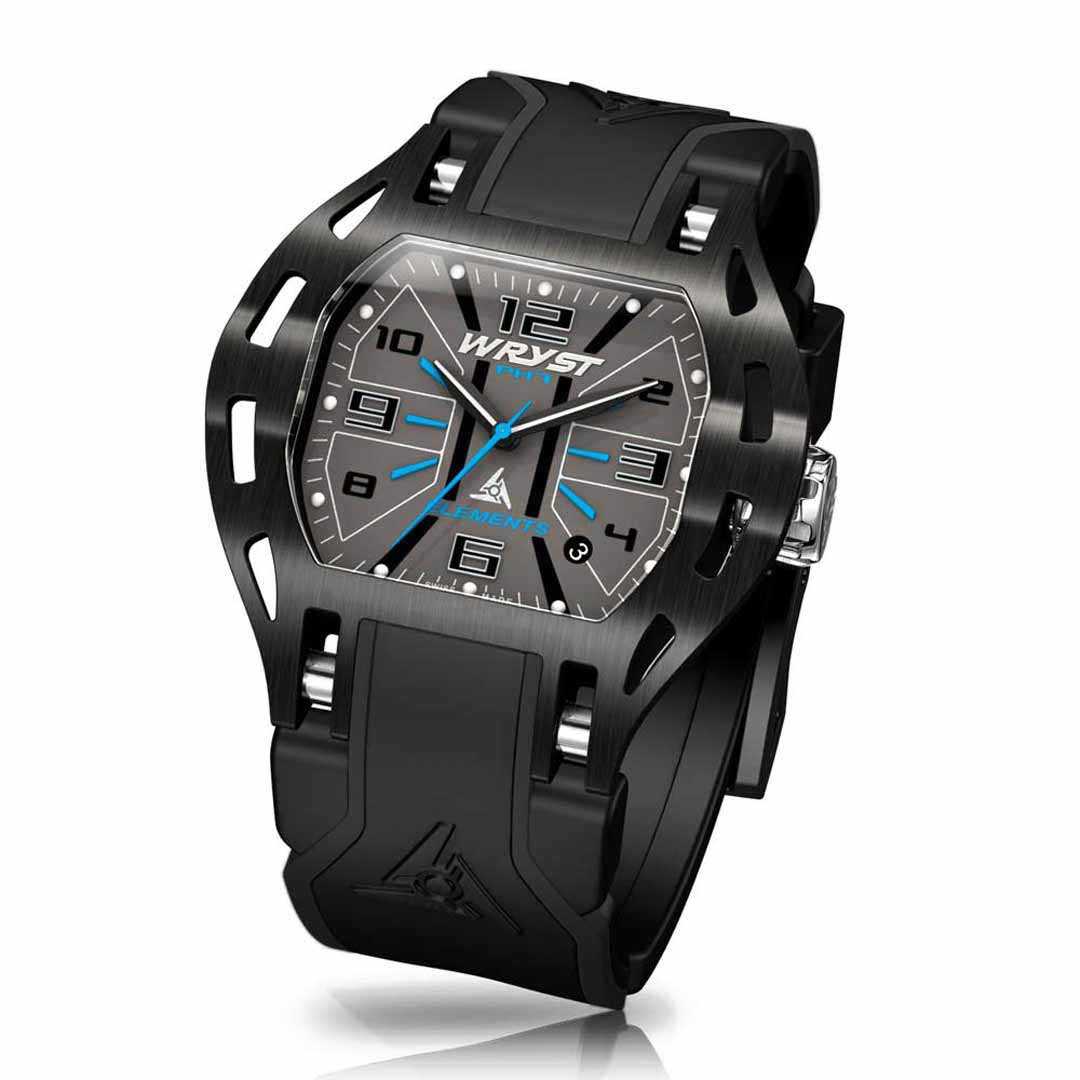 This is undoubtedly the next reference to become out of stock. Only a small handful of Wryst Elements PH7 is still for grab today. The immense success of the combination of black and blue colors is undeniable. Take the jump today for one of these while you still can. Domed shatter-proof K1 crystal and hard black coating are the guarantees you will make the most of your investment. The PH7 can also be found with a blue bracelet.
Price: £515.00
16/20
Wryst Black and Orange Elements PH5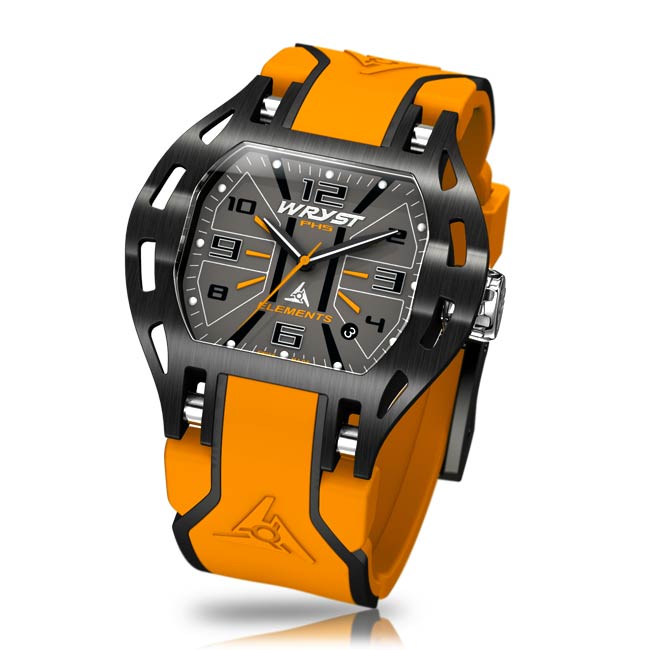 Orange is the trending color in 2022. This Wryst Elements PH5 has been a success since June this year. The orange color is an excellent match with black, and this timepiece can easily demonstrate it. The dark slate grey dial with more new details is a great companion for outdoors and watersports. Enjoy a soft, flexible, ultra-comfortable wearing experience with a light-weight watch you will even forget you have attached on your arm. Another possibility is with a darker feel with the original black and orange bracelet.
Watch price: £515.00
17/20
Automatic Rose Gold Wryst Watch SX2
Shiny rose gold color is unusual for the casing of an automatic modern watch for men. This stunning Wryst Racer SX2 is a high-end Swiss timepiece perfect for yachting, sailing, and cruising on the oceans our beautiful planet has on offer. If you are looking to travel through the continents with an accurate quality Swiss mechanical companion, the SX2 is stylish, sophisticated, and perfect for both slow and fast rides. The retail price is still positioned much lower than luxurious Swiss watch brands such as Tag Heuer, Hublot, or Audemars Piguet. These high-street names also offer rose gold plating for their unique limited edition timepieces—also sold with a quality high-end watch with genuine brown alligator band.
Price: £1'295.00
18/20
Wryst Ultimate ES60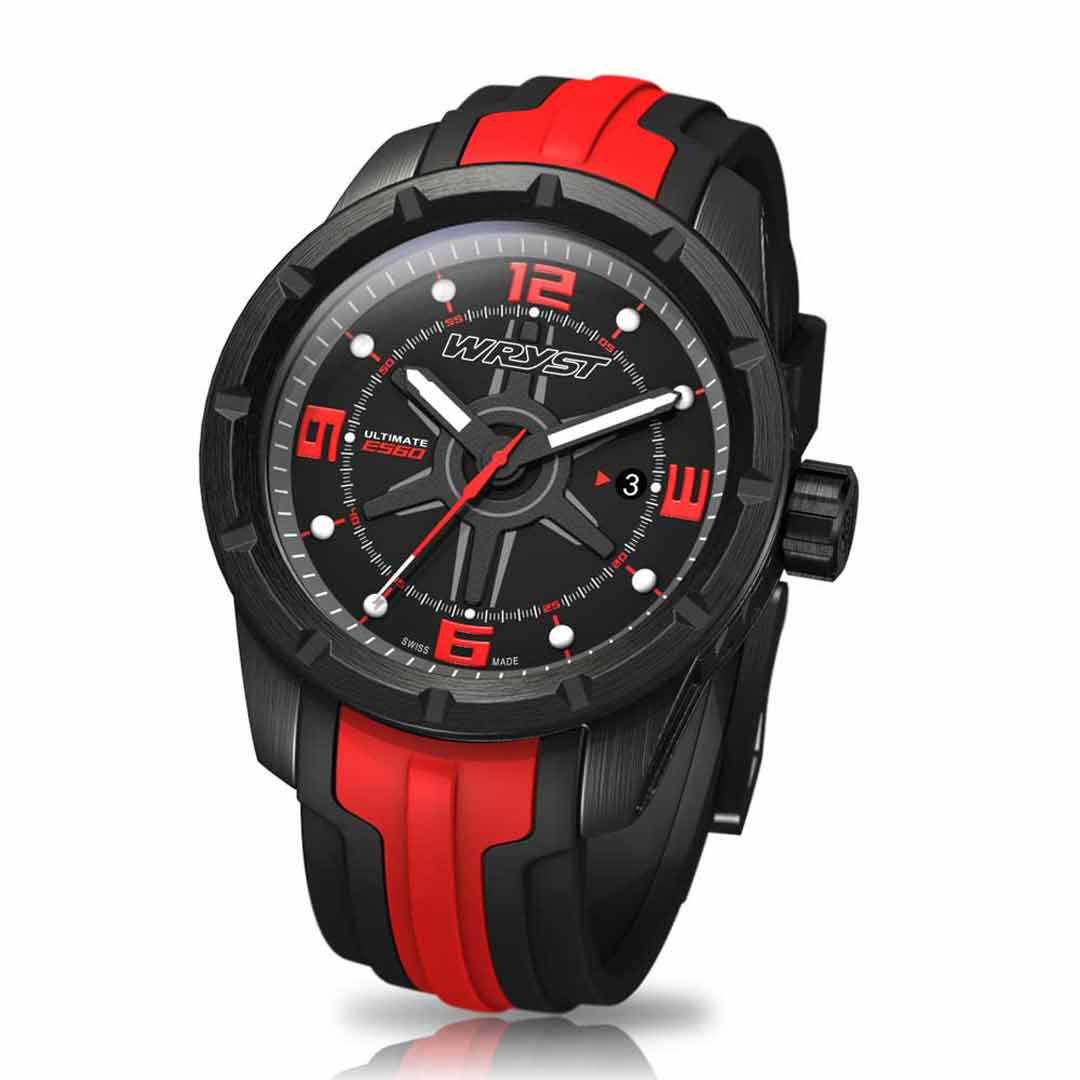 Bold, accurate, and reliable, the Wryst black Ultimate ES60 with Swiss quartz will make you tick. This is also another reference that should not stay available for long. Taking the 18th place in our top 20, the ES60 has been around now for a while. But how long for? This extreme sports and outdoor reference can be picked with either this stunning black silicone band with a red central line, the scratch-proof black stainless steel DLC bracelet or the soft and sporty black carbon fiber with red-stitched leather band. Sapphire crystal, screw-down crown, screwed case back are not usually found at this kind of budget for a highly collectible limited edition of 99 pieces.
Price: £425.00
19/20
Hand-engraved Wryst ES51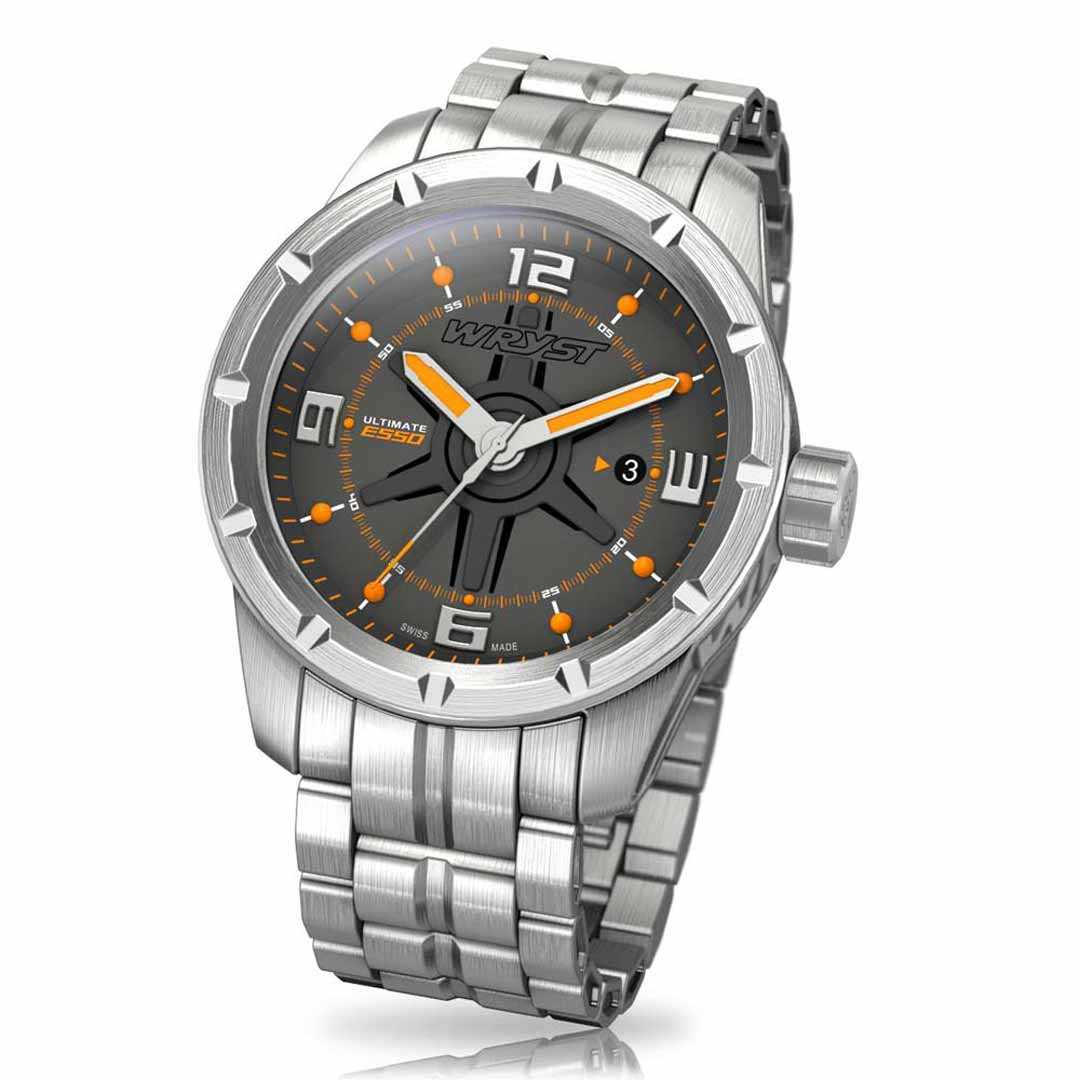 This unique piece with hand-engraving Wryst ES51 did not stay available for long. Unfortunately, this watch is no longer available. We are happy to have another piece made on request with personalized engraving details. Please contact us if you are interested. The retail price will be similar to this one-of-a-kind reference ES51, which has now sadly been sold.
Price: £1'250.00
20/20
Wryst Automatic With ETA 2824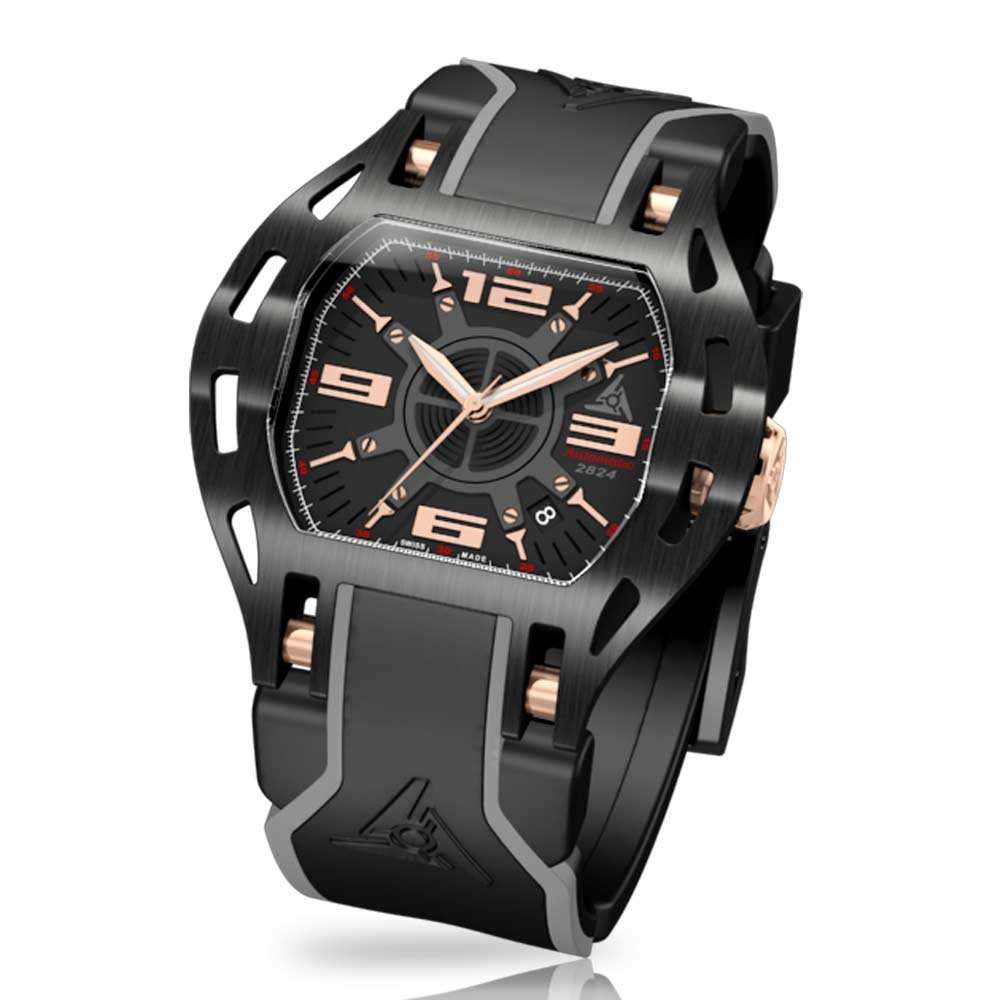 The very last one is available! This beautiful Automatic 2824 Wryst Timepiece best watch has a skeleton case back and rose gold details on the dial. Be aware there is only one very last piece available for this small series of only 50 pieces. Yes, that is correct; only 49 other men will ever wear this exclusive watch, which will never be produced again. The workhorse ETA automatic movement with 38 hours of power reserve is no longer provided to independent watch brands. This may well be your last chance to make the jump today. They are offered with -15% discount for a limited time only.
Price: £1'326.00
We hope you have enjoyed browsing through this top 20 best seller Wryst this year. You can contact us at any time for any particular request. We offer dedicated, prompt, and emphatic customer service. Exclusively available for online purchase, the small series of pilot watches Wryst are some of the most collectibles out there.
In conclusion, there are only limited stocks for roughly about five different references of the best watches Wryst. When many stocks are accessible, we can look at your particular request for a specific serial number. Alternatively, we can tell you which serials we can send you for your next buy. Some of our customers are only interested in two or three numbers to contact us as soon as a new collection is released to optimize their chances of receiving the number they want. On average, we can confirm the last of first numbers of a luxury watch series are usually sold first, with number one being the quickest sold serial.
Please find here all our blog pages with recent news, interesting facts about Wryst, and more real-life pictures of the timepieces. We can also sometimes share in our news off-subject topics, but they will all be related to sports in general.