Resistant Sport Watch for Outdoors, Adventure and Extreme Sports
Published : 08/22/2018 10:13:02
Categories : Latest Wryst Watches News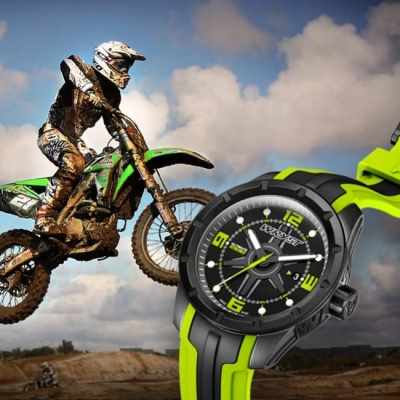 Wryst Ultimate Sports Watches for Outdoors
Choose A Tough Sport Watch Stronger Than You Are
An ultimate tough sports watch that will blow you away! With an unforeseen list of durable materials and features, the Wryst Ultimate is the world's first affordable ultra-resistant Swiss sports watch. Available in small series of 99 pieces each, they are also some of the most exclusive.
Scratch-Resistant Black Coating
Stainless steel watches have never been scratch-resistant. It is why Wryst's main innovation is the black DLC* coating technology mostly used for the making of racing cars engine parts, and also in several industries requiring an alloy harder and more robust than steel. The use of such protection on a Swiss watch increases the lifetime of your watch to 80 years instead of 1 week with standard black PVD coating. Enough said! You may want to consider again when buying a steel watch with a black coating.
DLC*: Diamond-Like Carbon Coating
Sapphire Crystal With Anti-Reflective Coating
With a large 45mm diameter bezel raised higher than the glass, the sapphire crystal of this Wryst Ultimate tough sport watch is not exposable to possible impacts. An unintentional flat shock on the face will not damage your sports watch as the glass is not vulnerable. As many watch aficionados know, sapphire crystal is also scratch-resistant.
Durable, Reliable and Accurate Swiss Movement
The Swiss movement is the guarantee of a world's most well-crafted and reliable tough sports watch. This Ultimate timepiece runs a shockproof movement which also resists to magnetic fields:
- Resistance against shock NIHS 91-10
- Operating temperature 0 - 50 °C
- Resistance to magnetic fields 18.8 Oe
The battery life of this quartz movement is also 45 months. That makes almost four years of serenity before you have to do anything. Compare to the restrictions of a smartwatch that needs charging every day; this is a no brainer.
200 Meters Water-Resistant
Moreover, the screw-down crown and 4-screwed case back both improve the water-resistance of the casing to an entirely new level. There is no stopping the use of your sports watch for watersports anymore. Just like you, your bolder, stronger, and also incredibly tough sports watch is not scared of anything. Surfing, jetskiing, surfboarding, and any other thrilling sports are enjoyable without any worries.
Style and Design of This Tough Sport Watch
The style of a manly Wryst Ultimate watch is distinguishable. Two double injection comfortable and soft silicone bracelets come with each watch. As well as an overall black look, the timepieces come with green accents for the Wryst Ultimate ES30 watch, yellow for the Wryst Ultimate ES40 watch, and red for the Wryst Ultimate ES60 watch. The fourth reference is an all-black tough sport watch Wryst Ultimate ES20 with black on black dial.
A Case Side Out of This World
Wryst is also offering a world's first with exclusive 0.6mm deep etched case sides. Adjustments and finishing details required skill and know-how. CNC* engraves the left and right sides of the Ultimate watch. CNC machining is a manufacturing process in which pre-programmed computer software dictates the movement of factory tools and machinery.
CNC*: Computer Numerical Control
Also Available With A Black DLC Metal Bracelet
More strength and durability with the solid metal black DLC coated grade 516L steel bracelet with quality deploying clasp. More scratch-resistant black DLC coating for this "invincible" version of the Ultimate tough sport watch. The most scratch-resistant protection for Swiss watches now at an affordable price. With a robust feel and good weight, your Ultimate Swiss watch can be more durable than ever. The first few links on the sides recall the profound etched effect on the case side, also at 0.6mm deep. Adjust the bracelet to your wrist with a fitting size between 176mm to 230mm in diameter.
Finally, only 99 of each reference ULTIMATE is available. The Wryst Ultimate ES50 without black coating is almost sold-out. We can anticipate the next timepiece that will be sold-out in this collection is the Wryst Ultimate ES20 in all black. Hurry and request today to purchase one of the last serial number in stock.
OTHER WRYST SPORT WATCH COLLECTIONS HERE:
Add a comment
4 comments