THE BEST AFFORDABLE WATCH BRAND EVER - BRANDED WATCHES WRYST
Swiss affordable watch brand Wryst offers a disruptive style and the most active materials. Discover some of the most exclusive creations you will ever experience. The DLC (Diamond-Like Carbon) technology is the world's most scratch-resistant coating. A renowned fashion designer is creating small series of distinctive and unusual timepieces.
These unique, affordable watches are the first choice for sportive and charismatic individualists. Wryst is a cheap watch brand for men producing the small series you will ever find with an advanced extreme sport and motorsport-inspired style. Each series is only available in a limited edition.
FOUR EXCELLENT REASONS TO WEAR A WRYST

Benefit from the world's Hardest Black Coating

Swiss excellence at an affordable price

Scratch-resistant Sapphire Crystal and 200 Meters WR

Exclusive Limited Editions of 75 pieces worldwide
______________
An Affordable Luxury Brand
A Unique Story to Tell
Wryst is the most affordable and best watch brand you will ever discover. The watch company fuses ultra-modern manufacturing methods and strict quality controls to produce well-built, sportive, cheap watches. The creative freedom in designing and the intelligent selection of materials ensure diversity.
These branded watches in limited series are available at an incredibly competitive price range. Whether quartz-powered or mechanically driven, each model from the brand's impressive collections ensures affordability while maintaining superb quality and performance.
Economical Swiss Watchmaking Designed to Last
The Wryst brand is reliable and complies with the growing need for a robust, affordable watch in our modern society. The timepieces are ideal for handling hostile environments involved in various sports activities. Swiss watchmakers envy our determination.
By lowering the existing price barrier of Swiss wristwear without changing the high-quality specifications, Wryst enables each customer to acquire their favorite timepiece worth the money. By reducing the existing price barrier of Swiss wristwear without changing the high-quality specifications, Wryst empowers each customer to achieve their favorite timepiece worth the money. Although manufacturing such high-quality timepieces requires considerable research and development investment, Wryst offers everything you need for your top watch brands. Optimal use of valuable resources and the direct-to-customer selling method supported by a secure and transparent online platform helps the brand cut down traditional distribution and save you money.
The Best Materials for a Modest Price
If you are eagerly searching for budget-friendly sports wristwear loaded with stringent specifications usually applicable to modern dive watches, the Ultimate Sports model is an excellent choice. This ultimate black timepiece can match the wearer's daring style thanks to its large case dimensions. This long-lasting, hard-wearing timer will be ideal for sports and adventure activities.
The fashionable sportswear features a black coating DLC over the solid grade 516L steel case. With an impressive water resistance of 200 meters, the Ultimate Sports diver watch models can endure extreme water sports and recreational diving activities.
Reasonable Black Diamond-Like Carbon Coating
Diamond-Like Carbon coating (DLC) is the most durable protective coating method in the new fashion design industry. This complete protection is known for excellent resistance properties, long product life, and robustness. The black-coated tickers are expensive compared to non-DLC timepieces. With the Ultimate Sports collection featuring a round-shaped face in a 45mm diameter case built from 516L stainless steel, Wryst offers customers the opportunity to acquire reasonably priced time wear from a men's watch brand of superior quality.
Powering the Ultimate for sports is a reliable Swiss quartz movement with a date display. The good-sized DLC-coated case frames a black-colored dial.
Vast Choices of Colors and Bracelets
Within this best watch brand for men, Wryst offers a variety of options. The customer can choose between two all-black variants; the first includes a black carbon fiber leather strap, and the second comes with an all-black silicone strap. These variants complement a matching bi-color double injection silicone strap, black carbon fiber leather strap stitching in a color that matches the dialing scheme, or a camouflage pattern strap. Further, if you want a pleasant touch of vibrant color on your black scratchproof timepiece, you can select the models with red, orange, green, or yellow dial highlights.
Ultimate Metal - Fairly Priced Blacked-out Steel: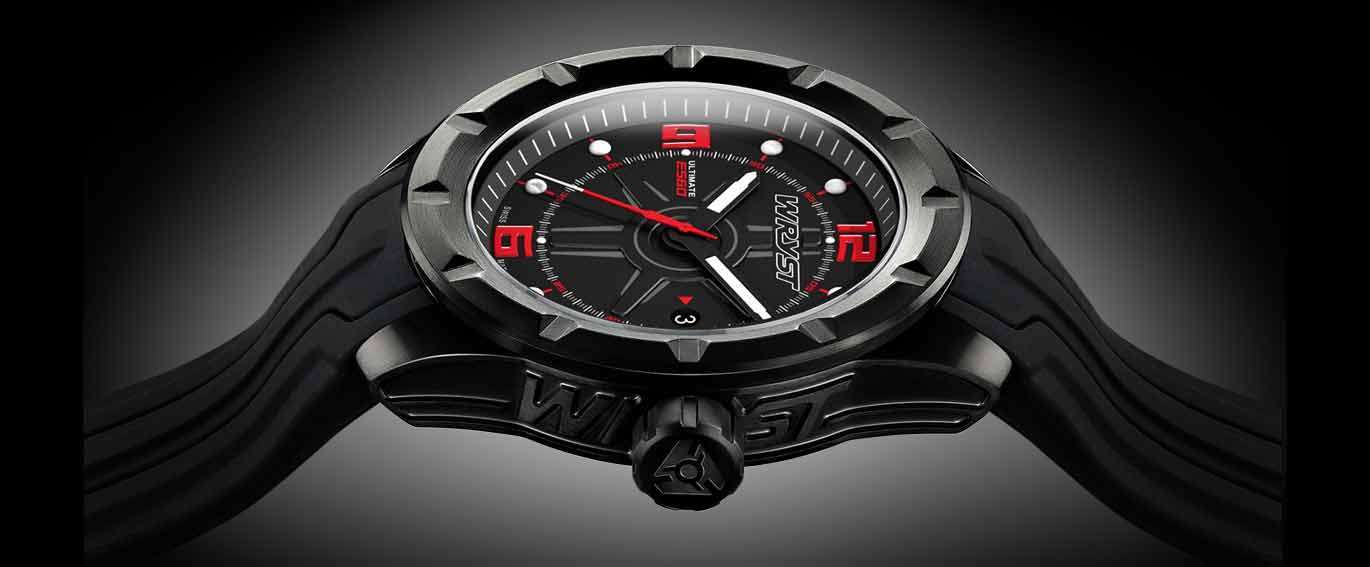 Affordable Black Watches with DLC Coating
The Ultimate Metal timepieces equipped with solid stainless steel bracelets extend the compelling nature of superior grade 516L stainless steel around your wrist. These timepieces retain the Ultimate collection's exact case design, material, Swiss movements specifications, and dial layout.
A New Sportive Style
The outdoor watches with metal bracelets are typically more durable than the leather/silicone strap variants. The black Ultimate Metal piece of about 206 grams offers good comfort around the wrist thanks to the smooth brushed finish of the bracelet Superior to the other black coating techniques, the black DLC protective layer on the case and bracelet add an overall sly appeal to these affordable Swiss timepieces.
The solidly built bracelets offer an impressive fitting size ranging from 176mm to 230mm. Measuring 22mm in width and equipped with a deployment buckle, the SST version bracelet has 20 links. It includes six removable links for adjusting the length as per the requirement. The Ultimate Metal quartz reference is ideal for wearing over a diving suit sleeve.
Although the additional cost of manufacturing black DLC-coated steel bracelets, these models' retail prices remain attractive for this unique top watch brand. But there is more! The spare silicone strap, available with each timepiece without any added cost, can explore more styles.
Force Collection - Manageable Luxury Chrono for Adventure:
Chronograph watches at an affordable price
The Force references are available in various creative versions of a superb high-end watch case design specific to the Swiss brand. These chronograph models can measure quick timing functions with an incredible precision of 1/10th of a second. Chronographs have features that will instantly make them the most efficient for the accurate calculations required throughout sporting events and other extreme activities. This limited edition good-size chronograph is perfect for pleasing sports enthusiasts, both sophisticated and stylish.
Ingenious Watchmaking with a Cost-Effective Technology
This timepiece maintains an attractive price tag with a quality Swiss quartz movement ticking inside a large 50mm diameter case with luxurious finishing. The bold-sized crown and quick-action chronograph buttons assist the wearer in exploring the operational capability of the state-of-the-art quartz chronograph caliber housed inside the rock-solid casing. Each model has a sporty and colorful silicone strap or an elegant alligator leather bracelet. The Force model is a cost-effective piece that can match the performance parameters of the high-end Swiss timepieces.
Each Force Chrono allows every customer to acquire a versatile sports timepiece in the best quality-price ratio, delivered with an additional strap without any added cost.
Wryst Motors - Dedication to Racing and Motorsports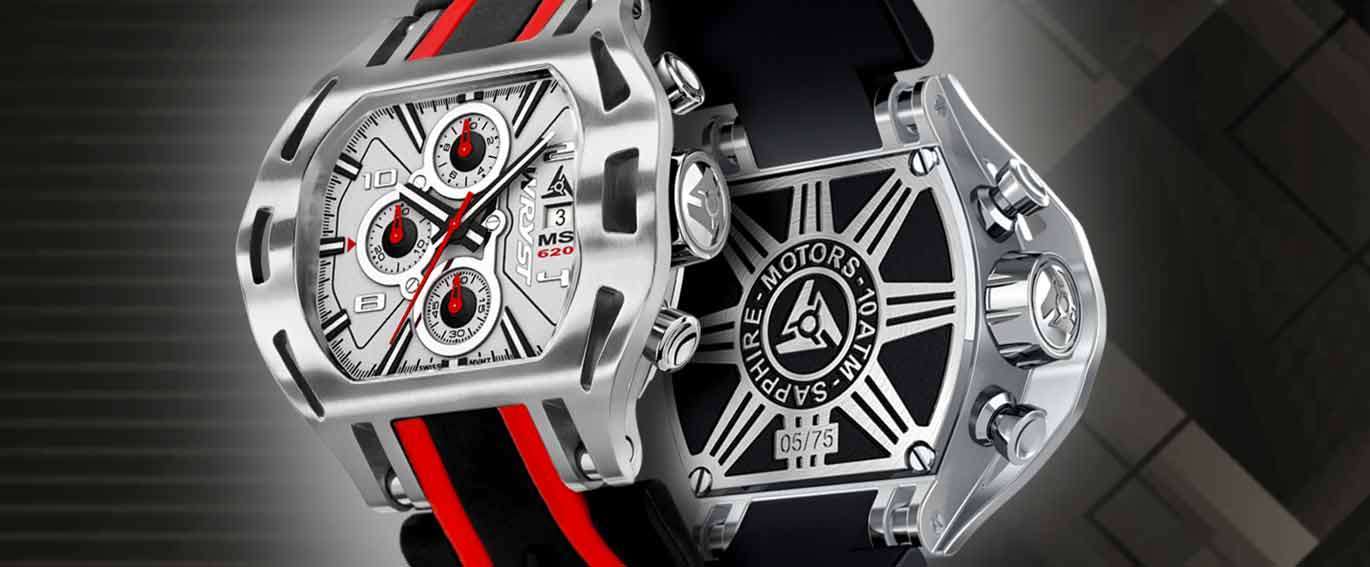 Bold Mens Racing Watches For Medium Budget
Black and red motorsport style for the most racing-inspired wristwear built in the Swiss traditions. Now well established in the watch industry, the medium-budget Wryst Motors aspire to reflect the success of the previous collection of the same name released by Wryst in the past.
More Brawny Than Ever
This collection offers value for money with a quality Swiss chronograph, CNC machining, and a racy dial protected by a curved sapphire crystal. The watch case backs are also the latest addition of innovative materials in black and steel. Feel fierce and aggressive, hitting the race track with yet another limited edition of 75 pieces at a price never seen before on the market with the Swiss tag. 
Wryst Elements - Reasonable Stylish Quartz for Outdoors: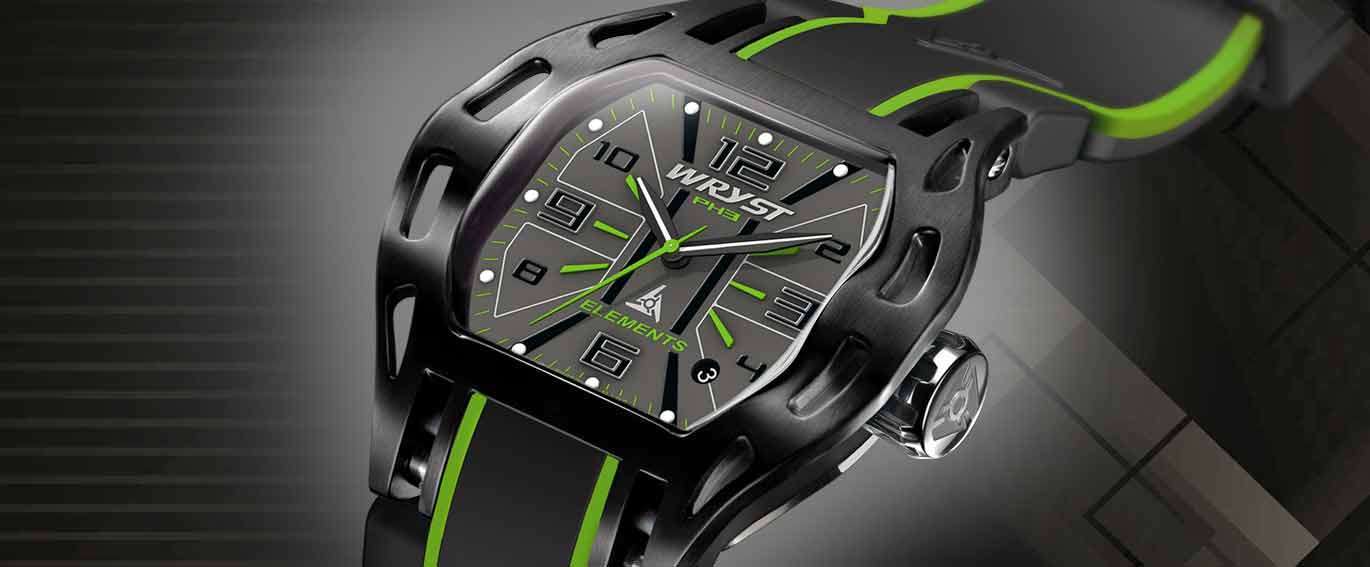 Impeccably dressed in a bold and uniquely styled barrel-shaped case, one of the brand's undisputed symbols, the Wryst Elements model boasts a simple yet eye-catching dial design and a matching double injection silicone bracelet.
Outstanding Novelties Within a Saturated Market
Wryst is one of the most remarkable watch brands. This affordable watch preserves the harmony of the brand's signature design elements. The affordable luxury lifestyle timekeepers Wryst maintain a classic three-hands with date configuration with functions adjustable by an easy-to-operate crown. The strong casing is perfect for sports enthusiasts who typically prefer the comfort of a quartz movement. Inspired by the dial of pilot watches, the large Arabic numeral hour markers on the modern dial make the indications easy to read. The black protective coating improves each Wryst Elements model's resistant nature without breaking the budget-friendly price ratio.
Despite its complicated design features and superb quality specifications, the Wryst Elements remains a reasonably priced luxury timepiece. This versatile 45mm case is suitable for wearing on all occasions, from formal meetings to a classic dress watch or a steady tool watch to assist you during more demanding outdoor activities. The availability of an additional double injection silicone strap without any hidden cost makes each timepiece more economical.
Racer Automatic - Moderate Luxury Mechanical Timepieces: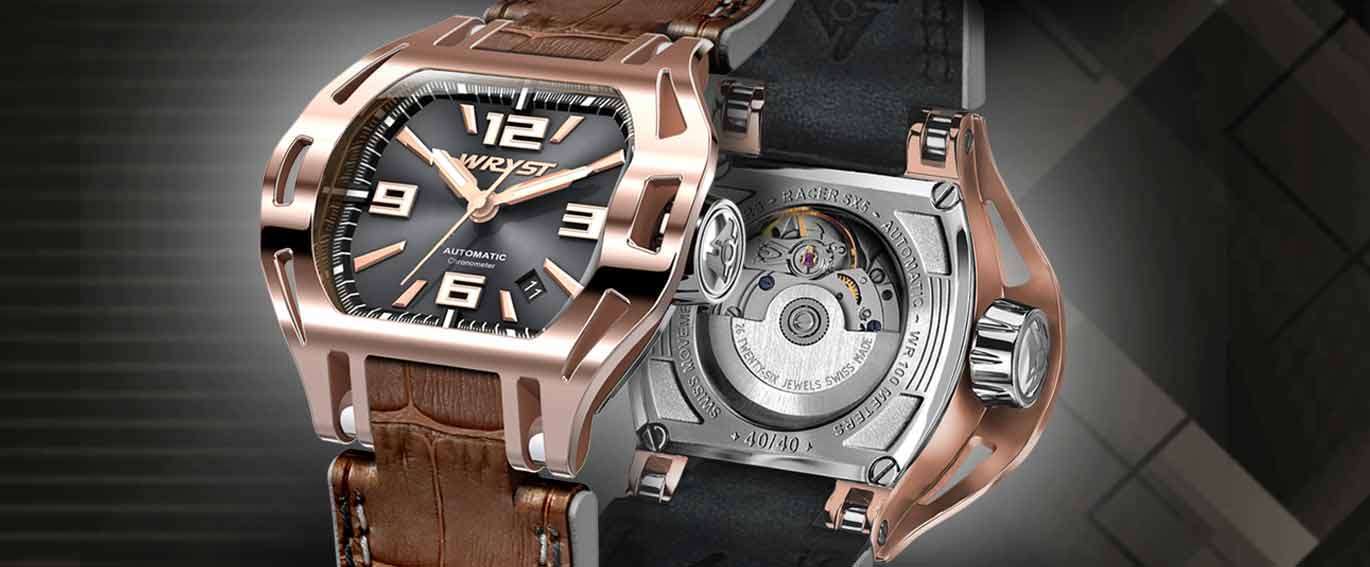 Luxurious motorsport-inspired automatic models
This Racer automatic collection is proudly reflecting the passion for motorsports racing. This timekeeper, powered by a high-end mechanical Swiss movement, is a prime example of the brand's creative freedom. It also explores original ideas, technical innovations, and new aesthetic details. A sophisticated black dial draws inspiration from multiple automotive elements and a massive CNC machined barrel case. Each model from this luxurious collection is a real technical feat. However, the Racer Automatic is much more affordable than similarly styled products from other luxury brands.
The Best of Motorsports on Your Wrist
The Racer automatic, equipped with one of the most exquisite Swiss-made self-winding movements ever produced, boasts the desired specifications of a robust mechanical sports watch of the highest quality. The built-in quality of the Swiss Sellita SW200 automatic movement guarantees a long-lasting lifetime. This 25-jewel automatic movement provides a generous 38 hours of power reserve. It is visible through a porthole-shaped sapphire crystal case-back window. Therefore, each timepiece can be a family investment to hand over from generation to generation. The luxury high-end timepieces, yet highly reliable workhorse of Swiss mechanical watchmaking, also stay within a gentle price category.
Wryst Paragon - Lightweight Forged Carbon Automatic Chrono:
Wryst Paragon Forged Carbon Automatic Chronograph
Celebrating 10 Years of Quality Luxury Affordable Watches
The most recent addition to our series is the Wryst Paragon limited edition of 10 pieces.
This magnificent piece running ETA7750 chronometer is dressed in a forged carbon fiber case with a see-through case back. Since there will be only ten units ever produced, we can imagine that the investment is very much worthwhile for any collector of fine timepieces. Yes our most expensive reference, you can still make your buy affordable thanks to installment payments of up to four months interest-free.
This Paragon benefit from white enamel details which has never been achieved before in the industry.
Our customers have added a Wryst automatic reference to their all-important collection. They have confirmed this: They prefer wearing a Wryst than their Vacheron Constantin, Jaeger Lecoultre, Audemars Piguet, Ulysse Nardin, Bell Ross, Girard Perregaux, and even their James Bond-inspired Omega.
Budget Watches with Everything you Should Expect
Wryst is genuinely atypical, and one of the watch brands offers timekeepers a versatile choice of quartz and automatic movements in such small quantities. The case curves, details, finish, and timeless design of our Elements, Force, Racer, or Ultimate collections have taken many months of research and development. Immerse in our world of references; only 75 lucky people will ever be wearing on their wrist.
Furthermore, the most refined and sincere quality control and Swiss assembly will confirm that you have made the right investment year after year. If you can find the exact high-end specification in a watch at a lower price then get in touch with us today! You are up for a surprise as we strongly believe you will not find any equivalent value for money anytime soon! Make the most of your budget for this crucial new timepiece.
These fine luxury automatic mechanical watches, exclusively produced yet generously priced, are perfect for motorsports champions, racing enthusiasts, and adrenaline lovers. To conclude, the branded watches Wryst offer various colors and finishes. Choose between brushed steel, IP gold plated, or black DLC. Options of silicone strap, alligator leather strap, or carbon fiber leather bracelets. Furthermore, the extra spare straps are included with your order for no additional cost. This feature makes the timepieces produced by Wryst an affordable luxury brand, more economical while providing different style options.

No Matter Your Budget
Our online boutique now offers a "PAY LATER" option. Ideal for an average or small budget, you can now choose to enjoy wearing your stunning new timepiece and then pay later for it. We are proud to offer this alternative which has been booming these last few years.
Choose Your Installments
If you are in a hurry to buy your watch and have plenty of time to repay it, our Paypal check-out option allows you to choose how many installments you wish to make, interest-free! Yes, that is right; whether you choose to pay in 4 months, 18 months, or even 48 months, our Buy Now and Pay Later option gives you all the flexibility you need.
We realize that some of our customers will need to save up for several months to make their purchases. With only a small series produced, the concern is that you are entitled to wonder if the Wryst watch of your dreams will still be in stock when you have the money.
This is why we have introduced this new flexible, economical solution adapted to any budget.
To benefit from this offer, add the watch to your cart, start the check-out process, and choose "PAY LATER" to decide which installment length corresponds best to your current situation.
Benefits of wearing a more affordable Swiss watch
1/ Enjoy the Swiss reputation for excellence. Swiss watches are known for their accuracy, durability and innovation. They have a long history of producing some of the finest and most iconic watches in the world.
By wearing a more affordable Swiss watch, you can still benefit from the Swiss expertise and tradition that goes into every watch.
2/ You can choose from a variety of styles and features. Swiss watch brands cater to different tastes and preferences, from classic to modern, from sporty to elegant, from simple to complex.
You can find a more affordable Swiss watch that suits your personality and lifestyle. You can also find a more affordable Swiss timekeeper that has the features you need, such as water resistance, chronograph, date display, luminous hands and markers, etc.
3/ Save money without sacrificing quality. Swiss watches are not cheap, but they are not all expensive either. There are many Swiss watch brands that offer great value for money while still maintaining high quality standards. You can find a more affordable Swiss watch that has a reliable movement, a sSwiss watch that has a warranty and a certificate of authenticity.
4/ You can wear your watch with confidence and pride. A Swiss affordable watch is not just a timepiece, it is also a statement of your style and status. You can show your appreciation for fine craftsmanship and timeless elegance. You can also show your support for the Swiss watch industry, which is one of the pillars of the Swiss economy and culture.
Don't Let Money Become an Obstacle Between You and Your WRYST!