Designer Watches Wryst, The Unusually Popular Watches
A Visionary Independent Swiss Brand
The mens designer watches Wryst are created by a passionate watch designer of Swiss origin and founder at Horology Design Ltd. Launched in 2012; the luxury brand produces stylish popular watches for charismatic individualists.
The extreme and motorsports-inspired timepieces from WRYST stand out from the crowd of expensive watches for men available in the market. It is a cutting-edge signature designer product from a successful alliance between advanced manufacturing know-how and the brand's futuristic DNA. Incorporating the most durable and innovative materials, all of these timepieces benefit from our state-of-the-art production facilities in Switzerland. All watches are stamped with the prestigious Swiss Made label ensuring the highest quality standards.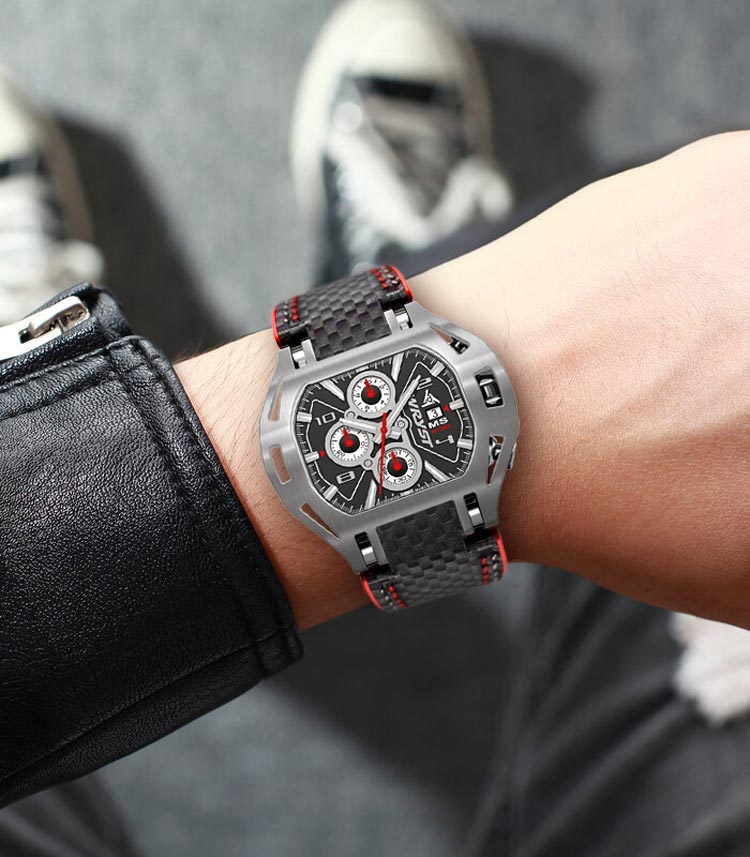 Designer watches Motors for Racing
WRYST was founded by luxury watch designer Jacques Fournier with a vision to create premium wristwear featuring trailblazing designs, stylish aesthetics, and unique strength attributes.
It required almost three years of extensive research and development to perfect the aesthetically balanced and timeless design of the Wryst Airborne chronograph. This very first collection saw daylight in 2012. Since then, the brand has expanded the black designer Swiss collections range by introducing new and refined timepieces. All references adhere to the original design concept's founding principles and are only a small series.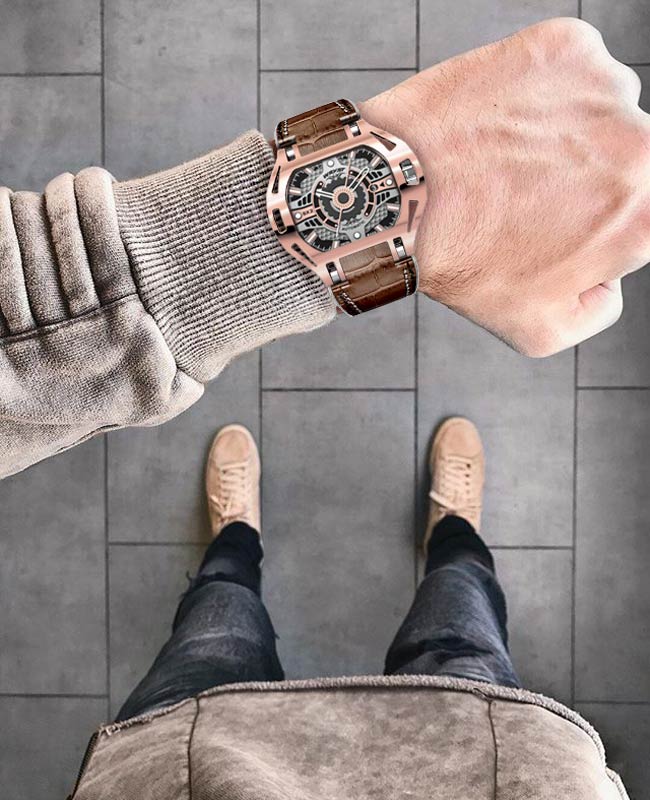 Unforeseen Designer Timeless Style
The Wryst Racer is the Swiss brand's latest and most popular men's watch. The bold Racer self-winding designer timepieces have the most motorsports-inspired dial and hold a 4hz, 28'000 VPH (Vibrations Per Hour), sweep seconds, date window at 3-hour position, and no less than 26 Jewels mechanical movement. This accomplished motorsport design with mechanical movement is offered in gold, rose gold, black DLC coating, and brushed finish casing. Each version provides only 75 limited pieces adding more value to these highly-collectible luxury automatic Swiss designer sports timekeepers.
Dial details feature details in motorsports and racing, such as the dented hour hand or the sides V6 engine details. If the Racer models are the favorite of all collections available, these are still available at a competitive price compared to other men's designer luxury styles.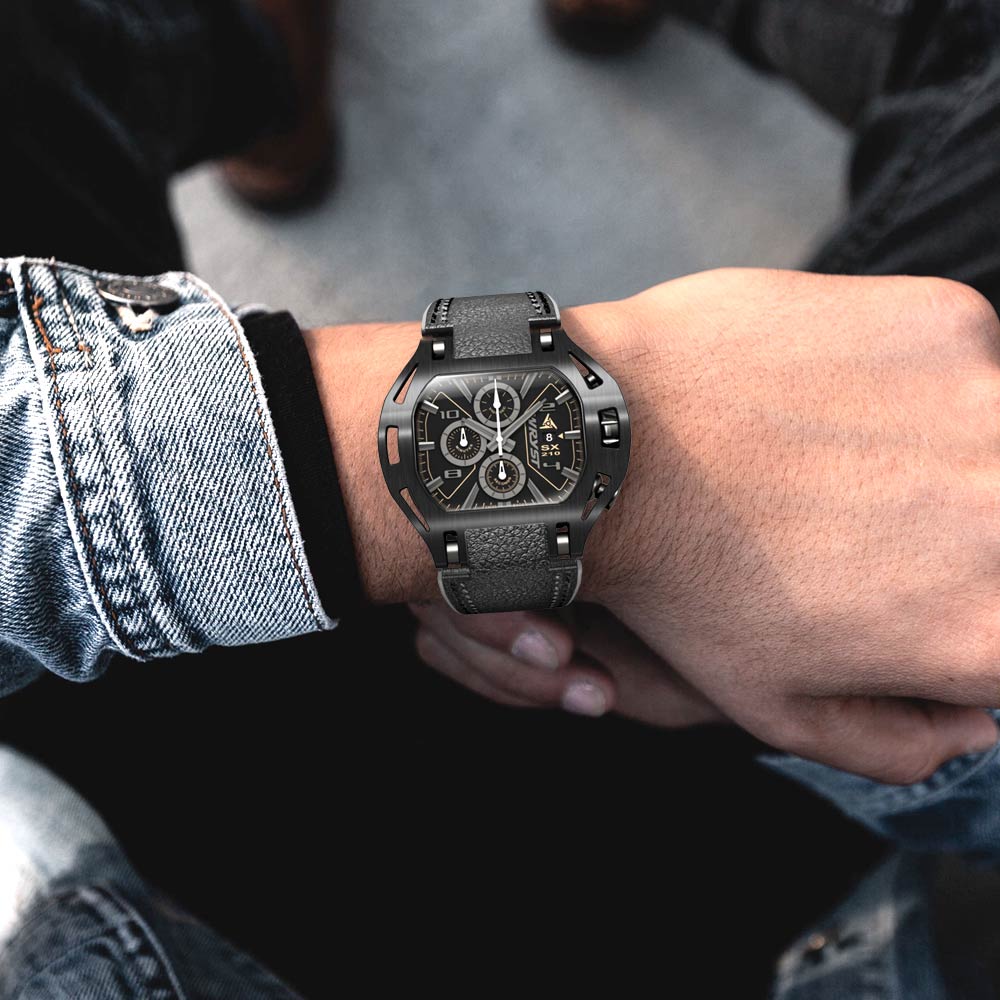 Famous Quality in the Making
The flagship WRYST models incorporate two major cutting-edge design features. The first is the curved and barrel-shaped case featuring open-worked sides that protect the crown and pushers from accidental operations and damages. The ergonomically designed case also provides comfortable wearing despite its bold dimensions. The chronograph luxury men's designer watches run an accurate Swiss quartz movement. The Force references are now also offered with a leather strap.
The extreme luxury designer sports wristwear powered with high precision Swiss engines incorporates highly reliable 516L grade stainless steel, sapphire crystal, and black DLC coating. The superior quality 516L grade stainless steel used for the first time in the industry makes the Wryst more sturdy and corrosion-resistant. The unique bi-color double injection silicone bracelets are a world premiere feature.
Strength, Accuracy, and Style
The high-tech black DLC (Diamond-Like Carbon) coating makes the watch scratch-resistant, and the screwed-down case-back and crown ensure exceptional water tightness. The durable and comfortable double injection silicone bracelet with vibrant color details enhances the diving watch's stylish appearance. Furthermore, each black wristwatch has an extra strap of a different color pattern to match the wearer's style requirements.
Thanks to its innovative design layout with different color combinations, each WRYST model carries its charisma. These trendsetting wristwatches can transform you into a fashion icon among your colleagues, friends, or peers as a lifestyle accessory. Sturdy and versatile, these timepieces are equally suitable for wearing daily and feature clear reading with numerals hour markers.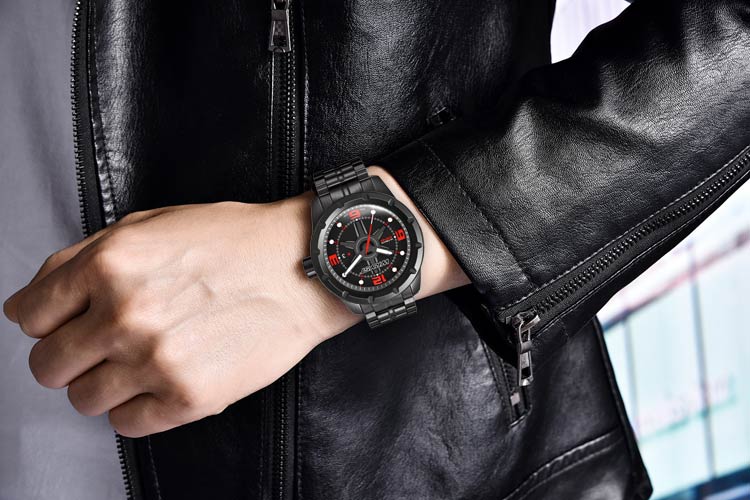 Uniqueness and Exclusivity
Maintaining superior qualities and attention to each product is impracticable when massively producing watches. Each model from our collections is provided in small series with serial numbers engraved on the case back, ensuring high quality and exclusiveness. The case body has a stainless steel case crafted by CNC machining in a block of grade 516L hard steel, and some references also include a steel bracelet with a hard black coating.
The fierce, robust, and accurate WRYST timepieces are the perfect wrist companions for adventurers, athletes, extreme sports, motor racing enthusiasts, and professionals. Style seekers, workout buffs, and all those who love to wear their black designer limited edition pieces. Choose your chronograph dress watch with a blue dial and silver Arabic numerals. Additionally, all references are tested for water resistance between 100 and 200 meters so the owner can wear them during water-sports activities.

The Ups-and-Downs of the Industry
Swiss luxury brands have endorsed classic and refined inspiration for years, mainly in Switzerland. Today, luxury brands face the challenges of creating successful designs that are classic and with a touch of a vintage feel. The design is critical in attempting to achieve this goal. For Wryst, the task is different and more ambitious. We strive to offer a more futuristic approach leaving behind the casual wear style, which has been embraced for decades.

In the '90s, several high-end brands saw the market gap and started to create more innovative and trailblazing creations with the help of capitalist investors. To name a few, these are MB&F, Urwerk, HYT, Richard Mille, Cvstos, Rebellion, and several others. These were a breakthrough in the industry, and these brands soon became the world's most expensive timepieces. The concern with these projects has always been the mechanical complications that are incredibly costly, with several million invested per year, and require high-level expertise from the world's best watchmakers. It is not without having an impact on the retail price. Only wealthy people can afford these kinds of "pieces of art."

The 2000s saw another challenge with the increasing success of smartwatches. The volumes of sales have been continually increasing. They have surpassed the best results obtained in the past by notorious global groups and the industry's best names.
Designer Watches with a Future-Oriented Approach
Wryst is mastering the understanding of what people need today. An accessory that is modern, technical, well made, and most importantly: Affordable.

Some people choose to strap on a disposable electronic smartwatch, others their inherited father's one, or even whatever has been gifted to them through the years as a "wild guess" of what they should wear. The sad truth is that people often forget their accessories should make a statement and be part of their fashion look. Your timekeeper is part of your dress code. Whether looking for the perfect stainless steel watch with classic styling or a more elaborated men's watch offering automatic movement, you can find what you are looking for at Wryst. We offer a sincere, unique experience, and 42% of our customers have returned to purchase a second piece within 12 months.

There is only one timepiece you should wear: One that reflects your personality. The ideal sports timepieces for men and women should be considered a top accessory asset to everyone's success and ambition. Popular watches need to be timeless - And by timeless, we do not mean they belong to the past - and are pleasing to look at every time. The perfect wristwear experience should also be accurate, robust, stylish, and durable. Wryst goes even further and offers exclusive highly-collectible pieces as each reference is only produced in a small edition.
How did it All Start?
Between 2010 and 2012, Jacques invented the intricate case body of the first Wryst ever produced, the Wryst Airborne Chrono. The project started with a drawing, where the designer imagined that a timepiece could be inspired by literally any object. It was all about choosing the correct one, which would lead to an exceptional tactile shape, requiring excellent skills to come to life. The concept was born after drafting a tonneau-shaped body with aired sides. The idea behind this creation naturally came from the accelerator pedal of a race car—a few weeks were required to adjust the aesthetical balance of the front view. Then, the side view had to morph around the wrist in a smooth curved shape fitting to perfection around the arm. With front, side, and top views, this particular set of sketches was the hardest to build in 3D. Adjusting all three different views was challenging. More ideas for the design came along the way, with the wavy double-curved face disrupted by the smooth, simply domed crystal.
Then, the watch's face had to be brutal-looking, with a layout not used by any brand before. This is why the quartz movement 3540D had to be the one. At the time, the 3540D was the latest release from Swiss movement maker Ronda. We made the same choice for the subdials and date positioning of the renowned automatic chronograph Valjoux ETA 7750.
The watch faces construction was all about the Chrono functions. Choice went onto asymmetric feel, which is also a tricky achievement. As days passed, the subdial rings and brand name position slowly made sense with a perfect balance of placements. Indeed, this project would not have the classic watch features with just the hands and hour markers.
Phase three was the material, colors, and finish details. The DNA of Wryst was already set in Jacques's mind - Reliable and affordable watches designed to last and make an impression. After some research, using a black diamond-like coating was a must. More than ever, and in the early 2000s, men had a fascinating interest in black watches instead of polished or brushed plain stainless steel.
Secondly, we had to make it more challenging for the crystal than the sapphire. This is why the choice of shatter-resistant "K1" mineral was best. Harder than sapphire and more resistant to scratches than mineral was the way to go. This would also impact the retail price. The only problem was the cost of the DLC coating. This found a way through with the right partner offering this most complex black coating at a more affordable price.
At The Very Beginning of Wryst
Hard work finally paid off. The right watchmaker partnership happened in the early months of 2012, and the production volumes and the retail price were locked-in. Jacques created an online boutique and launched the release on blogs and social media. Due to the low selling price point and facing greedy young entrepreneurs wanting an unjustified margin for distribution and retail, the decision was taken to only and exclusively retail the small series online and only online.
Soon, the public reacted very well to this new vision of watchmaking. Usually, the price of such disruptive-looking timepieces was only reserved for wealthy buyers. For the first time in watchmaking history, we had a curated advanced futuristic design for a fraction of the price. The case built with CNC 5-axis tooling is never possible at this level. The rest is history; eight years later, the brand is still establishing a strong portfolio of customers worldwide. Some have bought six or even seven Wryst timepieces through the years.
Interview in the magazine "AboutTime" with Wryst founder Jacques Fournier:
Q. Where are your watches available?
A. Our operations are directed from a home office in the United Kingdom. Today you can proudly buy a Wryst watch worldwide directly from our official website. We also have forthcoming distribution networks across Europe and the USA, which will start in due course. Many retailers and distributors worldwide like our products and have contacted us directly. We are particularly proud to have a strong interest in Asia and the Middle-East.
Q. Why did you decide to create your line of watches?
A. My passions in life have always been watches and motorsports. I had my first motocross bike at 13, a Yamaha YZ80. That was something extraordinary— compelling, and incredible timeless design. Concerning watches, I have been looking all my life for mine and never really found it, so being a watch designer, it made sense to move forward.

Today, wearing a Wryst, I always feel it looks different than the last time I looked at it. The Wryst series of watches are all produced in limited small series of 75, 99 pieces or less. You can learn more or buy them at www.wryst-timepieces.com.
Q. What defines "Wryst" watches?
A. A product as futuristic as adrenaline sports grow and will keep expanding in popularity within the next decades. Extreme sports offer an opportunity to challenge and express yourself. More and more Americans enjoy all sorts of outdoor activities, pushing their own boundaries to the limit for these unique and exciting moments.

Have we not all wanted to achieve something risky, exciting, out of the ordinary, and daring from a young age? This is what the brand Wryst is all about, a unique & distinctive look! A product that you love more every day instead of getting bored of, a timepiece that grows on you… Technically, each part's construction requires extensive craftsmanship skills and is monitored to the highest manufacturing standards possible. This makes our watches strong, reliable, very exclusive, and still considered as an affordable luxury. A smart, unusual, exclusive, and reliable watch that looks great on the wrist!
Q. When did "Wryst" come into existence?
A. In October 2010, I wondered what my own watch would look like, so I decided to design it. I wanted something extraordinary, but still, a watch that had strong charisma and would look stunning. It took me 2 years to make it a reality…all in my spare time. The design was so unique and different, appealing that I decided it would be good to share the product with many fellows; after all, why not! But then it had to be affordable by most.

I have always had a taste for unusual watches. Classic style for me belongs to the past, besides vintage. Then Ronda came up with the 3540D movement, which has the right dial layout for a chronograph, that was decided, and it all made perfect sense. Next year I will develop models with unusual coatings, more strong materials, and sharp color combinations. Since the design is unisex, I will offer more choice with an exciting new collection for daring girls…! The brand is officially launching its first range of popular watches Wryst Airborne in 2012.
A True Moment of Happiness
The fact is that humans always seem to need some "extra" pieces of ecstasy. Watches offer that kind of fun. In addition, there is always something novel and fascinating going on with the new models, materials, brands, innovations, incredible stories, records, and celebrities.
Since the prehistoric era, humans have been created. Nothing has changed except after thousands of years of evolution; humans have acquired the ability to make smaller and more refined objects. This notion of pleasure combined with preciousness makes the watch equivalent to a jewel. And worn artifacts of many functions include religious symbols, social markers, and rare and desirable objects.
That Bit of You That Gives The Time
As jewelry, the watch fits exceptionally well for men concerned with their looks and who like to distinguish themselves with a proper style; hello, neodandies! Even a simple model is a testimony of personal taste with a particular value. So if a super basic watch is already something special, what would a more complex and valuable model represent? And if you add precious materials such as gold and gems or craftsmanship like engraving or miniature painting and an extremely high level of technical finesse, could the result be anything less than a jewel? In addition, the emotional link that forms when a buyer gets their watch makes this comparison even stronger.
Feel The Excitement
When someone buys a designer watch of their own, this exciting feeling wells up. The watch becomes precious not only because of its value; it becomes important because, for most, it embodies the duration between the onset of desire and the act of buying. If the desired model must be ordered and there is a strong demand for it, it can be weeks, months, or even years before the consumer can obtain it, and we are not only talking about unique pieces made on demand. Sometimes, the retailer doesn't have the chosen model in stock, or none of those presented pleases the buyer enough. Patience then starts to sound like a mantra.
Perfect for Special Occasions
The importance of purchasing a popular watch can also be tied to the circumstances under which it is offered. Graduations, weddings, and all kinds of successes are special moments when a watch can go from a gift box to a wrist. Looking at the watch will forever remind its owner of this particular moment.
Speaking literally about the passing of time, a watch is also a testimony of every moment of one's life. Indeed, a watch counts every second of our existence. It's the buddy that accompanies you faithfully, consistently, everywhere. Symbolically, it records your life. In that light, if you decide to bequeath your watch to your child one day, your offspring will inherit a part of your personal history.