The World-Renowned Swiss Made Watches Label Explained
Swiss made watches are renowned worldwide for their superior quality, reliability, precision timekeeping, artistic finishing, and luxurious details.

The 'Swiss Made' label not only authenticates a genuine "Made in Switzerland" product but also guarantees its superior quality. The stamps that certify the origin of Swiss made products were formally adopted in the late 19th century. The law applied to all Swiss made products is the Federal Act on the Protection of Trade Marks and Indications of Source.
Superior Quality Watchmaking
Stringent regulations have defined the legitimate use of this prestigious label on wristwatches. The Swiss Federal Council Ordinance dated 23 December 1971 regulates the use of the word "Swiss" for watches. This ordinance was partially revised on 17 June 2016. The revised law entered into force on 1st January 2017. The Swissness bill passed in 2013 also emphasizes minimal requirements for wristwatches for qualifying the "Swiss Made" certification.

The watchmaking tradition of Switzerland is incomparable, and in fine watchmaking, the Swiss Made label is the most revered geographical indication. Proudly referring their origin, all Wryst timepieces boast this prestigious hallmark assuring their customers unmatched quality and incredible precision.

Switzerland's mechanical watchmaking tradition traces back its historical origin to the 16th century. For centuries, the country remained the world's leading producer of mechanical timekeeping devices. Ever since their introduction, mechanical wristwatches from Switzerland dominated the global market until the arrival of quartz watch technology in 1969.

Affordable yet more accurate than mechanical timepieces, the mass-produced quartz watches from Japan became popular in the market. Within a short time, electronically powered quartz timepieces ended the dominance of mechanical wristwatches in the market. The quartz revolution (also known as Quartz crisis) resulted in a gradual decline of automatic watch production in Switzerland. By the 1980s, thousands of mechanical watchmakers in Switzerland ceased their production due to the market loss. Many Swiss companies switched over to produce quartz watches.
Prestigious and Refined Watchmaking Excellence
It is the extreme passion, rich traditions, and the quest for innovations helped the Swiss watchmaking industry to outlive tough times. The Swiss watchmaking industry made a significant revival in the 1990s under industry visionaries and watchmaking groups. This revival enabled the emergence of fine Swiss watchmaking with more focus on elaborate craftsmanship. A substantial number of watch manufacturers in Switzerland began producing luxurious horological creations associated with the social status of their owners. Many brands shifted focus from mass production and preferred to manufacture exclusive and limited edition mechanical timepieces. Exclusively made for élite customers, these timepieces typically incorporate noble metals, precious gemstones, and graceful mechanical movements with involved horological complications.

Presently Switzerland is the leading producer and exporter of luxury watches. Present exporting statistics show universal acceptance of Swiss Made label, which now became a synonym for the world's best luxury watches.

Innovation is always a driving element behind the revival of the Swiss watch industry. Even during the quartz crisis of the 1970s, Switzerland's watchmakers were able to introduce some landmark products. This includes many legendary mechanical chronograph movements, modern diving watches, and luxury sports watches. Wryst belongs to a new generation of creative Swiss watch brands specialized in futuristic materials and world première designs.

The developments in aerospace industries and sports car manufacturing also contributed to a surge in the production of innovative wristwatches. The watchmaking industry gradually began to utilize materials used in making sports cars and airplanes. Most notable materials among them are titanium, rubber, ceramic, sapphire, carbon fiber, special alloys of gold, and high-grade stainless steel.

Stainless steel remains the preferred material for making mainstream watches. Premium brands typically prefer noble metals like gold or platinum for manufacturing their exclusive creations. In the 1970s, companies began producing watches using metals like Titanium, which is strong as steel but 45% lighter. Since then, there had been a tremendous involvement by the leading brands to introduce the most innovative materials in the watchmaking.
Superior Quality Components
The constant research in the metallurgical field enabled the industry to produce superior alloys of steel, gold, and other metals. The new generation materials like Ceramic and Carbon fiber are also now widely used for manufacturing watch cases. Some watch manufacturers also develop their brand-specific alloys to make their timepieces highly distinguishable from other creations.

Wryst is an innovation-driven Swiss watch brand that generously accepted the new age materials for manufacturing distinctive timepieces. It is the first brand to introduce 516L stainless steel for manufacturing watch cases and other parts. Wryst exceptional bicolor, double injection silicone watch strap is also a world-premier product.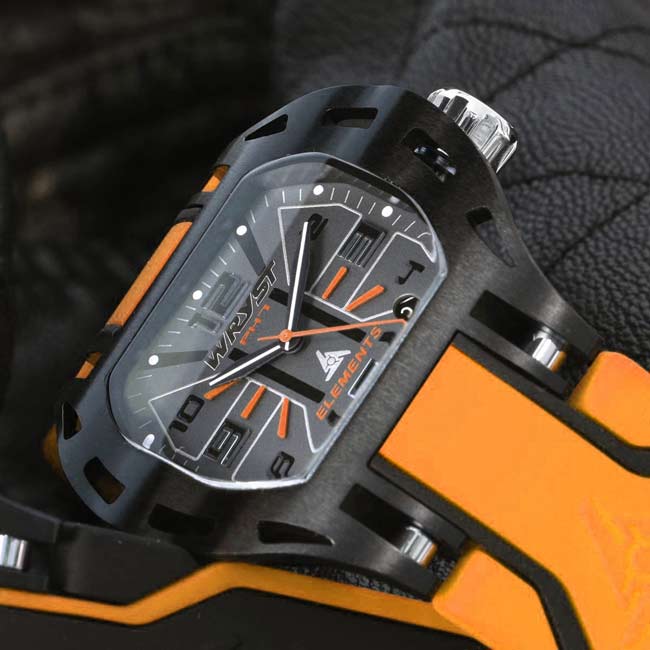 All major design movements ranging from classical to most modern ones play an essential role in watchmaking. Shifting of focus from traditional to other schools of design also boosted the revival of Swiss watchmaking. Major design studios and prominent watch designers assisted the brands in introducing new wristwatch designs. Wristwatches with new case shapes and larger case proportions became popular.

The distinctive barrel-shaped case of Wryst's Flagship timepieces reflects the latest innovations in the wristwatch designs. The bold and masculine proportions of Wryst timepieces also represent a significant trend in the over-size watch category. The never-seen design and oversized dimensions make each Wryst timepiece unique. Each of them is a perfect example for an extreme Swiss made luxury sports watch with rugged and masculine appeal.

The 1970s also saw a new trend of combining the aesthetic features of luxury watches with the ruggedness of tool watches. This innovation led to the creation of a new category named 'luxury sports watches,' serving urban and modern-day elites. This revolutionary step also proved that metals like stainless steel can be effectively used in the manufacturing of premium Swiss watches. Each Wryst timepiece is a perfect example of how super-strong alloys like 516L stainless steel can be successfully incorporated into a luxurious sports timepiece.

Today, 'Luxury sports watches' became a must-have collection for the world's leading luxury watch brands. Serving men and women, this category of timepieces, however, maintains exceptionally high price tags. This inaccessible price range restricts a large number of sports watch enthusiasts from acquiring their dream timepieces. Wryst brought a revolutionary initiative by offering its unique luxury sports watches at an affordable price range without compromising quality standards.

Major aesthetic features of a genuine Swiss made watch also include their hand engravings, surface finishing, and machined decorations. Maintaining their Swissness, Wryst employs best surface case finishing techniques available in the Swiss watchmaking industry. These timepieces also feature laser engravings on the case-sides, or case-back depends on the model.
The case finishing can be brushed, polished, or treated with modern decorative coating methods like Ion Plating and black DLC. Built-in quality and unique design features of the case, case back, lugs, strap attachment system, and crown of all Wryst timepieces are much superior. Wryst maintains water-resistance of 100 or 200 meters as per the standards applicable for water-sports and divers watches.

Switzerland is the top producer of subtle watch movements. Swiss movements display superior quality features and precision. Origin of the watch movement is a crucial point of the ordinance that regulates the legitimate use of Swiss made label. Wryst timepieces are equipped with high-quality movements sourced from established Swiss manufactures like Ronda and Sellita. These manufacturers are recognized for their expertise in producing reliable and topnotch calibers stamped with Swiss Made label. These companies also play a significant role in supporting independent watchmaking in Switzerland.

Wryst offers both quartz and automatic watches. Wristwatches driven by electronic quartz movements became commercially available at the beginning of the 1970s. Before the arrival of quartz technology, all the wristwatches were equipped with mechanical movements. The features that made the quartz watches popular at that time are their accuracy and cheap cost. The quartz watches are also easy to manufacture in large quantities, making them more economical compared to mechanical timepieces.

Equipped with state-of-the-art Swiss movements, all Wryst quartz watch models stand out from the crowd due to their exclusivity and premium class quality. Produced in strictly limited editions of maximum 99 pieces, these luxurious and sporty Swiss quartz watches maintain a hierarchy in their respective categories.

Mechanical watchmaking is all about respecting the great horological traditions. It is a meeting point of traditional know-how and expertise of several master craftsmen. In modern-day mechanical watchmaking, various kinds of advanced machinery also assist the expert hands of watchmakers.
 
Wryst combines Switzerland's deep-routed watchmaking tradition with advanced industrial procedures for creating automatic timepieces. They are equipped with modern self-winding movements entirely manufactured in Switzerland. Wryst mechanical watches are dedicated to sports watch lovers who also maintain a passion for great horological traditions. All Racer references reveal on the back the workhorse Sellita SW200-1 movement through a small smoked sapphire crystal. This small size opening allows the wearer to monitor only part of the rotor. Two main reasons can explain this choice. First, this gives enough space on the back of the timepiece for the necessary engravings—for instance, the watch collection name and reference, the face crystal material, and the serial number. The second reason is to maintain de original manufacturer rotor perfectly intact.
Not many watch enthusiasts know this, but the weight of the rotor (Oscillating weight) is significant and requires to stay untouched. Other brands chose to cut, plate, deep engrave, replace, or alter the shape of this crucial piece of the mechanism, which is a compromising mistake. The rotor weight has been calculated to provide optimized winding of the spring when the watch is worn. Modifying this in any way will alter the rotation of this part and therefore change the power reserve charge obtained by the natural movement of the arm. Furthermore, Sellita will not provide any warranty where parts of their original movement have been replaced or modified in any way.
 
The dials used in Wryst timepieces are unique in their designs and color details. Either following the same or contrasting colors of case and straps, all dial styles reflect their charisma and uniqueness. The dial layout with the systematic placement of details, including the positioning of the date window, is highly visible. Wryst offers several options to choose various dial styles that ideally suit the character of both the watch and its owner.

Customers can opt from the black dial variants to the versions featuring vibrant dial colors like blue or rose-gold. The options also include motor sports-inspired dials of Racer automatic watches as well as pop-art style dials. Wryst is the only Swiss made watch brand to offer such a wide range of dial colors and unique patterns within an exclusive, limited edition product range.

Just like every premium Swiss made watch brands, Wryst uses the best quality straps, ensuring comfortable wearing and secure fit around the wrist. The brand uses various materials and design patterns to match with the overall aesthetics and character of each model. The dust-proof silicone rubber strap is available in a single or bi-color version. Other wristband options include 516L steel bracelets with or without black DLC coating and leather straps featuring carbon fiber-pattern or alligator style. In addition to the free-of-cost straps, customers can also have the freedom to buy more straps directly from the online store.