Wryst top 5 luxury swiss watches wallpapers
Published : 04/17/2018 10:25:10
Categories : Wryst Latest News
Top 5 Luxury Swiss Watches Wallpapers from

Wryst
High-Res. Photos of the Wryst Swiss sports watches collections
1/ Wryst Racer SX4 and SX3 Luxury Automatic Swiss Watch:
First off is the new 2018 automatic luxury Swiss watches Wryst Racer SX4 in polished black DLC, and the Wryst Racer SX2 in polished Rose Gold. The two exclusive timepieces produced in limited edition of only 75 pieces are shot on top of a black motorbike engine crank.
Also available in the Racer Collection:
1.1/ Wryst Racer SX1 Automatic Watch Stainless Steel
1.2/ Wryst Racer SX3 Automatic Watch Yellow Gold
Discover the Wryst Racer SX4 and Wryst Racer SX2
Available in size 1680x1050, 1920x1080, 2560x1440, and 3648x2736
2/ Wryst Ultimate ES40 Sports Watch for Extreme Sports:
Next is the most affordable black DLC coated watch ever produced. The Wryst Ultimate are the only watches in the world to benefit from the following specifications at such low price: 
2.1/ Limited edition of 99 pieces
2.2/ The hardest and most scratch-resistant black coating ever
2.3/ 200 Meters Water Resistance with screw-down crown
2.4/ "Swiss made" quality
2.5/ Case side with deep engraving by CNC machining
2.6/ Two bracelets included
No other watch brand on the market has ever offered so many benefits in an extreme sports watch at this price range:
Discover the Wryst Ultimate ES40
Available in size 1680x1050, 1920x1080, and 3648x2736
3/ Wryst Force SX230 Swiss Luxury Watch Size 50mm:
The recently released chronograph luxury watch Wryst Force SX230 with shiny polished casing and deep blue dial. Inclusive of two different bracelets, the watch is shown fitted with the white bracelet with blue lines.
Also available in the Force Collection:
Discover the Wryst Force SX230
Available in size 1920x1080, 2560x1440, and 3648x2736
4/ Wryst Elements PH7 Blue Quartz Swiss Watch:
With unusual sporty design and produced in a limited edition of 75 watches. The quartz Swiss sports watches Wryst Elements are available in black and blue, black and red, black and yellow, black and green, and stainless steel.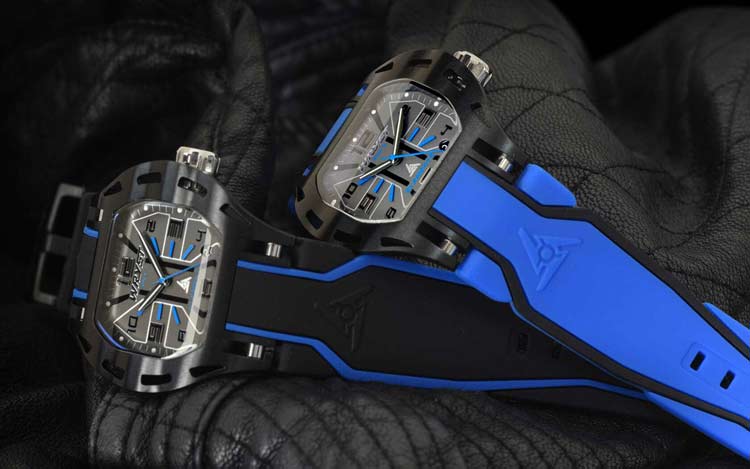 Discover the Wryst Elements PH7
Available in size 1680x1050, 2560x1440, and 3648x2736
5/ Wryst Isle of Man TT Chronograph Watch Special Edition:
With Celebrating the incredible world's fastest road race! More motorsport-inspired than ever, Wryst offers an epic watch. Official timing partner of the Isle of Man TT races, the Wryst TT watch is produced in a unique special edition. Racers, fans, and people enjoying the show every year around the Snaefell Mountain will love this timepiece. With colors in black, red, and yellow, the TT chronograph also benefits from a large 50mm case size and sapphire crystal.
Wryst Isle of Man TT 2018
Available in size 1920x1080 and 2560x1440
Share this content
Add a comment
3 comments