Are you looking for the best mens gift for Father's Day 2023?
Watches are the best mens gift; he knows this!
Celebrate Father's Day 2023 and share a moment of closeness with the one who is always there for you.
For this special occasion, benefit from a discount on the ULTIMATE black watches for men in limited editions.
This collectible watch series is tough, durable, and unique like him.
With only 99 pieces produced, you can add to your gift with a personalized touch. Whether it's his age, a specific year, or a favorite number, you can pick the serial number of your choice, limited to availabilities. So please get in touch with us if you want to know the availability of a particular serial number between #00/99 to #99/99. For the all-black Ultimate ES20, for example, we may have fewer availabilities as this reference is nearly enough sold-out at the time of this.
Every unit also has a deep-engraved case back with several inscriptions. One of them is 200 Meters of water resistance, and your father will love this.
ALL DISCOUNTED WATCHES ARE HERE
WRYST ULTIMATE ES30 GREEN WITH 25% OFF
WRYST ULTIMATE ES40 YELLOW WITH 25% OFF
WRYST ULTIMATE ES30 BLACK DLC WITH 25% OFF
WRYST ULTIMATE ES40 BLACK DLC WITH 25% OFF
What's his favorite color?
The Swiss series Ultimate offers a vast selection of several different colors.
The dial details assorted with the band are either in red, yellow, or green for the black casing version. There are also metallic bracelets with black DLC coating options. If your dad is allergic to silicone or rubber, we can even offer to send you two metal bracelets.
The plain stainless steel watches ES50 looks more casual with slate grey dials and orange details on the hour markers and hands. This best quartz watch can be fitted with a silicone all-orange bracelet, a grey and orange band, or a plain solid stainless steel metal option.
Sturdy specifications that will endure the test of time:
✓ Luminova hands and hour markers
✓ 45 mm masculine brawny size
✓ Black DLC scratch-resistant durable coating (Except ES50)
✓ Case-side design with deep engravings
✓ Reliable Swiss quartz movement with date at three h
✓ Swiss sapphire crystal with anti-reflective treatment
✓ 200 Meters of water resistance
✓ Secured screwed case back and crown
✓ Two bracelets included with each model
✓ Small limited edition of 99 pieces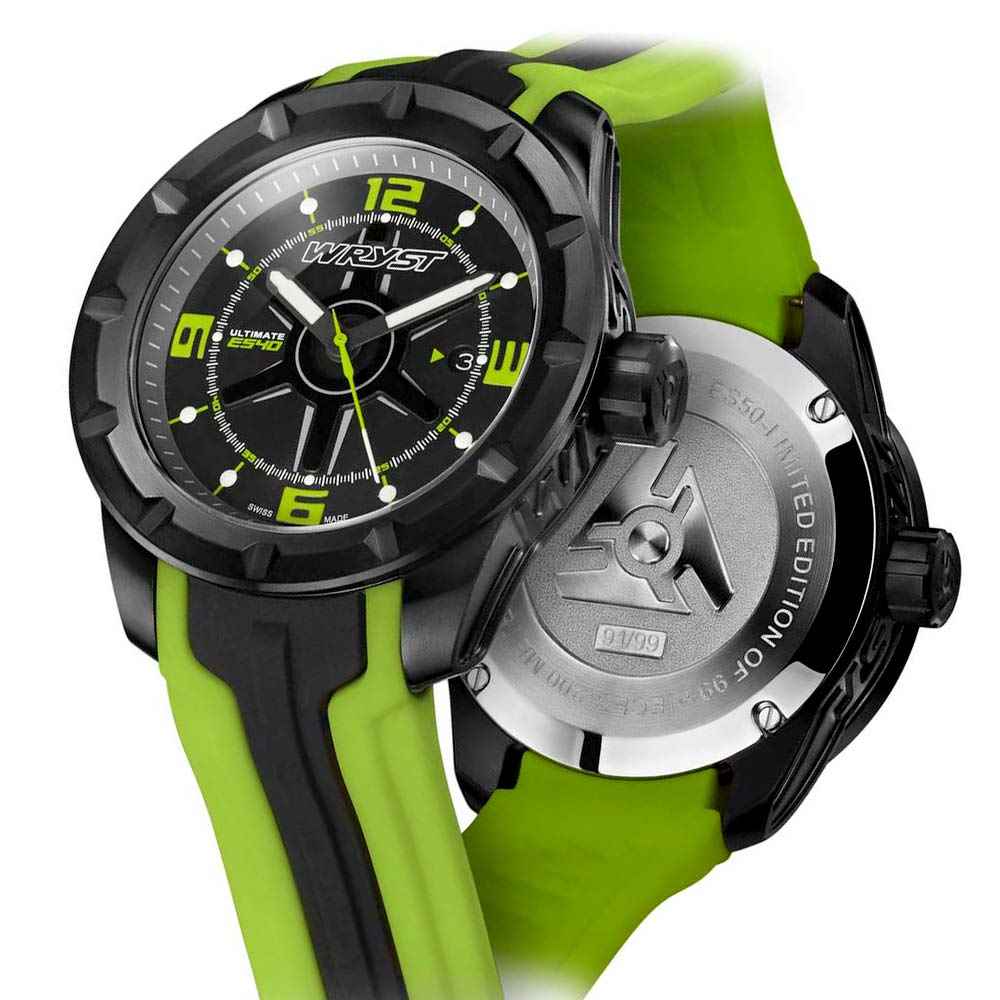 200 Meters Water-Resistant Watch ES30
Ask yourself: What does your dad do?
Does your dad love the outdoors and enjoy fishing or hunting? If so, the Wryst Camouflage ES30 will be perfect.
Is your dad a Veteran? Has he been in the Army, the Air Force, Armed Forces, Marine Corps, or the Navy? The choice of military watches for men with camouflage bracelets is an excellent gift for Father's Day.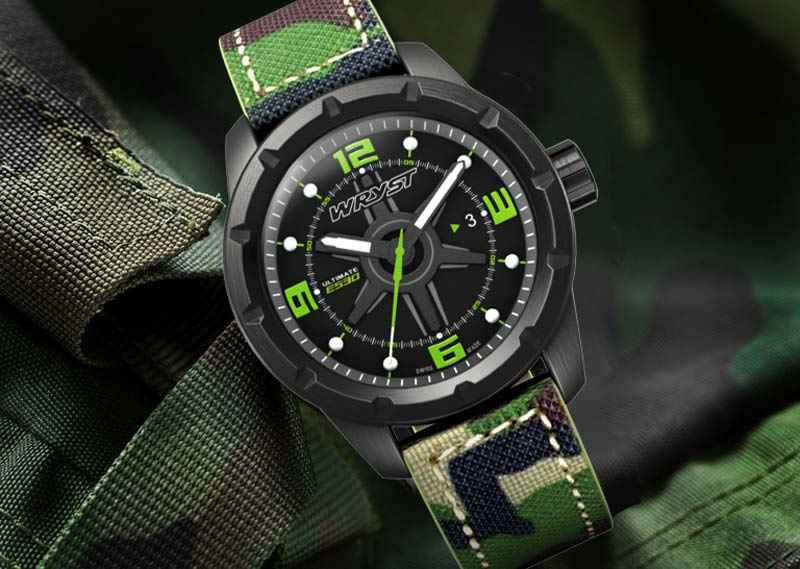 Military Watches Ultimate ES30
Two bracelets for a more versatile choice
Each timepiece has a bold, manly size of 45mm, and your dad will receive two different bracelets with his watch. If this is not enough, you may want to ask us for a third one.
Furthermore, if one of the bracelets you see on a different watch reference of the same collection seems more suitable for the color you want to buy, we will ensure to satisfy most personal requests. For example, if you adorn the black watch with yellow details on the dial but prefer the black and red bracelet with it, this may be a sign that you have thought of both your dad's preferred colors. In this case, we can fit the perfect band on your 2023 Father's Day gift.
Gifted in a luxury black wooden box
Your dad will receive his watch with one or two spare bracelets in a luxurious black wooden box with black leather lining. With it, he can find the 18-month manufacturer warranty details, registration form, and manual instructions on the USB card provided.
If you want your mens gift wrapped up, we are also happy to help with this specific demand, without a doubt. If so, please notify us during check-out with a simple comment such as "Please deliver in gift wrap paper." You will be ready to offer your Father's Day gift 2023 on this important occasion.
You can also offer a day out experience to your dad or entertainment such as a game of bowling, going to the theater, or inviting your parents to the restaurant. This is a common option, and fathers love a lot of attention.
The real deal is a watch! Because it is a faithful permanent object that will remind him of you on every occasion he needs to know the time and date. It is also the guarantee that you will remain in his heart daily.
Anyone can benefit from the discounted price
Anyone can buy the Wryst Ultimate watches at a discounted price. Several models are available at a bargain price, and save from 15% and up to 30% off on the watches on special offers. You could make the most of these watches on sale for any occasion. It could be a father's birthday gift, or anyone could spoil himself with a stunning affordable watch with high specifications. This sale will end soon, so make the most of it.